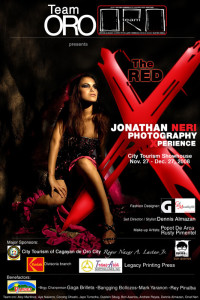 Team Oro, a Cagayan de Oro, Mindanao-based group composed of very talented photographers, stylists, visual artists and graphic designers, is currently presenting an event dubbed "Red X: The Jonathan Neri Photography Xperience" at the Cagayan de Oro City Tourism Showhouse, Divisoria. The exhibit, which will run from November 27 to December 27, 2008, will showcase Onat Neri's artisty, passion and "eye" for beauty and detail.
Check out the poster in this page.
The poster for this event in Mindanao, Philippines is designed by Team Oro member Bon. Pretty neat, huh? If you need to commission Bon for any design work, graphic work, caricatures/drawings, layout and even for photography services, do contact (+63) 919 238 6575. You may also send an email to asteriskEC (at) gmail (dot) com
TEAM ORO members:
Dennis Almazan
Atoy "Hi-def Video" Martinez
Aye Navarro
Bon Aserios
Andrew Reyes
Dustein Sibug
Cocong Ohashi
Jappo Turrecha
Models:
Natasha Mills
Katrina Kendall
Faith Patayon
Maxine Monasterio
Chiery Ladera
Essa Santos
Make-up Artists:
Popot de Arca
Rusty Pimentel
If any of you are in Cagayan de Oro City or live near the area, please do drop by the City Tourism Showhouse at the Divisoria area and check out Onat Neri's exhibit. You will really see first hand just how amazingly talented Mindanaoan artists are!