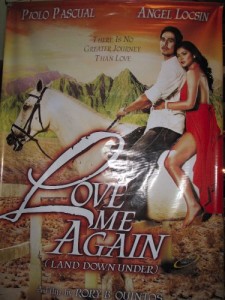 The latest offering of Star Cinema, ABS-CBN Channel 2's film production outfit, is set to open in theaters nationwide today, January 15, 2009. "Love Me Again (Land Down Under)," which stars Angel Locsin and Piolo Pascual, will be shown in theaters nationwide starting today — unfortunately (and ironically, I guess?) it won't be shown in the very province that they shot the movie in. "Love Me Again" won't be shown in Bukidnon, Mindanao, Philippines for the mere reason that there aren't ANY movie houses or theaters in the Province of Bukidnon. The latest Star Cinema movie was partly shot in the scenic province of Bukidnon.
The movie, which is reportedly part of Star Cinema's 15th Year Anniversary celebration, was partly shot in Bukidnon particularly in the Municipality of Impasug-ong, in Barangay Dalwangan in Malaybalay City and in the Kaamulan Tree Park. The movie's lead stars have also been declared adopted children of Impasug-ong town. Other tales from the movie shoot can be found HERE.
Check out more information about the Province of Bukidnon in Bukidnon Online.