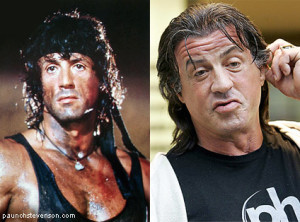 Well, this information's straight from Erik Pineda, Manny Pacquiao's business manager, so I guess this one's true! Pacquiao is reportedly set to do a movie with Rambo himself, Sylvester "Sly" Stallone. In fact, the duo reportedly met at Stallone's office in Los Angeles, California last January 6, 2009. During the meeting, Sly even gave the Pacman's two sons, Jimwell and Michael, a pair of boxing gloves which bore the signature of former world light-heavyweight champion Tony Tarver. Still, this piece of development shouldn't be treated as a 100-percent-fully-done-and-waxed type of deal. Everything's still in the planning stage.
Erik Pineda was quoted as saying that it's "not a boxing movie but something like 'Rush Hour' (a Jacky Chan-Chris Tucker hit."
Looks like Manny, who's a certified Mindanaoan by the way (since he was born in Kibawe, Bukidnon and grew up in General Santos City), is going to be a Hollywood star soon! Does this mean that Manny's doing double time duty on polishing up his English skills?
While I'm not a huge Stallone fan (I think I've only watched one Rocky Balboa flick and that Rambo film…it takes a lot for me to be convinced that he can fight all those bad guys on his own, you know!), I'm still a bit excited over this idea of a Stallone-Pacquiao Hollywood movie. After all, Sly is an Academy Award-nominate actor and he STILL has lots of fans all over the world. And, of course, we all know how Filipinos all over the world love Pacman. This flick will definitely be worth watching out for.