Hello fellow Mindanawans! Planning a trip to CDO soon? Here's a budget hotel in Cagayan de Oro City, Mindanao that you might be interested in.
Lamar Inn, located at the corner of JR Borja and Velez Streets (just a few blocks away from Divisoria, the heart of the city), is a downtown hotel that offers value for money. Conveniently located at the central business district of the City of Golden Friendship and owned and operated by VIP Hotel (which is located just right across the street), Lamar Inn CDO offers reasonably priced rooms and good amenities.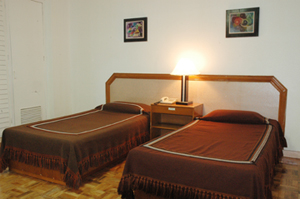 They have 14 tourist type rooms (P750.00 per night), 8 business type rooms (P850.00 per night) and two suites (P1,300.00 per night).
The business type room that we stayed in recently was air conditioned, had cable television, had a telephone and a hot beverage utility set.
Hence, it was easy for us to prepare coffee even in the middle of the night and early in the morning.
Our room also had hot and cold shower and a clean bathroom. We had clean towels and two bars of soap. No free shampoo but you can easily buy sachets from the reception desk. Bottled mineral water can also be bought at the reception area, by the way.
What I also liked about the business type room was the FREE wireless internet connection! On our first night of stay in Lamar Inn Cagayan de Oro, my wi-fi capable phone caught two wifi signals – Lamar's and CGC (I reckon this stands for Canoy Group of Companies, the owners of Lamar Inn and yes, of VIP Hotel). I just asked for the security keys from the front desk and I was browsing the web in no time.
The hotel staff members were friendly, by the way, and they made sure that they kept our luggage safe (we had to leave our things for a few hours).
What I noticed during our stay at Lamar Inn, though, was that the photos of the rooms on their website no longer represent the true state of the rooms. The actual rooms now show lots of signs of wear and tear and the aircon unit needs replacement. Still, you get a very spacious room plus good amenities for a very reasonable price so I guess that's more important.
Mindanaoan recommends Lamar Inn CDO for budget-conscious travelers, for tourists who only need a comfortable room to rest in at the end of the day and for business travelers on a budget. The suites are also ideal for families and barkadas who want to have a fun and memorable stay in Cagayan de Oro.
*photo used in this blog entry is owned by Lamar Inn CDO