Hello, fellow Mindanaoans! Are you ready to flip-flop your way to a once-in-a-lifetime experience in Brazil? If you're a Havaianatico (i.e. a person who loves Havaianas and the Havaianas lifestyle) then do read on!
The answer to my earlier question better be a resounding YES as world-famous fashion brand Havaianas kicks off its new Happy Soles campaign for Havaianaticos 18 and above. This campaign celebrates the fact that Havaianas has been both a witness and a reminder of Filipinos' happiest moments. A constant companion on everything from beach trips to food trips, Havaianas has trekked up mountains, walked down wedding aisles and danced under the pale moonlight. For many happy soles, Havaianas is a daily reminder of moments spent with friends and filled with laughter – moments that define who we are.
So here's the thing — The winner of this "Happy Soles Will Travel to Brazil" campaign, along with three friends, will fly to Brazil on an unforgettable, all-expense-paid retreat, complete with travel must-haves from Havaianas, Sony, David and Goliath, and Aloha Board Sports.
Isn't that uber exciting?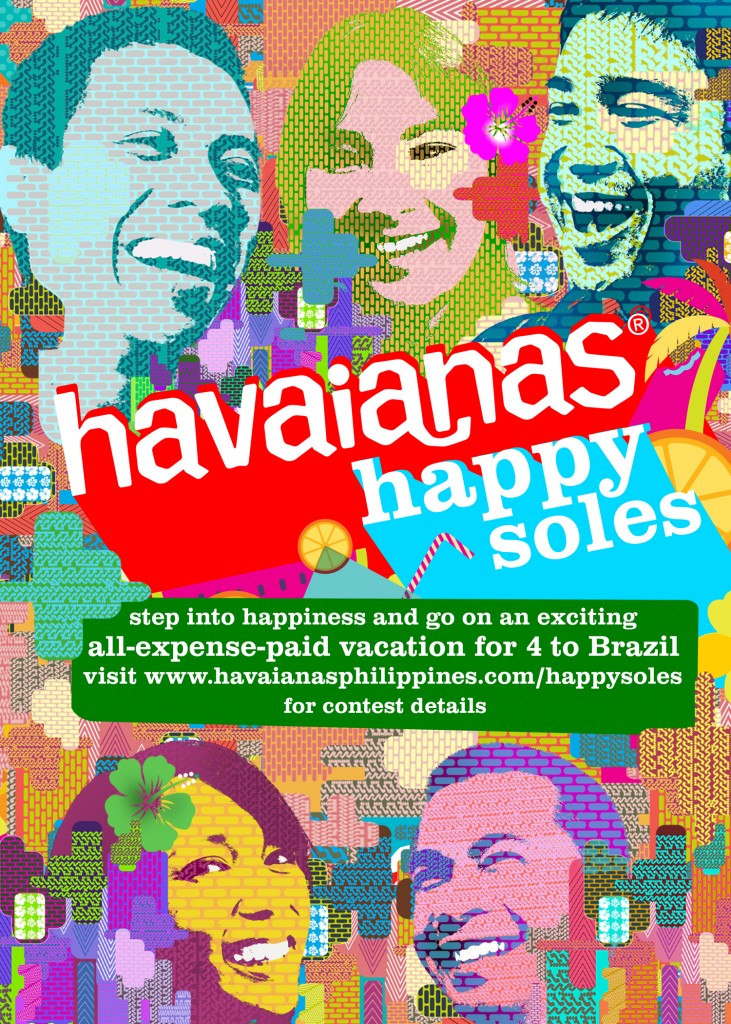 Simply answer the question "If anything was possible, what would you do to make the world happy for a day?" as creatively as possible and you could get the chance to win an all-expense-paid vacation for four to the land of sunshine, Brazil.
Answers can be recorded via the Havaianas roving video booth (the booths will visit Davao City and Cagayan de Oro City…read more after the jump) that will travel to key malls nationwide or uploaded on the campaign website: www.havaianasphilippines.com/happysoles. The top ten happiest and most creative entries will be shortlisted by a board of judges that includes a representative from the Brazilian Embassy, magazine editor Pauline Suaco-Juan, travel blogger Anton Diaz, Capoeira guru Professor Fantasma, and the Managing Director of Havaianas Philippines. The public will then decide who of the ten will be awarded the grand prize through online voting at the campaign website. The remaining nine finalists will also walk away with prizes from Havaianas and new Sony CyberShot cameras.
The winner, along with the group of friends, will get to experience the cool climate of cosmopolitan Sao Paulo and the endless summer of Rio de Janeiro in quirky clothes from David and Goliath, and stylish resort wear from Aloha Board Sports. Not only will they stay in chic, boutique hotels and dine at world-class restaurants, the four friends will also visit Oscar Freire Street, home to Brazil's fanciest boutiques, where they will enjoy a shopping spree at the Havaianas Concept Store. A visit to Daslu, a super luxurious shopping mecca is also on the agenda. In Corcovado Mountain, they will get to see the Brazilian icon, Christ the Redeemer, and record the priceless memory with their Sony CyberShot cameras. They will also experience everything from the football madness at Morumbi and Maracana to the breath-taking tropical landscape of Jardim Botanico, a UNESCO site, and the laid-back beach culture of different world-renowned beaches like Copacabana. The winner will also be able to share these memories with ease, with a new Sony HandyCam camcorder and Sony Vaio laptop, and even a new Sony Walkman mp3 player to bring home the sound of Samba.
"Havaianas has always had the privilege of being with Filipinos during their happiest moments – at the beach, in malls, at home, practically everywhere. We wanted to create the happiest possible experience through this unique, luxury vacation to Brazil," says Anne Gonzalez, Managing Director of Havaianas Philippines.
Visit www.havaianasphilippines.com/happysoles for complete contest details or visit the roving video booth at Cagayan de Oro from March 22 to 28 and Davao from April 5 to 11.
Remember – always buy original HAVAIANAS for you to experience the real Havaianatico lifestyle!
You can purchase Havaianas items at SPRUCE (2nd floor, Limketkai Center, Cagayan de Oro City), Ban Sabai, All Flip-Flops SM City, Gazebo Home Store and Mallberry Suites.