Sizzle mah schizzle! Saturday, March 13, 2010 was an uber special day for ladies! In celebration of Women's Week, SM City Cagayan de Oro, along with top retail brands Penshoppe, Mint, Folded and Hung, Maldita and Bossini, hosted the "Hot Hunks Fashion Show" featuring no less than the current toast of the local fashion world, Brazilian-Japanese (Brapanese) hottie Akihiro Sato.
For the uninitiated, Akihiro Macieira Sato is a 6 ft 1 inch stunner born in Sao Paulo, Brazil. He used to model in Thailand but now he has decided to grace the Philippine shores with his amazing looks and pleasing disposition and has decided to live here for good!
Be still my heart!
So of course, who wouldn't want to go to SM City CDO to catch this cutie?

So along with some friends, Mindanaoan went and waited for the arrival of this certified Hot Hunk. Before his grand apparition, however, there were some local hunks who graced the stage, to the delight of the female spectators.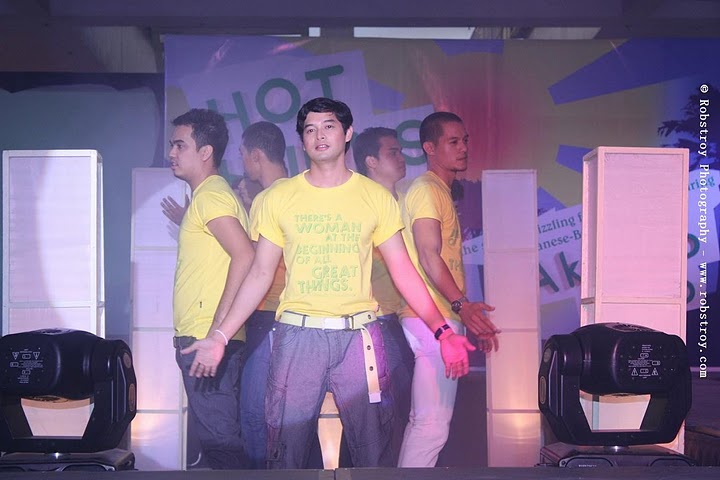 More photos after the jump!
Two local hunks caught my eye.
This one sports a "baby face" and his hair looks unruly but he has a nice smile. I know, I know…he has really BAD make-up (whoever did the local hunks' make-up should really re-assess his or her chosen career for chrissakes) It was also during his turn when the lights went off and the entire mall experienced a BROWNOUT! (Yep, that was one epic fail, by the way. I almost wanted to run backstage and make sure that Akihiro was safe and didn't get mobbed or something LOL 😀 Good thing that Cagayan de Oro City mall had back-up generator or else the ladies would go amok!)
Meanwhile, this other local hunk was the crowd favorite. He had by far the most comfortable walk along the runway and he had presence. Still a bit rough on the edges, though, but I bet my fashion designer-friends in Manila would give him a second look. Does anybody know who he is? I would love to interview him and schedule a photo shoot!
And then of course, it was the turn of the most-awaited! Akihiro Sato was dreamy, period!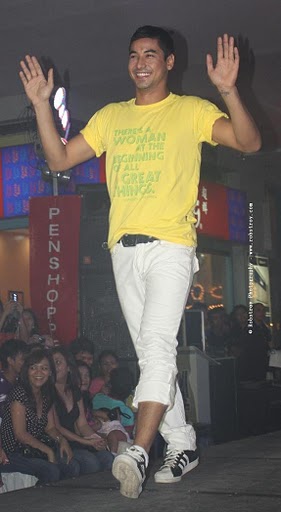 Akihiro was smiling, pleasant and was very friendly towards fans. Plus he also smiled at me and said yes when I asked him to sign my friend Magman's magazine! (I waved the magazine and when Akihiro saw it, he smiled and motioned that he was willing to sign it! Yay! :D) Here's Magman with his new prized possession:
Ahh…that was one fun Saturday. To you, Akihiro Sato, good luck and I hope to have the chance to interview you someday! I also hope to take photos of you for my newbie photographer portfolio. What do you say? 🙂
And to all the ladies out there — altogether now…S-I-G-H.
Thank you so much Robstroy of Himantayon Cagayan for the fab photos!