If there is one thing that I, Mindanaoan, absolutely love to do whenever I'm in Manila then that would be to catch as many comedy shows as I can. I'm not referring to comedy shows on TV or stand-up gigs at comedy bars, mind you. I'm referring to live ones that you get to watch at venues like the Music Museum in Greenhills or at the newer one, Teatrino, at the Promenade (located also at Greenhills).
There's just something about live comedy shows that I find so invigorating. Well, obviously, apart from the fact that they do provide a venue for you to escape the daily grind somehow and let you laugh (at least for about two hours), I think comedy shows celebrate the amazing talent Filipino comedians have. Just check out my review on "Da Spooftacular Showdown" featuring Jon Santos, Pokwang, Candy Pangilinan and John "Sweet" Lapus (which I wrote in 2008) and you'd know what I mean!
So anyways during my recent trip to Manila, I immediately looked for any good comedy event. Thankfully, I learned about Willie Nepomuceno's "Presidentiables Gut Talent." The show was supposed to be held at Music Museum. By the name of the show alone, you'd know that it was going to be a riot – the talented Willie Nep will spoof the presidential candidates for the May 2010 elections!
I immediately bought a P2,000-worth ticket. I got a relatively good seat – just roughly 5 rows away from the stage! I actually bought the ticket straight from the show producer herself – Emmie – and she assured me that my seat was a good one. I eventually found myself among the VIPs and select members of the media.
One thing that I immediately liked about the "Presidentiables Gut Talent" show? IT STARTED ON TIME. Thank the good Lord for people who value other people's time!
Right from the get-go, the "Presidentiables Gut Talent" show elicited laughter from the audience. Who wouldn't be so amused when you see Manny "Pacman" Pacquiao onstage? Ooopss…I'm sorry…Sarangani Congressman Manny Pacquiao nga pala 🙂 Willie Nepomuceno did a fantastic job immitating him…down to Pacman's expensive looking watch!
More photos after the jump!
The "Presidentiables Gut Talent" show also showcased Willie Nepomuceno's daughter, too, by the way. She did a fabulous job being Kris Aquino. Yep, world-class talent runs in their veins!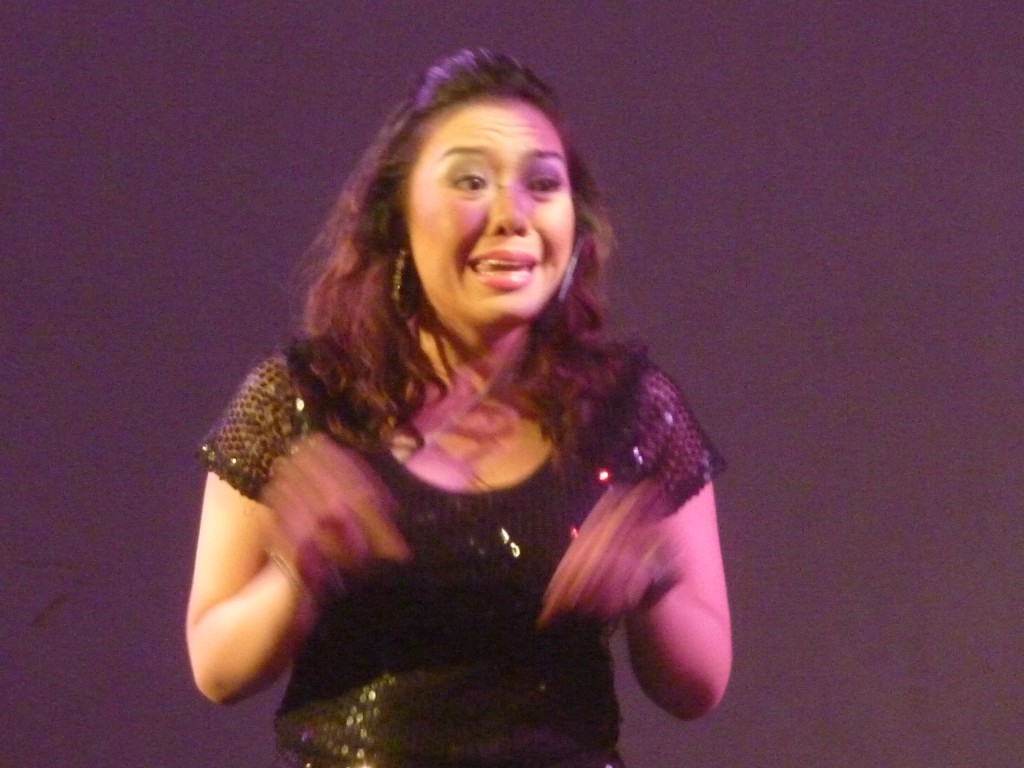 The show had a theme, by the way. It was patterned along the reality TV show "Pilipinas Got Talent" where people had to showcase their skills for them to get the audience's and the judge's (in this case, Willie Nep's daughter impersonating Kris Aquino) nods. The show also put the spotlight on 5 presidentiables – Richard Gordon, Noynoy Aquino, Manny Villar, Gibo Teodoro and Erap Estrada. JC Delos Reyes and Bro. Eddie Villanueva were no longer impersonated – they were supposedly "kicked out" of the "talent show" a week prior.
And just by looking at the photos that I took, you would know that the Presidentiables Gut Talent show featuring Filipino comedian Willie Nepomuceno was worth every penny that I paid for. Willie Nep successfully entertained all of us with his funny and convincing impersonations of the 5 presidential candidates. Apart from immitating Erap, Willie Nep also made a very convincing impersonation of Noynoy.
I won't talk about what each "presidentiable" did during the faux talent show. Suffice it to say that you will really be amazed at the many talents of Willie Nepomuceno!
So do I recommend "Presidentiables Gut Talent"? But of course! It's a fun, fun show that you must watch. Take my word for it – it's worth your time, energy and money. Catch its last run on May 21, 2010 at Music Museum.
And to you Willie Nepomuceno – mannn!!! You're absolutely amazing. God bless you for sharing your talents with all of us. More shows, more shows please! 🙂