I must admit, I initially did not want to watch Karate Kid starring Jaden Smith (Will Smith's son) and Jackie Chan on the big screen. I figured that I wanted to preserve my memories of the original Karate Kid (starring the crush-ng-bayan at the time, Ralph Macchio) and the now infamous "crane kick."
I also figured I can always wait for the DVD version and spend my P160.00 (price set for Cinema 2 Digital Theater of SM Megamall) somewhere else.
Boy did I think wrong.
This newest Karate Kid movie topbilled by Jaden Smith, son of Will Smith and Jada Pinkett-Smith, is one very heartwarming, fun, believable, wonderfully written, action-filled movie you should not miss.
This new "Karate Kid" is a film for everyone – from the kids to the parents to the lolos and lolas. It will teach you humility, courage, conviction, respect for culture, tradition and elders. There are also a lot of funny scenes in the movie and you will easily fall in love with Jaden's talent and personality.
You will really find yourself saying – "anak nga siya ni Will Smith!"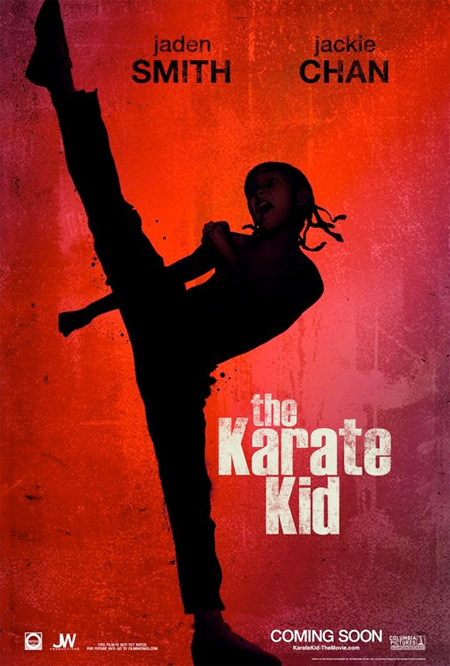 In the film, 12-year old Dre (portrayed by Jaden) and his mother had to move to China. His mother had a job offer there. As soon as they arrive, Dre felt uneasy and a bit of an outcast. He meets the pretty Mei Ying, a schoolmate, and they fall for each other.
However, cultural differences appear to be the biggest hindrance to their blossoming friendship. Worse, Dre found an enemy in Cheng, a kung-fu prodigy and schoolmate. Faced with troubles with Cheng and his buddies, Dre became desperate to fight back. He then met Mr. Han, the maintenance guy in Dre's apartment building. Mr. Han, as it turned out, had skills that could help Dre become a better and stronger person.
Watch this new "Karate Kid" movie. Recommended for kids and the young-at-heart!