One of the reasons why this blogger from Mindanao had to spend roughly two weeks in Visayas was a fab, much-awaited weekend in Bacolod City, Negros Occidental with my gal pals Joyce, Iza and Crissa! Although it wasn't my first time to visit Bacolod City (the renowned City of Smiles and home of the Masskara Festival), it was my first time to spend three days with dear friends whom I all met in Manila. I'll tell you more about these amazing ladies in the next few posts 🙂
For now, I'll share with you some travel tips should you take the Cebu-Bacolod route soon (the Masskara Festival is just around the corner, after all!) and some of the photos I took at the fairly New Bacolod Silay Airport.
I usually book my flights online using a credit card. For my Cebu City to Bacolod City flight, I had to choose Cebu Pacific Airlines because it had the earliest flight out. You can check the flight schedules, promo fares and available fares over at Cebu Pacific Airlines' official website. Philippine Airlines also has flights from Cebu to Bacolod but you may notice that the flights come after Cebu Pacific Air's. PAL's Bacolod to Cebu flights are also earlier than Cebu Pacific Air's so if you need to maximize your stay, the most logical choice would only be Cebu Pacific Airlines.
Just a quick detour – here's a shot of my footwear (yep, that's my personally customized special edition Havaianas! Remember my recent post about it?) and my oversized Victorinox backpack.
I usually bring this backpack with me since it has a compartment for my Macbook and other gadgets. I also like the fact that it has three 'layers' – makes packing and segregating stuff a breeze. Here's something similar (although way smaller) you may want to buy for yourself:
If you also bring a laptop during travels, you may want to avail of the FREE wi-fi at Cebu Mactan International Airport. No password required but you need to look for a good wi-fi spot. The signal is strong near the stairs at Gate No. 7 (this is the same lounge where you need to wait for your Cebu to Bacolod flight)
So anyways here's a shot of the plane that I flew in from Cebu City to Bacolod City: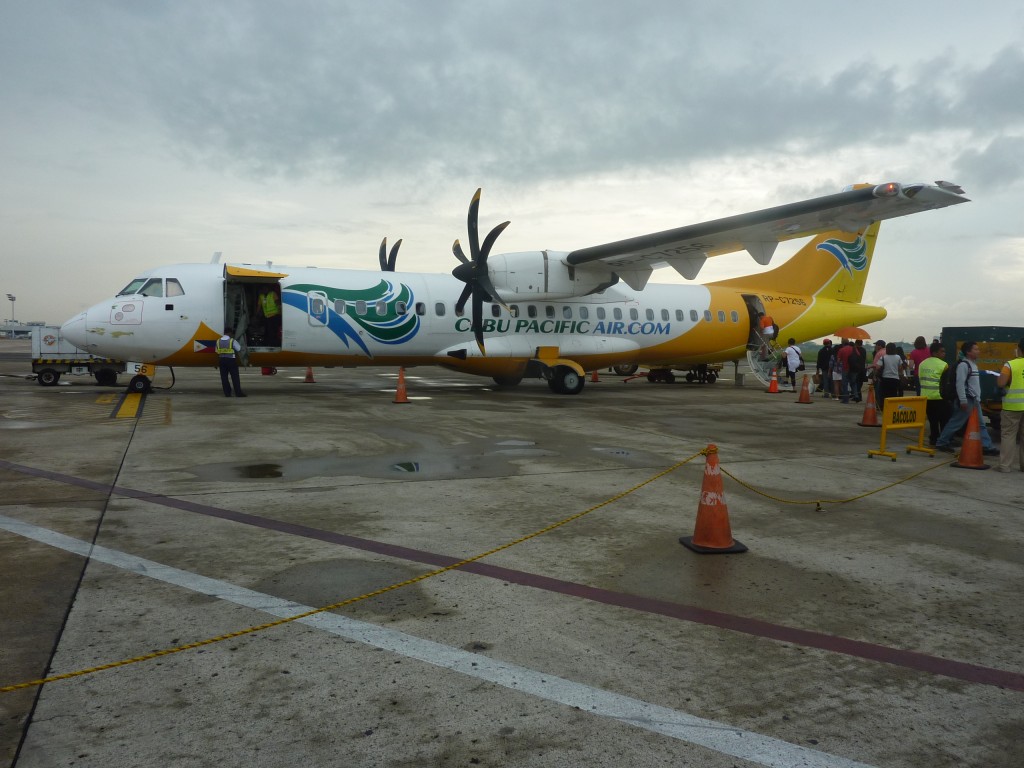 It's a smaller plane, yes. And just like any other Cebu Pacific Airlines flight, there are no free meals or snacks. Actually, the flight attendants did not even sell us any! I'm guessing it's because of the very short flying time. From Cebu City to the New Bacolod Silay Airport, it would only take you 25 minutes, give or take.
Although the flying time was absolutely short, I still managed to steal a cat nap…and before I knew it, the plane has landed!
Welcome to the New Bacolod Silay Airport 🙂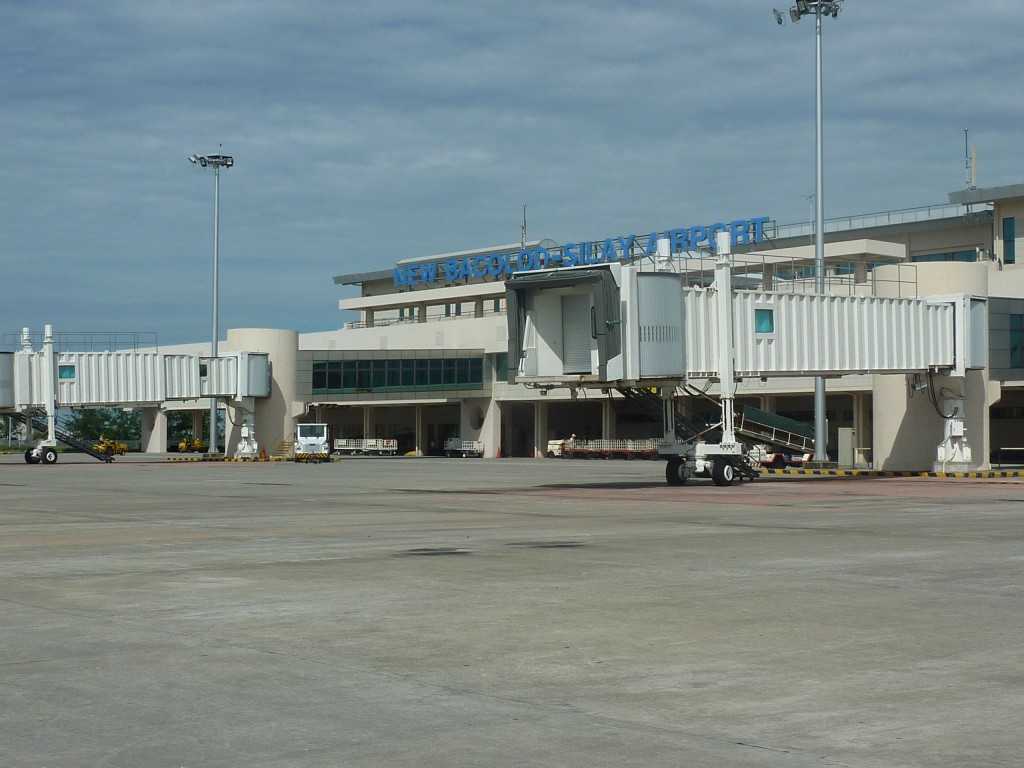 Now here's the arrival area. See that stand right before the exit? That's where you can get brochures about Bacolod and neighboring areas! They're FREE so get a couple 🙂 I'm sure you'll find them handy as you tour Negros Occidental.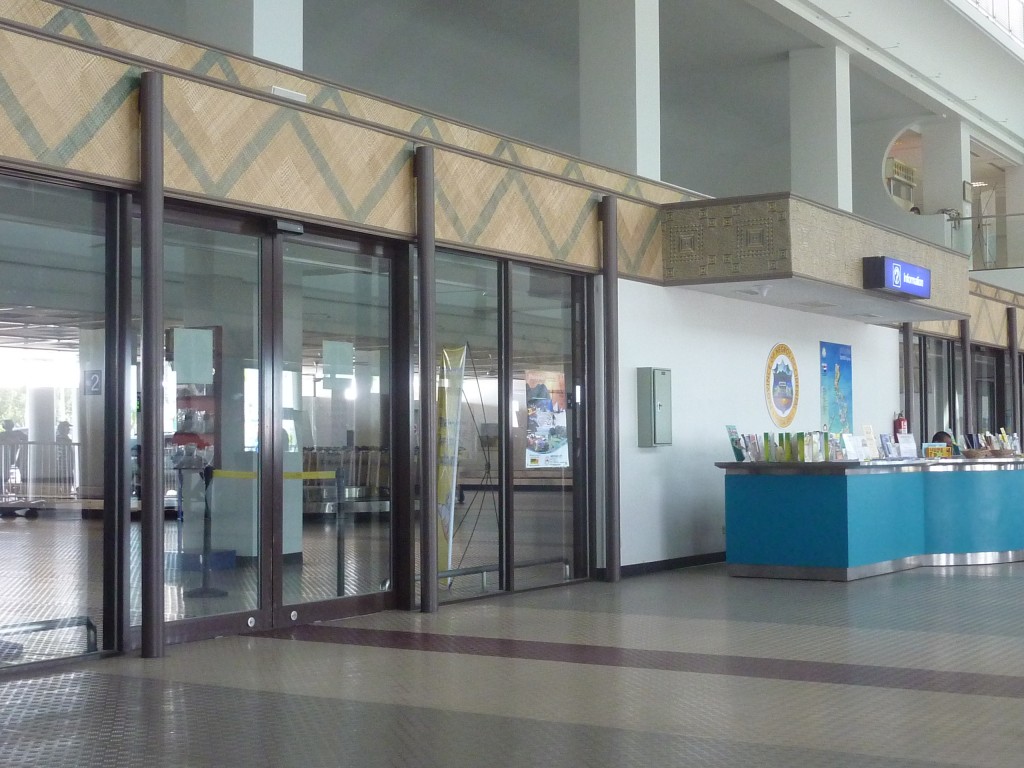 There's a small coffee shop cum ice cream parlor just outside the arrival area. Also, if you don't have "sundo," there are taxi drivers who will offer you their services. One offered to drive me to Bacolod City proper for P100.00 I'm not sure if I will be alone in the taxi or if I will have companions to share the ride with.
Oh, speaking of driving me to Bacolod City…the new airport, by the way, IS NOT within Bacolod City proper. It's in Silay, Negros Occidental – which is roughly 30 minutes from Bacolod City (by private vehicle). Hence, the name Bacolod Silay Airport.
More of my Bacolod City adventure with my 3 wonderful friends in the next post 🙂