If you're here in Manila (like me! – I'm currently attending the 17th National Public Relations Congress) then you still have time to catch the Mooncake Festival at Resorts World Manila! Celebrate the Mid-Autumn together with Resorts World Manila (RWM) with its Mooncake Festival! This September, Resorts World Manila has prepared the indispensable delicacy, known as the mooncake, for family and friends to share.
The mooncake is a delicious tradition rich in history. The festival is strongly associated with the Moon Goddess of Immortality. It also represents the time of the year when the moon is at its fullest and marks the end of the harvest. It is traditionally celebrated with dances, moon viewing parties, and of course, partaking of mooncakes.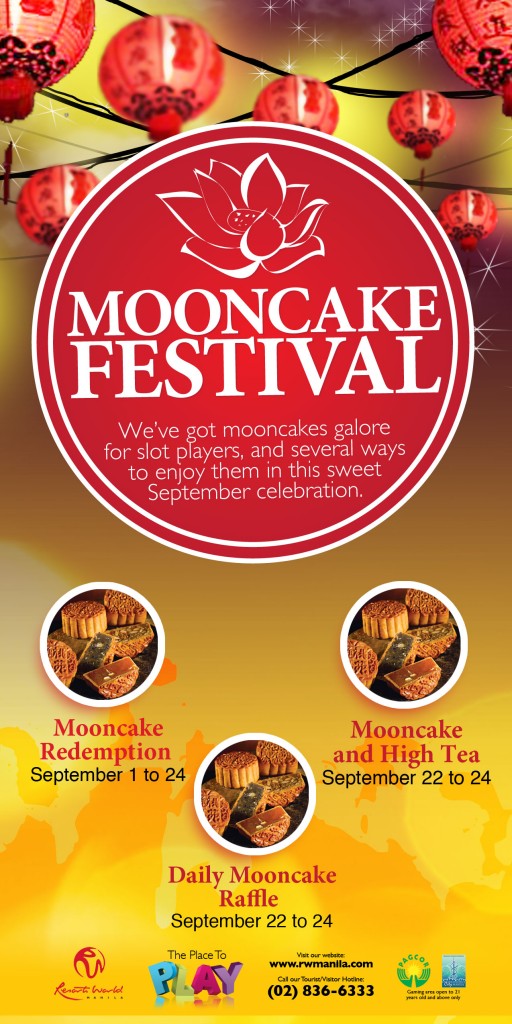 If you're a slot player like me (I only play for fun and leisure, aiight? 😀 ), you can use points earned from August 22 to September 24 to take home up to three mooncakes a day. Only 300 mooncakes are available for redemption throughout the promo period.
And there's more good news!
From September 22 to 24, RWM also rewards slot gaming enthusiasts with delectable cakes and tea at its Mooncake and High Tea mini-buffet for only 18 points. During the same dates, lucky slot players also have the chance to win different flavors of this delicious treat through RWM's Daily Mooncake Raffle. Twelve electronic raffle draws will be held each day from 3:00 p.m. to 11:15 p.m. at 15-minute intervals.
So visit Resorts World Manila today. It's not only the place to play but also a fun place to celebrate the Mooncake Festival 🙂 For more information, call (632) 836-6333 or visit Resorts World Manila's official site.