And so Wordcamp Philippines 2010 came and went. It was my very first time to attend a Wordcamp and I must say, the event was worth my time, money and energy! The organizers, Avatar Media, did a fabulous job putting the event together. Congratulations to the organizers, volunteers and speakers of Wordcamp Philippines 2010! And of course, congratulations to all of my fellow campers as well 😉 I'm sure everyone had fun and learned a lot 🙂 Let's not forget WordPress founder and lead developer Matthew Charles Mullenweg's challenge to us, yes?
Let's advocate the use of WordPress here in the Philippines!
Are you up for the challenge? Because I am! 🙂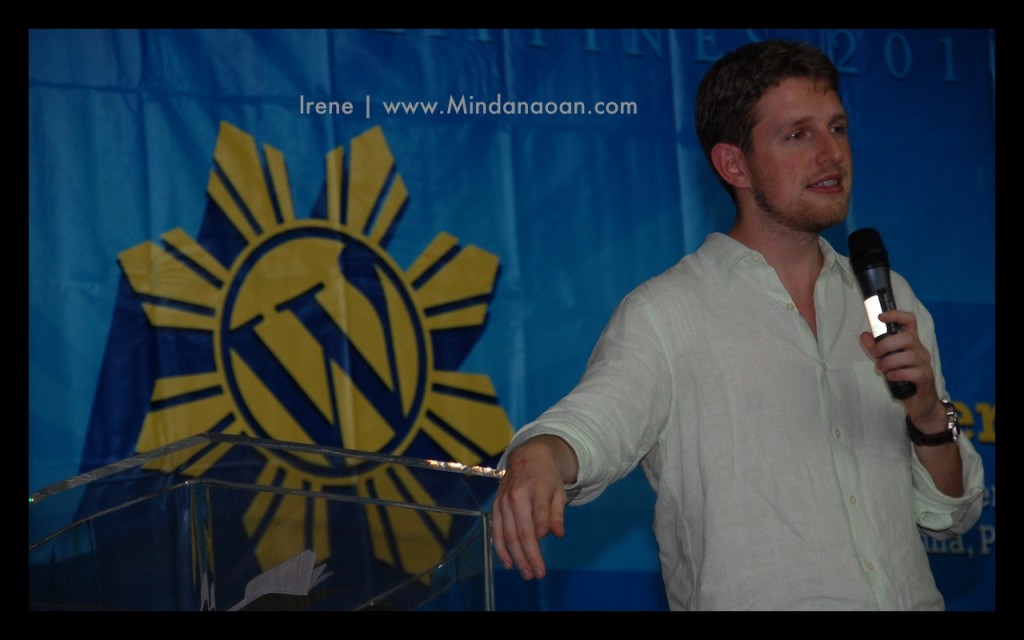 For non-bloggers, just in case you're curious as to why Wordcamp Philippines 2010 was such a big deal especially for bloggers who use WordPress (Mindanaoan.com as well as all my other numerous blogs proudly use WordPress, by the way!), here's why:
To quote Avatar Media:
WordCamp is a conference that focuses on everything WordPress. WordCamps are informal, community-organized events that are put together by WordPress users like you. Everyone from casual users to core developers participate, share ideas, and get to know each other. WordCamps are open to WordPress.com and WordPress.org users alike. On October 2, 2010, the Filipino WordPress community will gather together in Manila for WordCamp Philippines 2010. It marks the third time WordCamp is held in the Philippines, following successful WordCamps in 2008 and 2009. This year, the organizers promise a bigger and better WordCamp Philippines, featuring distinguished speakers and not to mention WordPress creator Matt Mullenweg himself being in attendance.
Yup, Wordcamp Philippines 2010 was not only a WordPress fan/user's chance to learn more about their preferred blogging platform but it also provided the privilege for campers to meet Mr. WordPress Matt Mullenweg himself!
And because I'm such a fan, I took that opportunity to bug politely ask Matt for a photo taken with him as well as a video message. Here's Matt's first video greeting (it was still pretty early in the day when this was taken):
However, I had the chance to talk to him again during the event's after party (thank you Ria and to all of the other organizers for the invite! I super appreciated it!) so naturally I asked for another video greeting:
Obviously he was in a much better mood 😀
Thank you Matt for taking the time out 🙂
I also took a couple of photos of Mr. WordPress during the event and I'll share them with you all in another blog post.
Congratulations again to Avatar Media and I look forward to attending next year's Wordcamp! 😀