Thanks to the TAYO Awards 2010 secretariat, this blogger from Mindanao has gotten hold of the list of Mindanao youth organizations that have been declared finalists to the 8th Ten Accomplished Youth Organizations (TAYO) Awards. These Mindanao youth groups will attend the TAYO Awards 2010 National Finals Week in Manila on December 5 to 9, 2010, according to search committee chair Georgina Nava (or Miss Georg, as I call her 🙂 )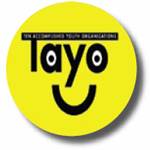 * 4-H Mandaya Tribal Youth Organization (MTYO), Compostella Valley, Mindanao
* Association of Locally-Empowered Youth – Northern Mindanao (ALEY-NM)
* Pro-Drop Out Reduction Program (PRO-DORP) Team, Surigao del Sur, Mindanao
* Watershed Management Youth Council, Davao City, Mindanao
* Youth Solidarity for Peace-Peace Advocates Zamboanga (YSP-PAZ), Zamboanga, Mindanao
Congratulations to all of the officers and members of all of these youth groups!
The judges for the Mindanao area finals were Commissioner Steve Laurence Arquiza of the National Youth Commission (Chairman); Assistant Regional Director Priscilla M. Razon of the Department of Social Welfare and Development (DSWD) Region XI; Ms. Leah Reyes, Regional Human Resource Manager of the Coca-Cola Foundation; Lifestyle Editor Ana Felicia Dulay of SunStar Davao; and businessman Amado So of the Davao Chinese Development Council (DCDC).
Congratulations to the other organizations that reached the Mindanao finals as well: 505 Disaster Rescuers for Emergencies, Assistance and Management, Inc. (505 DREAM) from Kidapawan city; Bukidnon State University Dance Troupe; Ingat Kapandayan Artist Center from Jolo, Sulu; Voice of Mindanao (VoM) from Zamboanga city; and Youth Community Service Club – General Santos City Council.
The 2010 TAYO Awards final voting will be done by a panel of judges led by Senator Francis "Kiko" Pangilinan (who recently made Mindanaoan absolutely happy, by the way, because of his video greeting! :D) and Bam Aquino of the TAYO Awards Foundation.
Each of the ten winning organizations of the TAYO Search will be awarded a Php 50,000 cash grant from the Coca-Cola Foundation Philippines and a specially handcrafted trophy by artist Toym de Leon Imao.
According to the TAYO Awards Mindanao secretariat, out of the 70 winners of the TAYO search, 19 were from Mindanao. Not bad!
By the way, here are the profiles of the Mindanao youth groups that were declared finalists to the 8th TAYO Awards search:
The Mandaya Tribal Youth Organization (MTYO) hails from Mebatas, Upper Ulip, Monkayo, Compostela Valley. Their Fishpond Production Project, is a livelihood development project that not only created a source of income and much needed protein for Mandaya tribe members, but now provides cheaper commodities to the other residents of the outlying area.
Considering the freshwater resource in the area, MTYO also raised tilapia, African hito, and Taiwan clams through off-shore production by fish-cage culture. They were able to tap the underutilized communal waters of the area and made food more accessible.
Initially, these out-of-school tribal youth ventured out with a project in the face of a critically endangered environment and massive poverty. After gaining some training from agricultural offices and a loan from the Department of Labor and Employment, MTYO worked with 2 hectars of land awarded by their tribal chieftain. Following a successful run, they received 8 more hectars from Datu Latiban including assistance from provincial and municipal offices that resulted in the planting of a total of 1800 hills of Mahogany, Falcata, Banana, Rubber and high value fruit trees.
In 2008, MTYO received the Gawad Saka Outstanding Young Farmers Organization Award. True examplars of self-reliance and faith in one's abilities, these youngsters showed that great things can be achieved no matter where you are, how old you are or how little you have.
~oOo~
The Association of Locally Empowered Youth observed that the lack of water in upland marginal areas make health and sanitation take the back seat, as the little water that farmers obtain from far-off creeks isn't enough for traditional flush toilets, much more for a proper sewage system. It is for this reason that ALEY decided to turn things around by building arborloo ecological sanitation toilets; creating EcoPee, which is the collection of urine to be used as fertilizer; and storing rainwater for household use.
Under the Ecological Sanitation and Rainwater Conservation Project, ALEY has established a seedling nursery, raising 3200 seedlings. An estimated 120 individuals participated in the vegetable gardening project using EcoPee which translates to 120 home gardens producing an average of 300 grams of vegetables a day. Furthermore, ten local families have been successfully oriented to the use of the arborloo toilets.
Part of ALEY's mission is "to promote self-reliance among the youth by providing income generating opportunities through farm, non-farm, and off-farm livelihood projects, training, and networking activities". In line with this, the organization was able to educate stakeholders on proper hygiene, recycling, water conservation while adapting to the needs of the community. ALEY showed that, with the proper research and the right intentions, there isn't a problem too difficult to take on.
~oOo~
The municipality of Cantilan, Surigao del Sur has only one public high-school, the Cantilan National High School, with a population of 1,013 students. In recent years, an alarming drop-out rate was detected with a 15.28% high in the school year 2003-2004. As a response to this unsettling reality, the PRO-DORP TEAM formally set-up the Reach-Out, Not Drop-Out Program in 2007 which addressed the individual issues hindering students from staying in school.
Four sub-programs, namely Supporta Mo Kinabukasan Ko, Feed My Brain, Maglaro at Mag-Usap Tayo, and EmpATHY, were formulated based on the components family, individual, community, and school respectively. Representatives for each sub-programs discovered valuable information on why students kept dropping out.
Representatives for the Supporta Mo Kinabukasan Ko found that 80% of the students could not pay miscellaneous fees on time and they responded by scouting for sponsors. Through Feed My Brain, the problem of poor comprehension because of malnutrition was countered with a feeding program. Maglaro at Mag-usap Tayo addressed the presence in-campus gangs by intensifying school activities and group counseling. For EmpATHY or Empower the Teachers to Help the Young, they realized that teachers also needed to address the personal/emotional problems of these underprivileged youth through counseling.
As of the school year 2009 to 2010, the drop-out rate has been successfully reduced to 1.87%, a staggering 13% difference from 2003-2004. Positive results and improvement of the students push the PRO-DORP TEAM, aiming for a 0% drop-out rate by 2015.
~oOo~
When the Watershed Management Youth Council (WMYC) learned that the Tamugan-Panigan River in Davao is threatened with plans for a Hydroelectric Powerplant, they were alarmed. The information came when they already knew that a study projected that the demand for water in 2011 will equal supply. Hence, another source of potable water must be determined. The problem is that the only other viable source of potabe water is the threatened Tamugan-Panigan River, posing a serious threat to the water supply of all 1.8 million Davaoeños.
In 2007, WMYC took a stand and initiated an information and education campaign advocating the Watershed Code – a city ordinance geared at protecting and preserving the watershed areas in Davao City. Under the umbrella project called Davao City Youth Working Towards Saving Davao's Last Water Source, they conducted school-to-school campaigns and barangay forums appealing for support from their fellow youth and SK councils. They lobbied their cause to local legislators through a 6- week silent protest and carried out a signature campaign garnering 40,700 signatures.
In 2010, two years after WMYC's crusade began, the city council of Davao declared that drinking water will be prioritized in the case of the Tamugan-Panigan River, as opposed to making way for power-generation purposes. A triumph that only brave ones like the Watershed Management Youth Council can claim.
~oOo~
Youth Solidarity for Peace or YSP was formally established in 2008, stemming from a youth movement advocating the Culture of Peace and fighting against discrimination across cultures like Muslims, Yakan, Christians and Indigenous People, in an area perceived to be conflict-ridden. It now serves as the youth arm of Peace Advocates Zamboanga (PAZ). Hence, the name of their project PAZ for SMILE which created an avenue for interreligious dialogue, interaction and cooperation.
From June 2009 to June 2010, YSP was able to reach about 2000 people in 7 communities by conducting peace camps, workshops, and outreach activities under the umbrella project PAZ for SMILE. This project operates in such a way that it first addresses the basic needs of people, instead of merely preaching about the value of peace; believing that families, communities, individuals may come to embrace peace, when necessities like food, access to healthcare and literacy are not overlooked.
The PAZ for SMILE consists of a 4-point program, namely: Responsive Education Amidst Adversity or READ, which addresses illiteracy and provides indigent kids reading materials and tutorials; PIYES, meaning feet in Chavacano, which provides slippers to children and the elderly; SHARE which stands for Smile for Hygiene Awareness; and Culture Across Real Experiences or CARE, which gives high school and college students a proper knowledge on the dynamics peace and the culture surrounding it.
While other people have given up on the peace and order situation in the South, YSP has created a synergy of peace efforts successfully yielding partnerships with different peace organizations, hospitals and sponsors. This youth organization decided that something had to be done to address the issue of peace by first truly connecting with people instead of merely telling them about it. YSP decided that they were going to be change itself.
~oOo~
Again, my warmest congratulations to all!
Mabuhay ang kabataang Pilipino!
Mabuhay ang Mindanao!