A few weeks ago, my mom and I finally had the chance to visit Singapore and Malaysia. Although it wasn't our first trip outside of the country, it was our very first time to visit Singapore and Malaysia and it was also the first time that we followed a DIY or do-it-yourself itinerary. We opted not to avail of the services of a travel agency for a number of reasons including the fact that we didn't want to be led to tourist traps just like what happened during our Hongkong, Shenzhen and Macau trip two years ago. Plus I'm also the type who loves to take on a challenge and preparing for a trip abroad – starting from scratch – can be quite a challenge!
Don't be alarmed, though! Preparing a do-it-yourself itinerary can actually be fun, too! Plus it brings a whole lotta meaning to accomplishment — especially after seeing a huge smile on your mom's face during and after the trip 🙂 In fact, during our 4-day budget trip (which was actually partly courtesy of my nice little stroke of luck, by the way), you could say that not only did we both fall in love with these two beautiful countries but we also rekindled our special mother-daughter relationship.
Now before I start with my series of blog posts about our ultra memorable mother-daughter trip abroad, though, I thought I could first share with you guys some tips on how to prepare a DIY trip to Singapore and Malaysia. After all, given the increasing number of promo fares for various Asian destinations, I bet that most, if not all, of you my dear readers, would visit these two Asian countries pretty soon 🙂 So please allow me to share with you some tips on how to prepare a budget, do it yourself Singapore and Malaysia trip.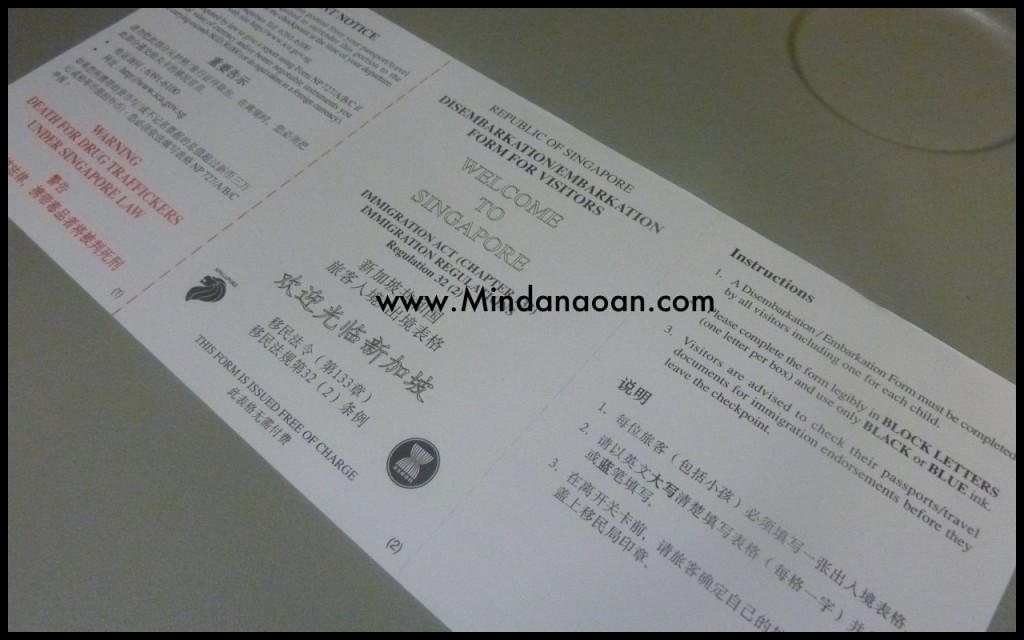 So the first thing you have to do is make sure that you have a Philippine passport and that its validity is at least 6 months before your intended date of travel. You must be very careful with this as some airlines refuse passage even if you already bought tickets. Just in case your passport is no longer valid, you can either apply for a new one through the Department of Foreign Affairs (you may want to read my own experience when I renewed my passport | How I got a Philippine e-passport) or if you think you already lack time, you can just ask for an extension, also through the DFA. Check the nearest DFA branch for the requirements and other guidelines.
Just in case you're wondering — NO, we Filipinos do not need visas when we go to Singapore and Malaysia as tourists. Filipinos can stay in both countries for a period of 30 days, without the need of a visa. If you do intend to stay longer than a month, though, that's the only time that you need a visa. Visit the Singapore Embassy in Manila and Malaysian Embassy in Manila websites for information.
The next thing you need to do is buy plane tickets to and fro your desired destination. Unfortunately for us Mindanaoans, there aren't a lot of options. From Davao City, you can fly to Singapore but not via budget airlines. As far as I know, Silk Air has Davao to Singapore flights but the fares do not exactly fall under "budget." So if you want to avail of cheaper airline fares, you need to fly via budget airlines such as Air Philippines, Tiger Airways, Air Asia, Cebu Pacific and JetStar. Cebu Pacific actually used to have Davao to Singapore and Davao to Hongkong trips before but they no longer offer those today.
Here are the official websites of the budget airlines I previously mentioned:
Cebu Pacific Airlines
Tiger Airways
Air Asia
JetStar
Air Philippines
When you book Cebu Pacific flights, you can pay either through bank deposit or credit card. All other budget airlines require credit cards.
So now that you have your passport and your plane tickets, the next thing you must prepare for is your accommodation and/or lodging. If you have friends who are willing to host you, then well and good. For those of you who have yet to look for a suitable place to stay, though, then read on. In Singapore and Malaysia, just like in any other city around the world, there are a number of options — hotels, hostels, inns, dormitories, backpacking houses etc. Of course, a hotel is the most expensive option. However, you also get the service, room space and all other benefits of staying in a hotel. You can search for great hotel deals in Malaysia and Singapore through this booking engine below:
In the case of me and my mom, we stayed in a hostel in Chinatown. I'll tell you more about our choice of accommodation but suffice it to say that it was the best option at that time especially because we visited during Chinese New Year and Valentine's Day 🙂 It was a really good decision to stay there. I'll write a review about our nice hostel in Chinatown Singapore next. Meanwhile, you can search for great hostel deals in Singapore and Malaysia through this booking engine below:
Remember to book accommodations that do not only fit your budget but are well within the city proper. It wouldn't be practical to book a hotel room that's far from where all the action is, would it?
But I bet your next question would be — how would I know if the hotel I booked a room in is within city proper? Ah, that's pretty easy. Check online for the maps of Singapore and Malaysia! There are a lot of maps available online – plus you can also get FREE maps at the airport when you arrive 🙂 Or better yet, you can always consult Google Maps to be sure.
The next part of your do-it-yourself Singapore and Malaysia challenge is to figure out which tourist spots and attractions you want to visit. In Singapore, there are a number of tourist spots that you may want to visit. There's Universal Studios Singapore, Merlion and Esplanade. Check this website for a couple of choices. In Malaysia, on the other hand, you have to figure out first which part of Malaysia you want to visit. Do you want to go to Johor Bahru? Or do you want to visit Genting Highlands? What about Kuala Lumpur, home of the Petronas Twin Towers and of the Batu Caves?
Just in case you're wondering — my mom and I went to Kuala Lumpur 🙂 Of course, expect a lot of blog entries about our wonderful KL escapade!
After figuring out which areas you want to visit, make sure that you check their respective websites to see if there are fees and charges. In the case of Universal Studios Singapore, for instance, you would need to pay around SG $72.00 for each person. You can book your tickets online.
While you're at it, you might want to check the fares for public transportation, too. In Singapore, there are buses, taxis and trains (MRT). During our trip, we rode the MRT often. You can check the fares as well as the train stations here.
One of the most useful websites I used as I prepared for our DIY trip was GoThere. It's so darn simple and easy to understand that explaining how it works may even be more difficult 😀 Just check it out and you'll know what I mean.
Taxis in Singapore, by the way, can be pretty expensive. So make it your last recourse. Although it wouldn't hurt if you try to ride one at least once during your trip — most, if not all, taxis in Singapore are pretty cool — they offer FREE wi-fi (yep, free Internet connection while you're on the road, baby!) and they also accept credit card payments 😀 How neat, huh?
Finally, one crucial element in your do it yourself, budget Singapore and Malaysia trip would be — FOOD! But of course 😉 In both Singapore and Malaysia, there are hawker centers (ala carinderia style) that offer cheap but delicious food. The hawker center my mom and I went to was Maxwell — we had our share of the famous Tian Tian Hainanese Chicken here. And yes, I'll write about that experience, too 🙂 The usual fastfood chains can also be found in both countries, of course. There are a lot of restaurants to choose from as well. Just be ready to shell out a little more than the usual since meals in Singapore can be quite expensive (and this is the reason why a lot of people opt to eat at hawker centers)
So there you go! These are my tips on how to prepare a do it yourself budget Singapore and Malaysia trip. I'll constantly update this blog entry as I write more stuff about our recently concluded Singapore and Malaysia adventure.
In the meantime, please feel free to share your own tips below at the comments section 🙂 I would love to hear your suggestions. Thanks for reading and please don't forget to subscribe to my blog feeds 🙂