Here's a great job opportunity for those who want to be a part of an airline company. If you or someone you know may be interested in becoming a part of the Cebu Pacific Airlines family as cabin crew member, then this Mindanao job alert is for you!
Cebu Pacific will hold cabin crew job screenings in Davao City, Bacolod and Manila. So if you're looking for jobs as flight attendants of Cebu Pacific, then check this job opening below: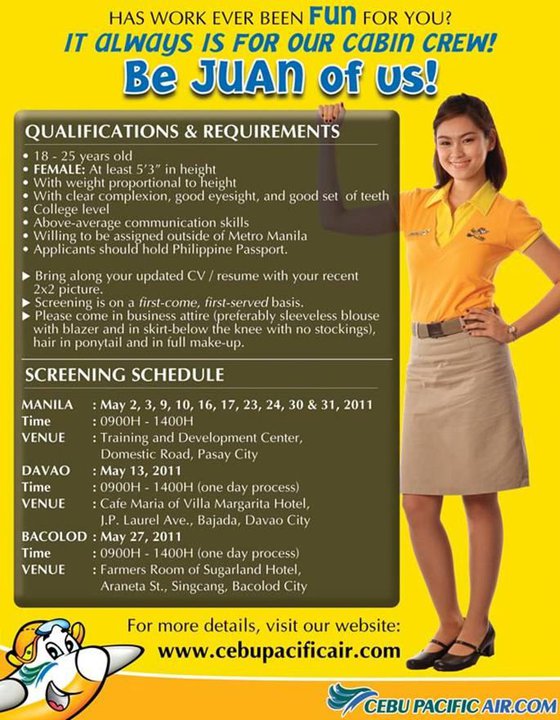 More details and other job openings after the jump!
Meanwhile, you may want to SUBSCRIBE TO MINDANAOAN for you to always be updated with the latest job openings in various areas around Mindanao. Just CLICK ON THIS LINK, leave a valid email address and don't forget to verify by logging in to your email account and clicking on the link that will be sent to you.
Subscribe to Mindanaoan and get that dream job!
For other jobs, you can follow this page.
Please feel free to share this blog post from Mindanaoan.com with your family and friends — I'm sure they'll thank you for it 😉
DID YOU FIND THIS BLOG POST USEFUL? PLEASE LEAVE A COMMENT BELOW AND LET ME KNOW 🙂 Your feedback will help me determine if I should post more job openings in the future.
Thank you!