It all just started with a tweet…and I really did not think that it would all lead to this.
As you guys may or may not know, I'm an avid Twitter user. (You can see and follow my Twitter account HERE) Just a few hours ago, Sunday night, December 18, 2011, I was monitoring tweets about Typhoon Sendong when I noticed GMA 7 Network reporter/journalist Joseph Morong ask a certain @iammarlonramos (who turned out to be Philippine Daily Inquirer reporter Marlon Ramos) if he was serious. Curious, I checked what the tweet was about. Apparently it was a reaction to Filipina celebrity Valerie Concepcion's tweet that she was at a party in Malacanang (the PSG Christmas Party, to be exact) and that the Philippine President Benigno Aquino III was there.
Now for those of you who don't know, two cities in the Southern part of the Philippines were so badly hit by Typhoon Sendong (International Name: Tropical Storm Washi) that as of this writing, about 650 people died and about 900 are still missing. Because of the devastation, a lot of people – especially my fellow Mindanaoans – expected PNoy (President Noynoy Aquino) to be on top of things and to perhaps visit the affected areas as soon as possible. Or at least issue an official statement or appeal for help. Nada.
Now this. Because of Valerie Concepcion's tweet (which she posted on Sunday and which was later deleted, by the way…but not before so many Twitter users screengrabbed her page), people are asking: Why is PNoy at a party at a time when he knows that the Typhoon Sendong victims are still picking up the pieces? Why is President Noynoy Aquino at a PSG Christmas Party amid deaths, water scarcity and all other problems in Cagayan de Oro, Iligan City, Bukidnon and other neighboring areas? Is it proper for him to be at a party when Mindanaoans mourn the deaths of 650 people? Is it proper to be laughing at a female celebrity's jokes, enjoying her performance while people in Northern Mindanao are scrambling to source clean, drinking water (the city water district has reported an 80 percent water supply shortage).
More questions: Who hired Valerie Concepcion and Jessa Zaragosa to perform at the PSG Christmas Party? Were public funds used?
Check out one of Valerie Concepcion's tweets: "Done w/ work.. Tnx for having me.. 🙂 It was nice to see Pres. P-Noy laughing at my jokes & enjoying my performance..ü #Malacañang #PSGNight"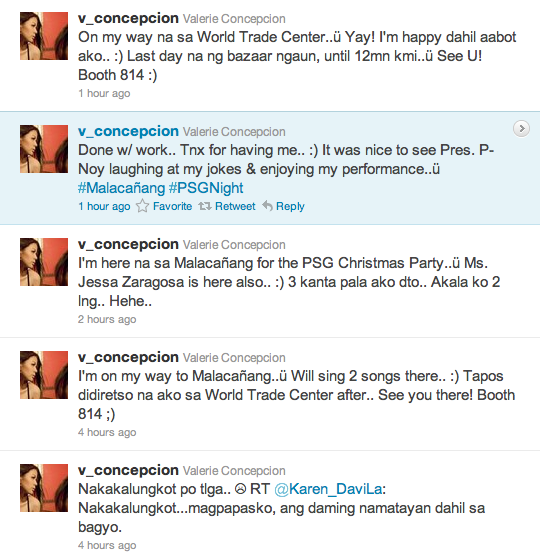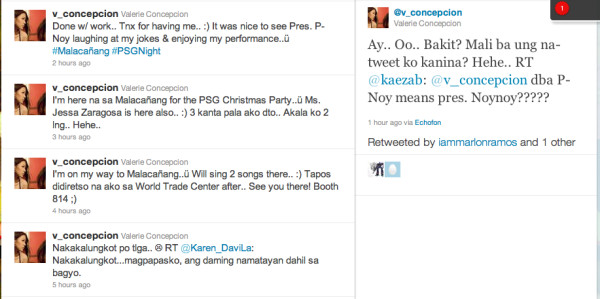 Valerie Concepcion also tweeted that she was with Jessa Zaragoza. Check out a screen cap of one of Jessa's tweets:

I must admit, at first I thought it was some sort of a prank. So I chimed in Joseph and Marlon's tweet-conversation. In no time, Presidential Communications Development and Strategic Planning Undersecretary Manolo Quezon III, who is also active on Twitter (he uses the handle @mlq3), said that the PSG event was held last December 10. I even thanked the Undersecretary and said that "nawindang ako dun" (referring to the Valerie tweet).
I thought that was the end of it. I thought wrong.
A few minutes later, other Twitter users chimed in and said that Valerie's tweets were only posted "hours ago" meaning there was no way that Valerie Concepcion was tweeting about an event in Malacanang that supposedly happened last December 10. A lot of Twitter users also checked Valerie Concepcion's Twitter timeline and said that she did indeed tweet on December 18 (Sunday).
Curiously, that controversial Valerie tweet was deleted. But like I said, a lot of people already got screencaps.
* screencaps courtesy of Twitter user @MangPandoy