Win tickets to the Greatest Hits Tour Manila featuring a1, Jeff Timmons of 98 Degrees and Blue!
Hi everybody! I'll make this short and simple. I'm giving away four (4) general admission tickets to the upcoming Greatest Hits concert featuring a1, Jeff Timmons of 98 Degrees and Blue! The Manila leg will be held on February 25, 2012 (Saturday), 8 PM, Smart Araneta Coliseum.
So are you ready to win some tickets for yourself and three of your friends? Read on and share!
Contest mechanics:
– You must be a subscriber of Mindanaoan.com CLICK HERE to subscribe (don't forget to verify your email address, okay? 🙂 )
– Follow the Official Mindanaoan.com Facebook Page
– Follow the Drake World Entertainment Twitter account (http://www.twitter.com/asiantouring)
– Follow the Wilbros Live Twitter account (http://www.twitter.com/wilbroslive)
– Tell me what you like about Jeff Timmons, a1 and Blue. You must have at least one (1) sentence about EACH artist, okay? 🙂
Example: I love a1 because of their catchy songs! I like Blue because they're all gorgeous men. I just love Jeff Timmons because he's so sexy and has a beautiful voice!
– Post your answers in the comments section below
THAT'S IT! 🙂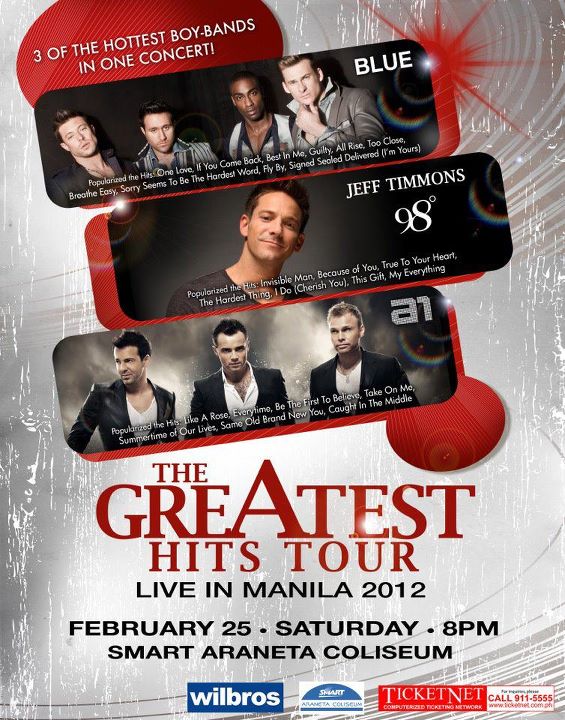 * To increase your chances of winning these tickets, ask your 3 other friends to join and post their answers below as well 🙂
– Please include your name and please post your full email address in the "Email" section when posting below so I can contact you if you win. You also have the option to just leave your first name or a pseudonym but you must leave a valid email address since I will contact you should you win!
– Deadline of sending in your comments/entries to this mini online contest is on February 18, 2012
– We will announce the winner of this blog giveaway here on this site on February 20, 2012
Terms and conditions:
– Contest is open to everyone no matter where you are in the world but obviously you need to be here in the Philippines on February 25, 2012 to be able to watch the concert
– All valid entries will be raffled off via Random (dot) org
– The winner is responsible for getting the tickets from the Wilbros office (on or before February 23, 2012 or contact their office at 3742222 to make arrangements)
– The winner must give his/her full name, complete valid Philippine address and contact number/s for verification
– Upon receipt of email confirming his/her win, the winner must also provide the email address that he/she used to subscribe to Mindanaoan.com and the Twitter account that he/she used to follow @asiantouring and @wilbroslive
– Use of profanities / slurs / racist statements will automatically disqualify the entry
– Decision of Mindanaoan.com will be FINAL and no correspondence will be entertained
SO ARE YOU READY? APIL NA! (JOIN NOW!) 🙂 ALSO, PLEASE SHARE THIS POST WITH YOUR FRIENDS AND LET THEM JOIN AS WELL 🙂
Daghang salamat!
* Thank you so much to Drake World Entertainment and Wilbros Live for supporting this mini contest!