Want to embark on a wild and wet adventure this August 2012? Then Davao City is where you should be!
The 1st Kadayawan Wild River Tubing event will be held on August 18, 2012. This, in celebration of the 2012 Kadayawan Festival, the grandest, funnest, most-awaited festival in Davao City.
For a really good price of only Php 1,000 (roughly US $25), you can experience the fun that is the 1st Kadayawan Wild River Tubing. The fee already includes transportation, river guide, life vest, tubes, helmet, snacks and pictures 🙂
Wild river tubing is where you ride a tube (fancy term for salbabida :D) and you navigate a river. Perfect way to make your Kadayawan Festival 2012 a memorable one!
See the official schedule of activities for Kadayawan Festival 2012 here
Reserve a spot now! Call (+63) 82 – 300 3033 or 0922 7619772
Send an email to [email protected]
Also, should you need a place to stay in Davao City, you can book Davao hotel rooms below at guaranteed LOWEST rates:
or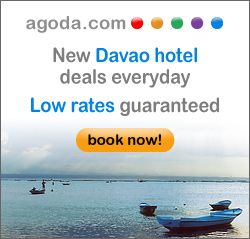 Book your flights to Davao City via Airphil Express