Along with 2 blogger-friends, I witnessed the Miss Kagay-an 2012 swimsuit competition held last August 18, 2012 at the poolside of a hotel in Cagayan de Oro City.
As I previously mentioned to you all, Mindanaoan.com is an official media partner for the Miss Kagay-an 2012 beauty pageant, which is one of the core events for the Kagay-an Festival 2012, the annual fiesta in Cagayan de Oro City in honor of patron Saint Augustine.
Check out one of the Miss Kagay-an 2012 billboards (the URL of Mindanaoan.com is there somewhere :P)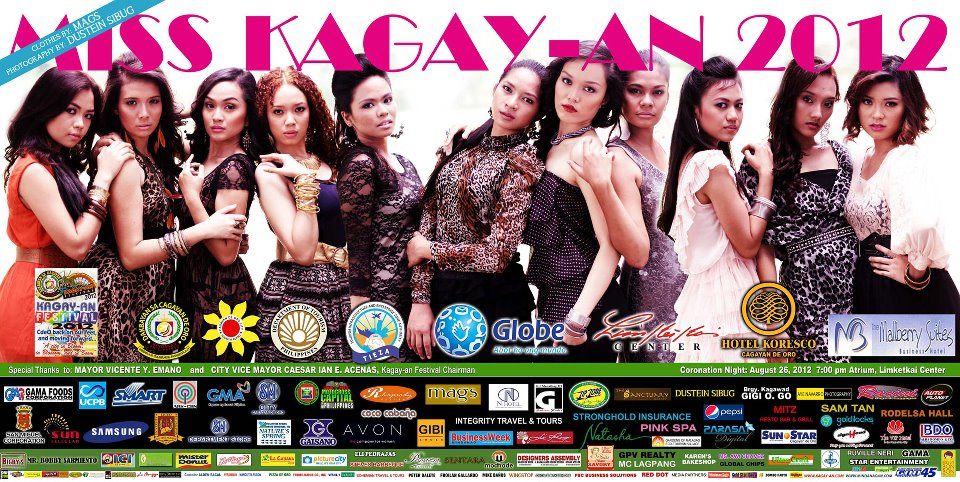 Anyways, here are some of the photos I took during the Miss Kagay-an 2012 swimsuit competition. Apologies for the poor photo composition – there were a lot of shutterbugs that day and I also failed to bring my DSLR.
By the way, you can find the individual photos of the official candidates of the Miss Kagay-an 2012 pageant here.
The 11 lovely official Miss Kagay-an 2012 candidates are:
Lovely Jane Estampa, a legal analyst at Development Bank of the Philippines
Sydney Taboclaon, born in Germany and taking up BS HRM at Tagoloan Community College
Maria Elaine Angelica Ghan, nursing student at Liceo de Cagayan University
Laurice Dee Iñosa, college graduate and from Barangay Balulang
Queennie Bahian, HRM student at Cagayan de Oro College – PHINMA and can speak Mandarin
Juriel Valledor, Tourism Management student at Liceo de Cagayan University
Maria Leslie Angelina Ghan, Civil Engineering student at Xavier University
Emie Lou Yamba, sales representative of Amore Travel and Tours
Roxinne Jearl Monterde, Information Technology student at MUST
Kris Pajaron, Bukidnon-born Associate in Hotel and Restaurant Mgt student at Liceo de Cagayan
Greanne Trisha Mendoza, Malaybalay City-born event organizer
The Miss Kagay-an 2012 coronation night will take place on August 26, 2012, 7 PM at Limketkai Atrium. Mindanaoan.com will be there to cover the grand affair. You may want to follow the updates via the Mindanaoan.com Official Facebook Page
The hosts during the coronation night will be PBB Housemate Kevin Fowler and my friend Maxine Monasterio, who happens to be one of the hosts of the local ABS CBN Mag TV show. Maxine was also crowned 2007 Miss Teen Philippines. The theme for this year's Miss Kagay-an 2012 pageant is "Hollywood."
The candidate who will be crowned Miss Kagay-an 2012 will receive P50,000 cash, a trip to Hong Kong and Macau, an educational trip to Manila and many other prizes.
Meanwhile, here's the official schedule of activities for Kagay-an Festival 2012
Please feel free to share this blog post with all your friends and don't forget to follow Mindanaoan on Twitter and 'like' my Facebook Page 🙂
Thank you for your support!