This is your Mindanao Fashion Summit 2012 guide. I previously mentioned to you guys that Mindanaoan is an official media partner of the Mindanao Fashion Summit 2012. Now for those of you who want to catch the 3-day event, here are the Mindanaoan fashion designers who will be featured as well as their collections.
The Mindanao Fashion Summit 2012 will be held on December 5 to 7, 2012 January 4, 5 and 6, 2013 at the Rotunda of Lim Ket Kai Center, Cagayan de Oro City. [Note: the event was moved due to Typhoon Pablo] Notable fashion designers, various fashion brands, fashion writers and other prominent guests will be present during this 3-day event that will showcase the global design and fashion forecast for Spring/Summer 2013.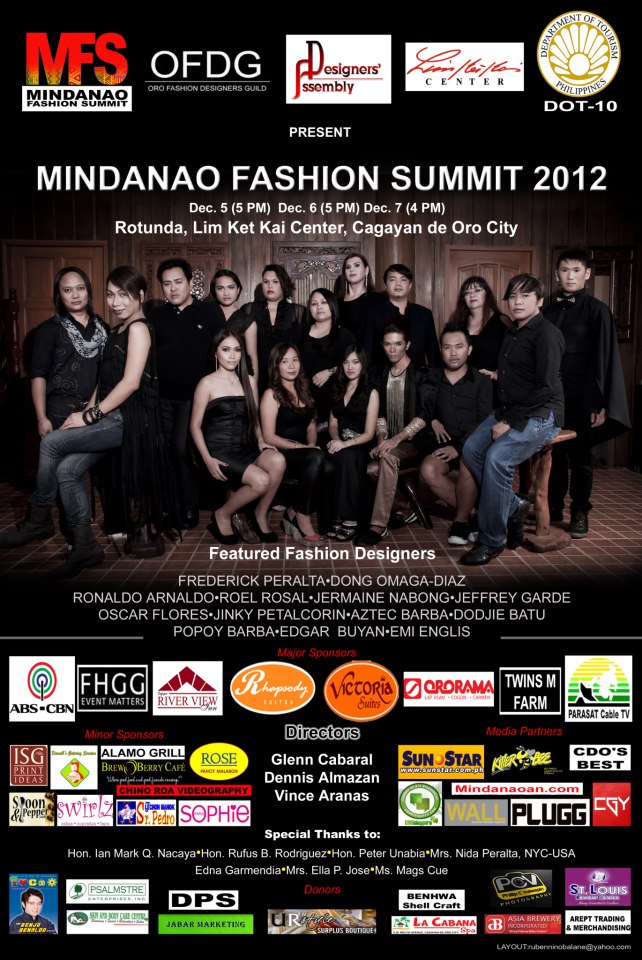 December 5, 2012 January 4, 2013 5 PM – Men's Wear
Benjie Manuel
Boogie Musni Rivera
Celeste Magsalay
Gil Macaibay III
John Mark Magallanes
Joshua Guibone
Juniel Doring
Kiko Domo
Mark Yaranon
Dodjie Batu
Edgar Buyan
December 6, 2012 January 5, 2013 5 PM – Women's Wear
Frederick Peralta
Aztec Barba
Jeffrey Garde & Oscar Flores
Ronaldo Arnaldo
Jinky Petalcorin
Popoy Barba
Dong Omaga Diaz
December 7, 2012 January 6, 2013 5 PM
Angela Soriano
Ann Semblante
Boogie Musni Rivera
John Mark Magallanes
Jonie Rivera
Juniel Doring
Kiko Domo
Mark Dominuez
Mavy Ladlad
Primo Zayas
December 7, 2012 January 6, 2013 6 PM
Alma Mae Roa
Alquin Cap-atan
Benjie Manuel
Celeste Magsalay
Darwin Buo
Gil Macaibay III
Joshua Guibone
Mark Christopher Yaranon
Sunshine Casi?o
Villa Go
Roel Rosal
Please feel free to share this guide to the 2012 Mindanao Fashion Summit.
As official media partner, Mindanaoan will post updates, photos, videos. Follow me today to get the latest updates on the Mindanao Fashion Summit 2012.
UPDATE: Here's the latest Mindanao Fashion Summit 2012 poster: