Ever since I got the chance to watch "Thy Womb," a film starring one of the finest Filipino actors of all time, Nora Aunor, I've been campaigning for others to watch it. Not only is "Thy Womb" a visually appealing film (it is set in beautiful Tawi-Tawi, an area in Mindanao, Philippines that's often misunderstood and ignored – mostly because people think it's laden with seemingly endless violence), it also discusses women's rights, empowerment and how all of these play a role in a community that deeply follows culture and tradition. I like how writer Jessica Zafra said it: "Thy Womb" is respectful of Islamic and Badjao traditions even as it gently raises questions about the rights of women.
On Twitter, I started campaigning for the film by saying that people should watch "Thy Womb" because it can help the world understand and appreciate Mindanao and its various cultures. I'm happy to share that my tweets were retweeted/shared by so many people, including celebrities, politicians and media personalities. (Note: just in case you're still not following me on Twitter, please click this link – Mindanaoan Twitter page – and click on "Follow") I'm also happy to share that many asked if the movie will be shown in movie theaters in Mindanao.
Fortunately, "Thy Womb" is now set to be shown in more theaters across the country. Starting on January 4, 2013, the movie will be shown in GAISANO CAGAYAN DE ORO, SM Cebu, Cineplex Cebu, SM Naga, SM Tarlac, Robinsons Bacolod, Gaisano Davao, SM Cagayan de Oro, SM North, SM Megamall, SM Sta Mesa, SM Manila, Robinsons Galleria, Festival Mall, Gateway, Sta Lucia, Gotesco, Comm Mindpro, Robinsons Gensan, SM General Santos, Robinsons Iloilo, SM Bacoor and Promenade Greenhills.
For those in Cagayan de Oro City, I would like to warmly invite you all to watch "Thy Womb." My friends and I are planning to watch the movie on JANUARY 12, 2012 (Saturday) at Gaisano City Mall Cagayan de Oro.
This will also serve as a tweet up or meet up or Grand Eyeball (however you want to call it 🙂 ) of sorts with all online friends in Northern Mindanao.
So are you interested? It'll be like a "Thy Womb in CDO Tweetup" or something 🙂
Let us know if you can make it!
Please visit this link and click "Join" 🙂 — THY WOMB IN CDO
Now if you're wondering why I'm calling this a "social media experiment," it's because my friends and I will rely on the power of social media, blogging and the Internet to promote the film and to promote the "Thy Womb CDO Tweetup" 🙂
To give you more reason to come and join us, I would like to share these messages from "Thy Womb" director Brillante Mendoza and the one and only Nora Aunor herself. Thank you so much to the film's producer Larry Castillo and Ryan Chua of ABS CBN for making this possible 🙂 I received these messages at around 1:42 AM Thursday and I couldn't help but cry a bit. These are two luminaries in Philippine cinema!
From Miss Nora Aunor:
Mga kababayan ko sa CDO, maraming maraming salamat po sa patuloy na suporta. Inaanyayahan ko po kayong panoorin ang Thy Womb, ang aming pelikulang nagpapakita ng ganda ng ating bayan, kultura na maipagmamalaki at pagmamahal na hindi makasarili. Mabuhay po kayong lahat! At muli, salamat po mula sa aking puso. God bless us all.
From Director Brillante Mendoza:
First of all, I want to thank the blogging community and social media. Thy Womb is an alternative film and we also make use of alternative means in marketing the film. You have really been a big help for us to reach a wider audience. I hope that the people of Mindanao will strongly support Thy Womb because this film is dedicated to you. You are the inspiration behind this film. Please continue to support alternative cinema.
Beautiful, beautiful messages from Direk Brillante and Miss Nora herself, don't you agree? 🙂
So please come and watch the film. Even if you can't join us on January 12, please make sure to catch it during its run.
About Thy Womb (source: Wikipedia)
Thy Womb (Tagalog: Sinapupunan) is a 2012 Filipino drama film starring Nora Aunor, Bembol Roco Mercedes Cabral, and Lovi Poe. Thy Womb won three special prizes in the 69th Venice International Film Festival. — La Navicella Venezia Cinema Award, the P. Nazareno Taddei Award – Special Mention, and the Bisato d' Oro Award for Best Actress (for Nora Aunor).
Plot: Shaleha (Aunor) is a Badjao midwife in Tawi-Tawi. She struggles to cope with the irony of her own infertility amidst the deprivation of her community. A saga of island life stuck between the devil of passion and the deep blue sea of tradition.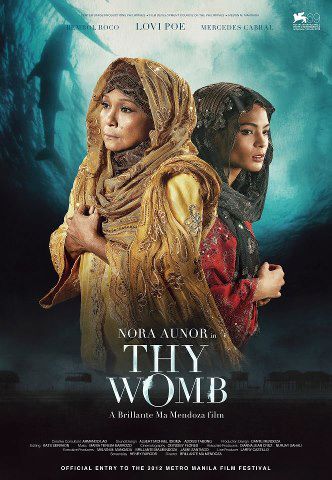 Please come and join us! Not only will we get to watch a beautiful, moving film but we will also meet new friends 🙂
THY WOMB IN CDO (please click the link, login with your Facebook account and click "Join")
Updates and other announcements will be posted on that page.
Daghang salamat!