Hold your breath, folks. Sugar Ray, Smash Mouth AND Gin Blossoms are heading to Manila this October 21, 2013! Yes, Mindanaoan.com can exclusively confirm that popular 90's bands Sugar Ray, Smash Mouth and Gin Blossoms will headline a very special 3-in-1 concert #SugarSmashGin on October 21, 2013, Araneta Coliseum, Manila!
Actually, I first shared the good news in an earlier blog post but only Sugar Ray and Smash Mouth were the confirmed acts then 🙂 And I am also very excited to let you guys know that, thanks to my amazing friends over at Random Minds Production, I will be with Sugar Ray, Smash Mouth and Gin Blossoms when they arrive in Manila! That means I will frequently be dishing out updates, exclusive photos and videos! Stoked 😀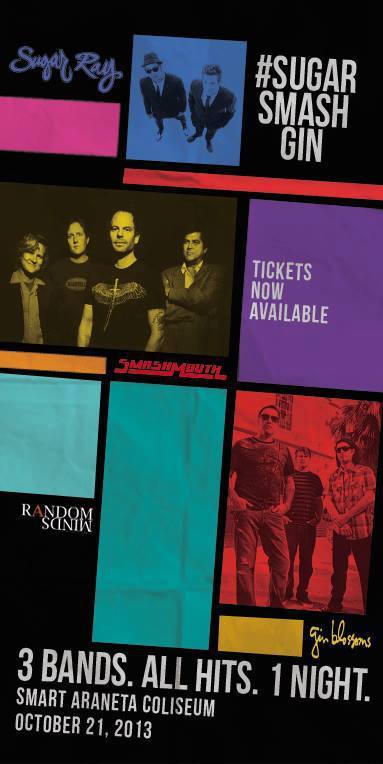 So are you ready for #SugarSmashGin?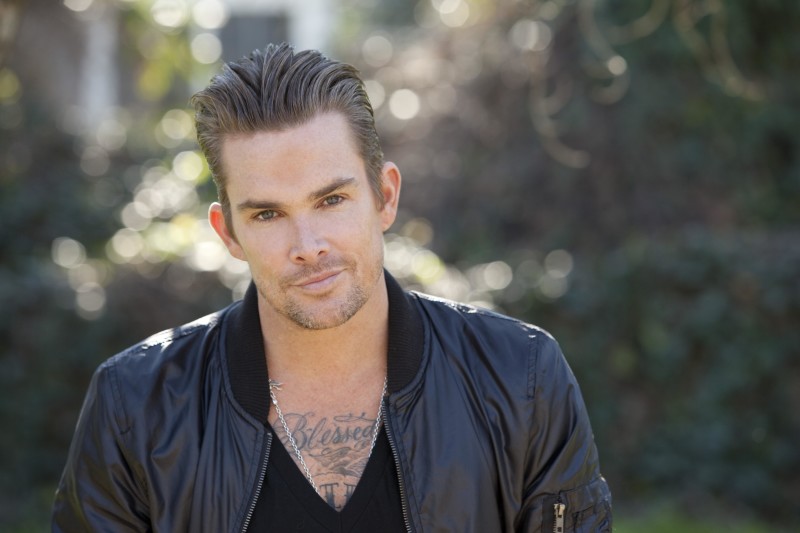 I think the gorgeous and talented Mark McGrath of Sugar Ray is because he even retweeted my tweet and sent me a reply! Look: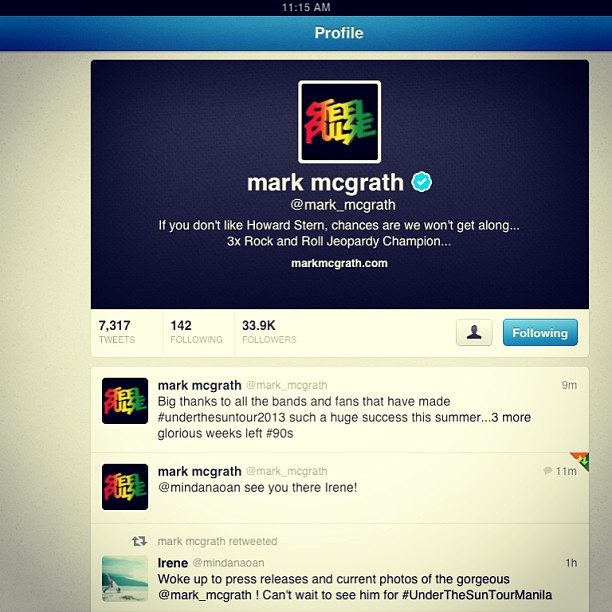 Which reminds me – do follow Mindanaoan on Twitter, Facebook, Instagram, Google Plus and Pinterest! I will be posting exclusive updates, photos and videos 😉
To refresh your memory – Sugar Ray gained worldwide fame with their catchy song "Fly." Their "14:59" album was a TRIPLE PLATINUM sensation. The album produced unforgettable pop classics "Someday," "Every Morning" and "Falls Apart." Their 2001 album, "Sugar Ray," debuted at the Top 10 of the Billboard 200. That album produced every romantic's anthem, "When It's Over."
Remember this? Go ahead, sing along 🙂
Smash Mouth, on the other hand,is best known as the one behind the monster hits "Walkin' on the Sun" (1997) and "All Star" (1999). Their covers of popular songs also became favorites – The Monkees' "I'm a Believer" (featured on the soundtrack of the movie "Shrek"), War's "Why Can't We Be Friends?", Simple Minds' "Don't You (Forget About Me)" and Question Mark & the Mysterians's "Can't Get Enough of You Baby." Collectively, Smash Mouth has sold more than 10 MILLION albums worldwide!
Of course, who doesn't recognize Gin Blossoms?
Gin Blossoms' hits "Til I Hear It From You," (called by Billboard as the closest thing to a perfect pop song to hit radio in recent memory) "As Long As It Matters," "Hey Jealousy" and "Follow You Down" are among every romantic's regular playlist. The song "As Long As It Matters," a Grammy-nominated creation, even earned the band sales in excess of 9 Million in the US alone.
So are you ready to experience a whole new brand of pop rock concert experience? Can't wait for October 2013! Gin Blossoms, Smash Mouth and Sugar Ray Live in Manila! #SugarSmashGin (keep track of this hashtag on Twitter and Facebook, folks!)
BUY YOUR #SUGARSMASHGIN TICKETS NOW!
Ticket Prices:
VIP – Php 9,945
Patron – Php 8,830
Lower Box – Php 6,890
Upper A – Php 3,925
Upper B – Php 2,915
Gen Ad – Php 845
* rates may be exclusive of Ticketnet service fees. You can call (+63) 2 911 5555 or log on to Ticketnet.com.ph
Don't forget to visit Mindanaoan.com for more updates! Follow Mindanaoan on Twitter, Facebook, Instagram, Google Plus and Pinterest!
And PLEASE do me a favor and follow our good friends Drakeworld Entertainment as well! They've given me so much trust and confidence and for that, I will always be grateful! Have I mentioned that Drakeworld was also responsible for getting me involved in that hugely successful Greatest Hits Tour featuring a1, Jeff Timmons of 98 Degrees and Blue? 🙂
This much-awaited Sugar Ray, Smash Mouth, Gin Blossoms Live In Manila 2013 concert is a Random Minds Production. Please follow Random Minds on Twitter, too!
#SugarSmashGin!