One of the things you MUST do when you're in Sarangani, Mindanao, Philippines – white water tubing. No Sarangani adventure will ever be complete if you don't try white water tubing. It's a fun extreme adventure experience like no other!
Now let me make something clear first. If you've tried white water rafting and you think that white water tubing is almost like it, you're wrong. Personally, they offer different kinds of thrill. First off, you ride in rubber boats for river rafting. In water tubing, however, you sit on recycled rubber tubes ("salbabida") with fashioned "handles." You need to grip the handles really well so you don't fall into the water, get swallowed by the rapids or hit the boulders. Okay, I hope that didn't scare you 😀 Truth be told, tubing might look scary at first but your salbabida will be connected to another one and a trained guide will help navigate the river 🙂
In Sarangani, your white water tubing adventure starts at Pangi River, Barangay New La Union, Maitum town. Maitum is roughly two and a half hours away from General Santos City and is one of the 6 municipalities that share the 230 kilometer coastline of Sarangani Bay. From GenSan, Maitum is 127 kilometers away.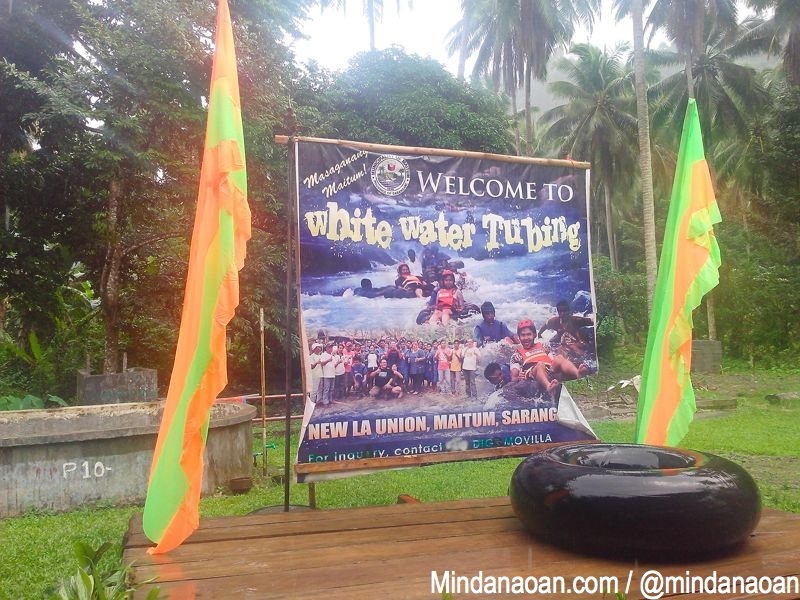 My Sarangani white water tubing adventure was made possible by Go Sarangani and it happened when the Sarangani Provincial Government invited me to witness the 2014 Sarangani Bay Festival. I arrived in Sarangani a day prior to the grand opening of SarBayFest2014 – enough time to immerse myself in the T'boli culture and try the famed Sarangani white water tubing adventure!
It was drizzling by the time our group arrived in Maitum so the river was swollen. Perfect for this extreme adventure! But first – fresh coconut juice to rev things up!
A group of local kids also rendered a dance to welcome us: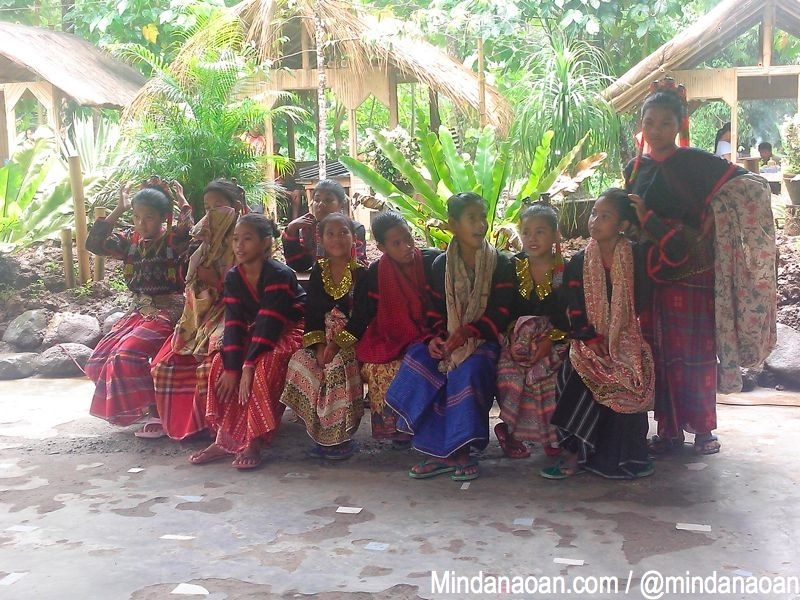 The river guides then briefed us on where the starting point was, how to sit on the rubber tube, the importance of holding on to the handles etc.
Since some groups of tourists arrived ahead of us, we decided to have lunch first. Check out our feast!
Deep fried dried bangsi! Yum!
After lunch and a bit of rest, it's time for our big Sarangani white water tubing experience!
Photos courtesy of Miminesswayfare. Thank you Mimi!
Group selfie before we all took habal-habal rides to the starting point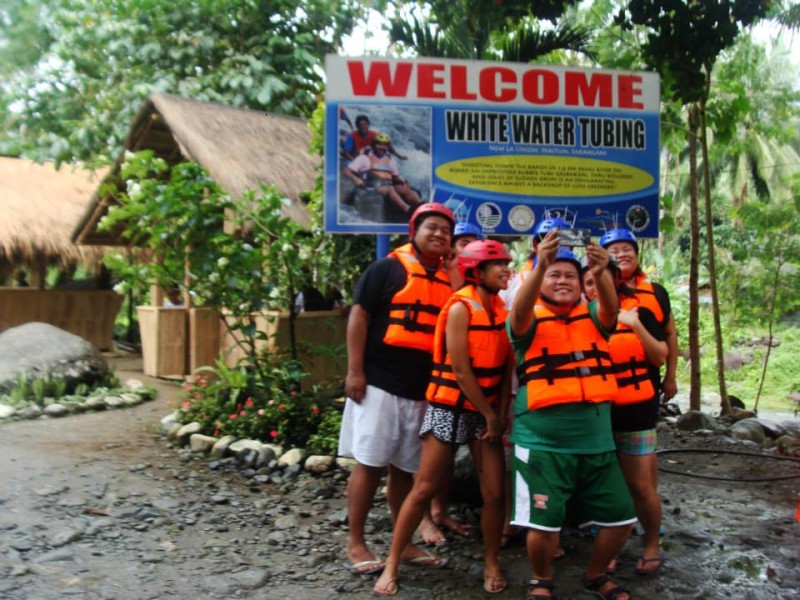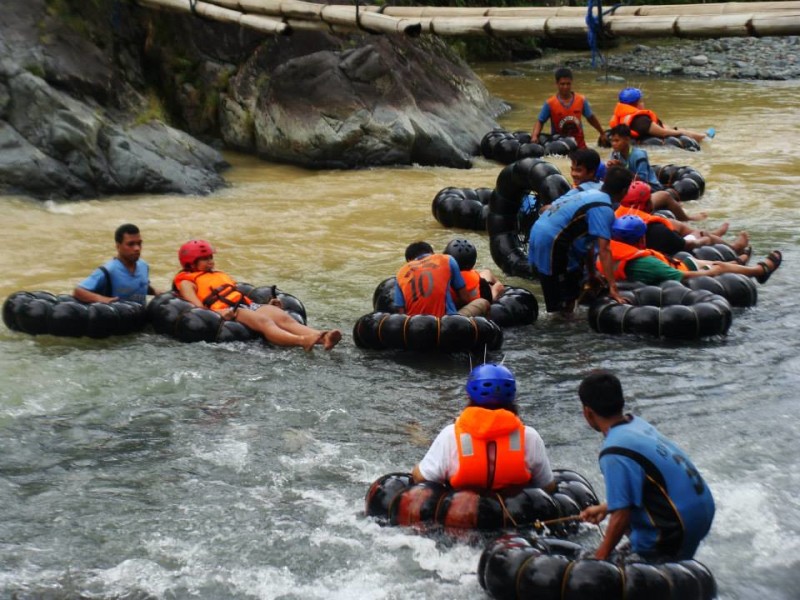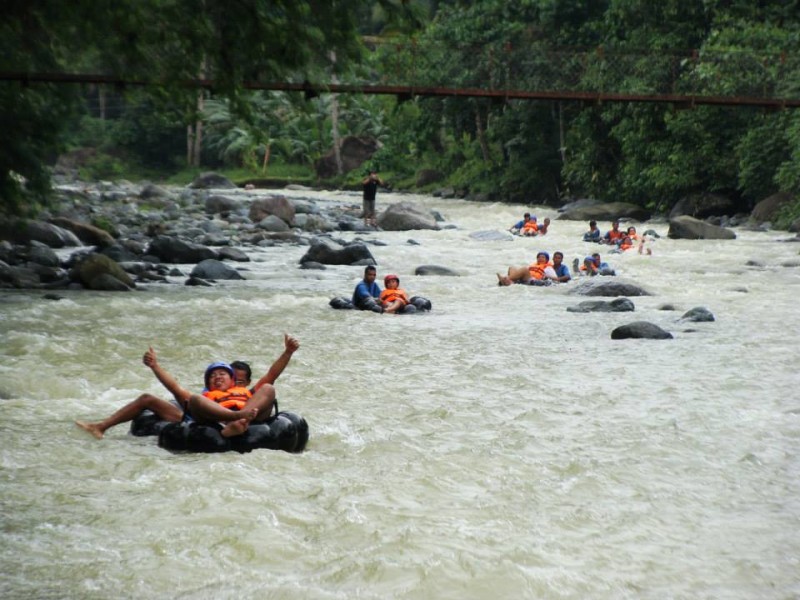 This is me trying to concentrate haha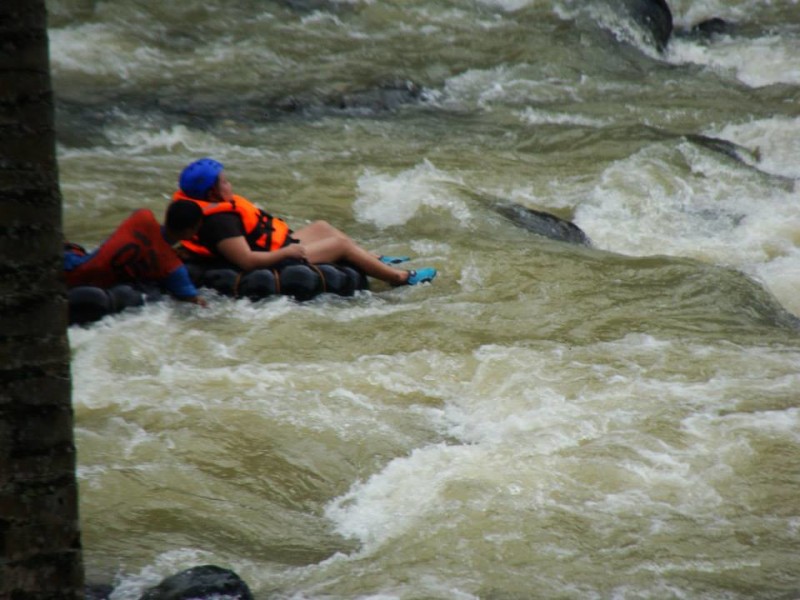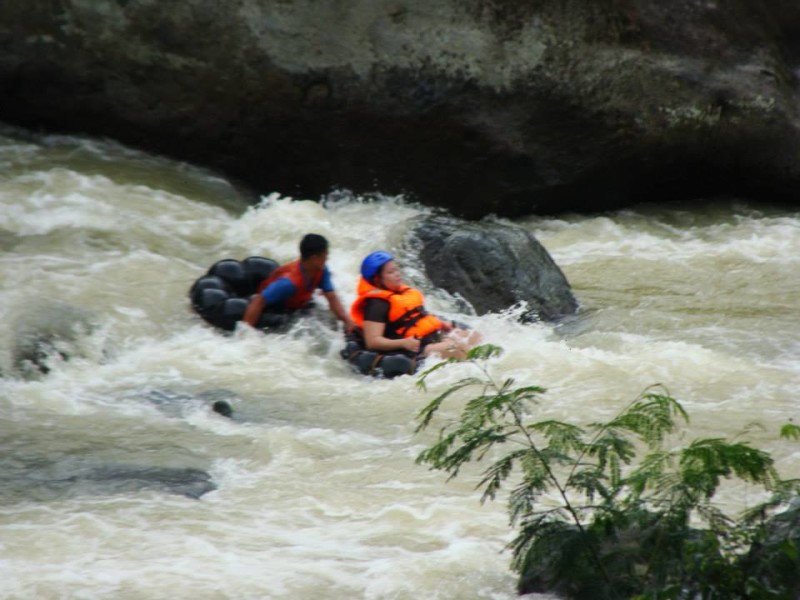 I survived the 1.6 kilometer white water tube ride! Woohoo!
I super enjoyed it! The ride lasted for about half an hour and my river guide was very nice. I must admit, there were a few instances where I felt a bit worried since some rapids looked like giant washing machine whirlpools (yikes) but the guide really knows the river like the back of his hand.
White water tubing fee (as of May 2014) – Php 250.00 per head.
Interested to experience white water tubing in Sarangani? Take note of these tips:
1. Maitum is about two hours and a half away from General Santos City, the gateway to the province of Sarangani. So plan your itinerary and trip schedules well. You can take a van from Ablog Terminal in GenSan going to Maitum. Fare is Php 150.00. First trip is at 6 AM. Ask the van driver to drop you off at Barangay Pangi. From there, you can take a habal-habal ride going to Barangay New La Union. Habal-habal fare is Php 25.00 each but since it's a habal-habal ride, expect to share the two-wheeled vehicle with A LOT of other passengers.
2. If you don't feel like taking a habal-habal ride, ask the van driver to drop you off at the Maitum town proper. From there, you can rent an entire tricycle for roughly Php 250.00 (two-way trip).
3. For a really more convenient way to go to Pangi River, book your Sarangani white water tubing adventure with Go Sarangani. They'll fix everything for you! Ask them about their affordable tour packages.
4. Bring extra clothes. You can also wear sunscreen and a pair of aqua shoes if you like. For sensitive eyes, you can also wear goggles that have anti-fog coated lens. Lazada sells these really cool and affordable Speedo Jet Goggles that I like!
5. Since you need to grasp on the rubber handles, you can't bring your camera with you. Ask one of the river guides if he can take photos or videos.
So who wants to try this fun and extreme adventure in Mindanao?