Very excited to share with you all that I have just been invited to cover the 2nd BIMP-EAGA and IMT-GT International Trade Fair and Conference in Davao City this October 22 to 25, 2014! This is a very important international event especially in terms of trade, investments and even tourism among ASEAN countries. I feel really very honored especially since I found out that I'm the only media practitioner (from both the traditional and new media/blogging sectors) from Northern Mindanao invited to cover this.
BIMP-EAGA stands for Brunei Indonesia Malaysia Philippines East ASEAN Growth Area while IMT-GT stands for Indonesia Malaysia Thailand Growth Triangle. This highly anticipated event, which will be held at SM Lanang Premier's SMX Convention Center, is expected to draw at least 800 business leaders, government officials, traders as well as potential investors from across five countries within the ASEAN. More than 200 international exhibitors are also expected to participate in the trade fair.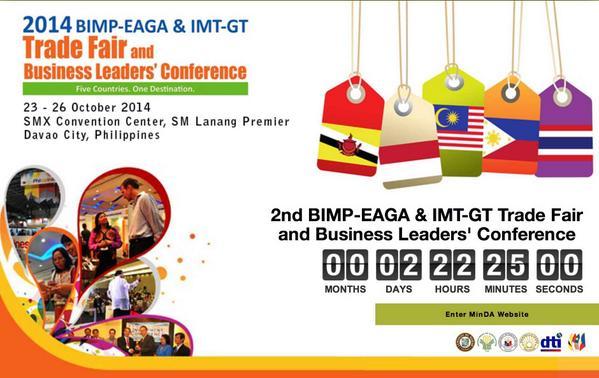 In a statement, Davao City Mayor Rodrigo Duterte was quoted as saying, "The City of Davao welcomes this event as an opportunity, not only for Davaoeños, but also for residents and entrepreneurs in other cities and municipalities in Mindanao, to effectively promote investments and generate trade in their respective jurisdiction."
The 2014 BIMP-EAGA and IMT-GT Trade Fair and Business Leaders' Conference and the other events during this weeklong affair mark the BIMP-EAGA's 20th celebration. BIMP-EAGA was launched in Davao City in 1994 as a key strategy to accelerate social as well as economic development in less developed areas in participating countries.
My biggest thanks to the Mindanao Development Authority (MinDA) for this opportunity to witness this important celebration.
Please follow my social networking accounts for updates on the #EAGAIMT2014
Follow on Twitter
Follow on Instagram
Follow on Google Plus
Follow on Facebook
Here are some event highlights:
BIMP-EAGA Technical Vocational Education and Training (TVET) Leaders' Forum
October 22
9:00 AM – 5:00 PM
Seda Hotel, JP Laurel, Bajada
International Exporters and Importers Forum
October 24
8:00 AM – 5:00 PM
Meeting Rooms, Park Inn by Radisson Hotel
Friendship Golf Tournament
October 24
5:00 AM – 9:00 PM
Rancho Palos Verdes Golf & Country Club, Mandug, Buhangin
East ASEAN Street Food Festival
October 23-26
SM Lanang Premier, Fountain Court Area
Doing Business in Free Trade Areas in Info Sessions
October 25-26
8:00 AM – 5:00 PM
Max 100px (first come first serve basis)
Meeting Rooms, Park Inn by Radisson Hotel
6th National ICT Confederation of the Philippines Summit
October 24
9:00 AM – 10:00 PM
Function Room 3, SMX Convention Center
Business Start-up (BizStart) @ Davao
October 25
8:00 AM – 6:00 PM
Reg Fee: P250.00
Function Room 3, SMX Convention Center
Download the list of side events and other schedules here:
TF-Program-and-Side-Activities_Oct13
Facebook Notice for EU! You need to login to view and post FB Comments!