I am very proud to announce that Mindanaoan.com is one of the supporters of the most awaited Bugsay Mindanao, the first Northern Mindanao Dragon Boat Race. To be held on December 6, 2014, 7 am to 3 pm, along the Cagayan River, Cagayan de Oro City, Bugsay Mindanao will see the participation of 10 dragon boat teams from outside CDO.
Bugsay Mindanao is being held in support of the environmental efforts of Safer River, Life Saver Foundation, Inc.
Watch all the action from the viewing deck located at the Liceo University main campus.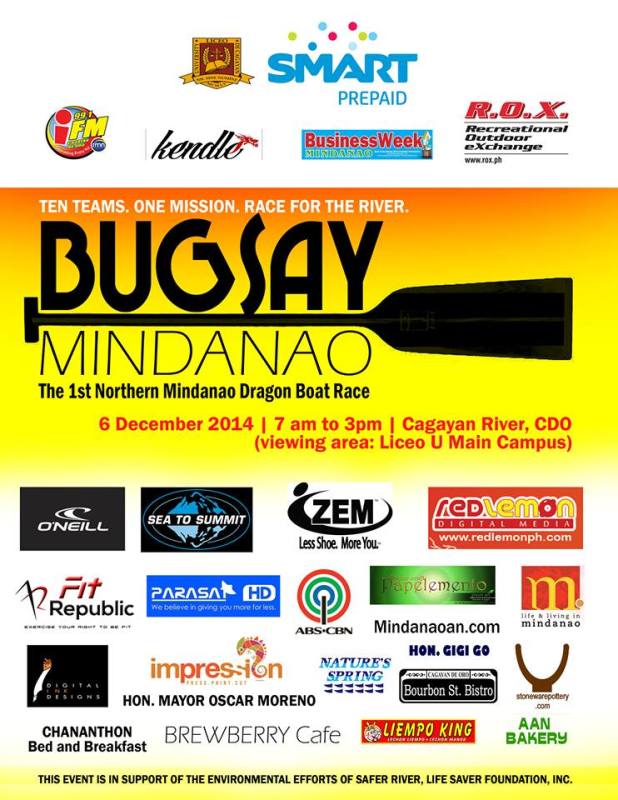 Catch Bugsay Mindanao on December 6, 2014 and don't forget to support the sponsors as well 🙂
Liempo King – http://www.facebook.com/liempoking
Mindanaoan – http://www.facebook.com/mindanaoanblogger
Bourbon St. Bistro – http://www.facebook.com/Bourbon.St.Bistro.CDO
Thank you Sir Owen for trusting Mindanaoan.com!