In 2011, the Cagayan de Oro Bloggers trekked to the city's farthest barangay. It's so far that it would take you 2 to 3 hours of land travel aboard a dump truck, with the possibility of sharing that ride with animals, vegetables and other produce and lots of other people. The dump truck transpo also only operates once a week. In other words, it can be quite an experience to travel to Besigan, Barangay Cadayunan, CDO, where there's no electricity, no paved roads, lots of school children who barely have school supplies and families who would most likely be very thrilled to receive Noche Buena packs this Christmas.
Would you like to be a Santa Claus this year and help out? We can bring your gifts for them on your behalf. Mindanaoan (who is currently the Vice President for External Affairs of the CDO Bloggers), along with the other members of the CDO Bloggers, Inc., is going back to Besigan! We're bringing food, school supplies, toys, slippers and clothes for the kids and hopefully, Noche Buena packs for their respective families.
We accept all possible donations! 🙂 You can gift wrap your gifts/donations and I will personally make sure to take a photo of that very special moment a child receives it and send that photo to you! 🙂
Please feel free to tweet me at @mindanaoan or send me a private message via Facebook. Just click this 🙂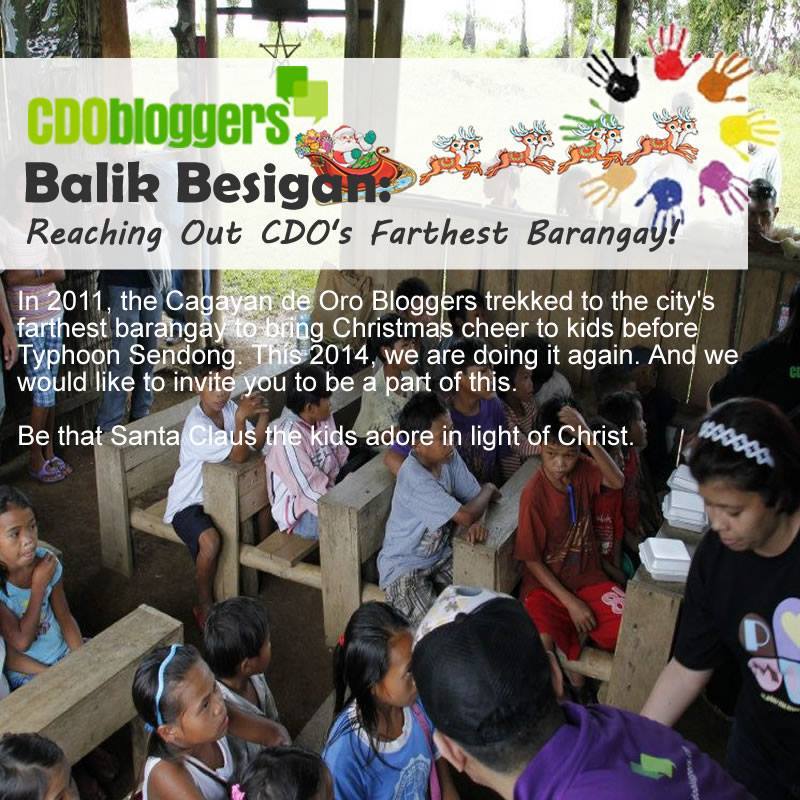 If you also want to join us on this trip, let me know, too! 🙂
All sponsors/donors will be acknowledged in a blog post. Thanks and let's help spread the Christmas spirit!