DERMAX CDO is finally open! If you can remember, I first shared with you the good news over the holidays and now, DERMAX Laser Center has finally opened its doors at the 3rd Floor of Ayala Centrio Mall, Cagayan de Oro, Mindanao, Philippines.
Prior to their official opening last January 8, 2015, DERMAX Laser Center CDO held a press conference. One of the speakers was DERMAX Laser Center Founder, Chairman and CEO Fred Reyes, an award-winning chemist himself. A recipient of the 2008 Achievement Award conferred by the Philippine Federation of Chemistry Societies, Reyes also received the 2011 Outstanding Professional Award in Chemistry from the Professional Regulations Commission.
When asked why he chose CDO to be the location of their first ever branch in the Philippines, he simply said that the city has "amazing purchasing power."
After the presscon, we all headed to the store for a quick tour: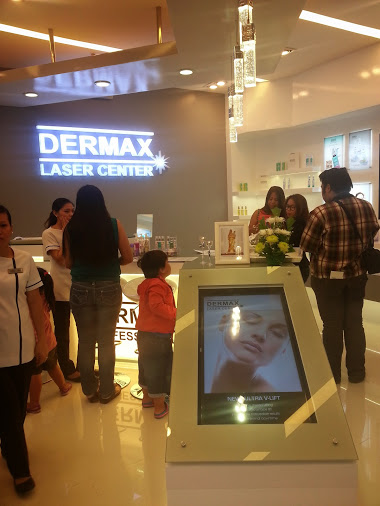 The clinic has individual treatment rooms for utmost privacy:
DERMAX CDO has dermatologists and professional skin care consultants. You can ask about their laser treatments (Diode laser hair removal service, anti-aging, anti-acne, tattoo removal, skin whitening) as well as information about their science-based skin care product line, the DERMAX Professional. What makes the DERMAX Professional products truly unique is that the said skin care line is the first to introduce the use of nanotechnology in skin care products. This means optimal absorption for your skin.
Now, you might be wondering…pila sad ang prices? (How much are the prices?) IMHO, the prices are very reasonable considering that they only used top-of-the-line ingredients. To give you an idea, here are some of their bestsellers and the corresponding prices:
AcneX Exfoliant Soap – Php 295.00 (135 g)
Liquid Gold 100% Pure Argan Oil – Pp 1,111 (argan oil is very popular among beauty fanatics)
NanoWhite Underarm Whitening Cream – Php 300.00 (bestseller)
Undereye Repair – Php 599.00 (reduces fine lines, dark circles and puffiness)
UV Sunscreens – Php 720.00 (there are several variations, really good SPF minimum count!)
For the UV Sunscreen, I highly recommend the UV Milk Anti-Aging (SPF 50) and the fragrance-free UV Gel Water-Based sunscreen (with Jeju Aloe).
There are lots of other products at DERMAX CDO so just pay them a visit. Testers are available!
DERMAX Laser Center CDO
Level 3, Centrio Mall
For inquiries, you may contact them via email at [email protected]