I consider myself a budget conscious traveler who doesn't mind spending extra if it means getting something better. Take airplane food, for instance. Unless I'm truly famished or I want to try something for the first time, I stay away from food sold and served aboard an aircraft. Not only are these airline meals (more often than not) expensive, they're hardly filling and tasty. The choices are very limited as well (so limited that I think a cup of instant noodles has become the "default" order by weary, hungry passengers).
However, let me say this: I always make an exception when I take flights via AirAsia. Even before I got invited to Cebu a few days ago for the exclusive AirAsia Hot Meals media launch, I have already been an avid fan of their in-flight meals. Real, flavorful food sold at very affordable prices and served piping hot at 35,000 feet!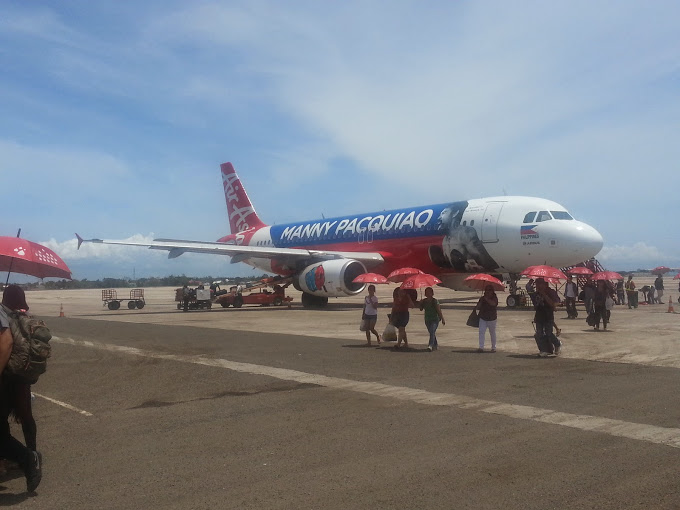 My favorite meal to order? The Pak Nasser's Nasi Lemak, a traditional Malaysian meal. Fragrant coconut rice served with chili sambal, tender chicken rending plus fried anchovies, ground nuts and half of a hard boiled egg – Yum! I always have this whenever I fly to Malaysia or Singapore via AirAsia.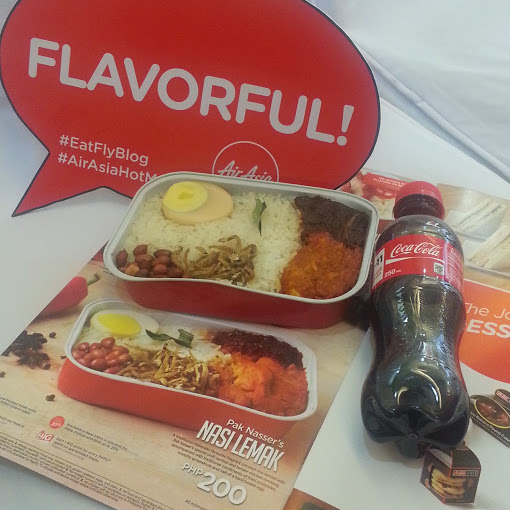 A steal for only Php 200, this meal, along with Uncle Chin's Chicken Rice, Beef Caldereta and Korean Beef Steak, is available for flights that are at least 75 minutes long.
Now don't be disheartened. You can still enjoy these meals even if your flight is brief as long as you pre-book them online via AirAsia.com You get to also enjoy 20% discount if you order at least 24 hours prior to your flight. Your pre-booked meal also comes with complimentary bottled water.
Want something lighter? You may opt for the Chicken Ceasar Sandwich or another one of my favorites, the Kani (crab meat) Sandwich.
They also have the Pacman 3-Punch deal: a sandwich, soda and chips! And what is a meal without dessert? The Sinful Chocolate Cake, sold for only Php 100, is an absolutely decadent treat. Perfect for pasalubong, too! The AirAsia Chocolate Chip Cookies and Choco Banana Pound Cake are also dessert superstars.
Apart from being delicious and easy on the pocket, what's also great about the food selection is that it's HALAL certified. In fact, AirAsia CEO Atty. Joy Caneba even emphasized that they're the only local airline that serves Halal food. Now that's something! Very good news for our fellow Muslim brothers and sisters 🙂
Thank you very much to AirAsia Philippines for flying me (Mindanaoan.com) to Cebu and for treating me to a wonderful afternoon just trying out your new meals! Thanks also for the in-flight snacks you guys served 🙂 That was awesome! Thanks for flying Em of ChadaCDO.com and Mike of CDOPlaces.com as well! CDO Bloggers, Inc. represent!
Follow me on Instagram – @mindanaoan or tweet me at @mindanaoan for feedback! May I also invite you to follow my Facebook page – www.facebook.com/mindanaoanblogger Til next ish! Safe travels, everybody!
* Note: I am a weekly lifestyle columnist of Gold Star Daily, Mindanao's largest newspaper. Most of the text found in this post has appeared in my column "Mindanaoan Meets World" published last May 15, 2015. My newspaper column comes out every Friday.