I'm back home from a much-needed vacation to Japan, the Land of the Rising Sun. I'm still on a natural high, after having spent one glorious week there! I visited three major places in Japan – Tokyo, Kyoto and Osaka. It was an all DIY, budget trip. And, yes, I'll share budget Japan travel tips for y'all!
I had a really nice experience in Japan. It was the peak of the Koyo Season (when the colors of the leaves change). Technically, the weather was supposed to be autumn but let me tell you – my brothers and I froze our a**es off! Admittedly, we were underdressed and totally unprepared for WINTER! Yikes OMG.
Climate change, hello, is that you?
Thankfully, I managed to bring my trusty Gap scarf (a gift from Divine Lee), two H&M sweaters, a knitted wool hat (which I wore in the US), a pair of H&M high cut boots and lots of tops sooooo…layering to the rescue!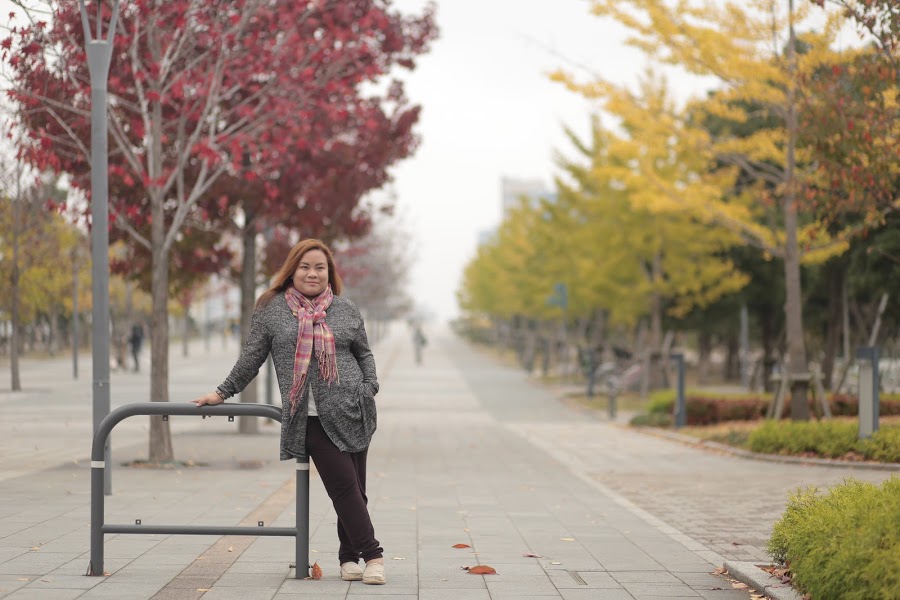 Japan is sooo lovely in autumn! I love this photo! Taken by One Happy Story Photography
Actually, to say that Japan is a beautiful country is an understatement. Japan is breathtaking. It's delicate yet strong. It is where the old meets the new, where the outrageous meets the traditional, where the sights are clean, lovely and picturesque, WHERE EVERYTHING WORKS (!!!) and where the food is just downright delicious.
Japan is definitely a must-visit!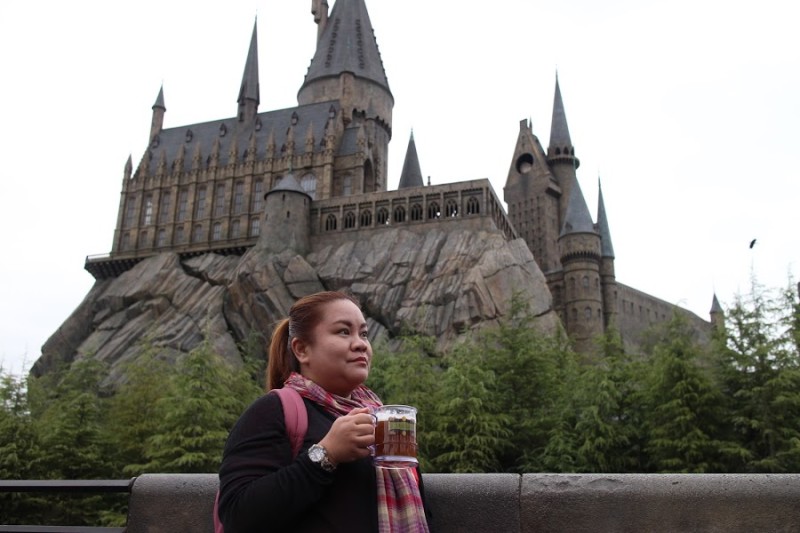 This is me having my morning butterbeer at Hogwarts Castle 😀 Yup, I finally visited the Wizarding World of Harry Potter at the Universal Studios in Osaka, Japan!
If you've been saving up for a trip to the Land of the Rising Sun, here are some of the reasons why you're making the right decision:
1. Efficiency and Discipline – Yes, what you've read and heard are true. Internet is super fast in Japan. The buses and trains are on time. People queue. Traffic rules are obeyed.
2. Cleanliness – Did you know that the water from the faucets all over Japan is potable/drinkable? That is how clean their water systems are. One of the things that I also find fascinating is that it is prohibited to eat and drink while walking in Japan. Ergo, you consume your food where you bought it. Or you stay put and then eat. My theory is that they want people to be responsible for their own trash. Because let's face it – people have the tendency to just throw their garbage anywhere if they don't see a trash can nearby! Also, toilets in public restrooms are clean and all flush! They have toilet paper, hand soap and hand sanitizers as well.
3. Respect for Elders – In Kyoto, I personally witnessed this: two men lined up at a fast food chain. An elderly woman comes in. The two men notice, makes way for her and allows her to order first. The cashier doesn't take her order first. Instead, she guides the elderly to a nearby table, offers her water and then takes her order. Cashier then brings her her food. Meanwhile, I'm still trying to remember when the last time I saw something similar here in our country was.
If you're interested to follow my Mindanaoan In Japan travel series, please feel free to SUBSCRIBE (please click!). All updates will be sent to you via email. This is free 🙂 Just please check your email and confirm your subscription.
You can also click this to see all my Japan-related posts including how to get a visa to Japan –> Mindanaoan In Japan
I posted some photos over at Instagram. Take a look and perhaps you may be inspired –> #MindanaoanInJapan
Have questions? Follow Mindanaoan on Facebook, Twitter, Instagram and Google Plus or leave comments below. I'll be happy to help!
I also have Snapchat. My username there is mindanaoan
Arigatou Gozaimasu!