Yes, it's true. Japan is truly an expensive city BUT if you know where to look and how to follow instructions and, more especially, if you have cool travel aficionado friends who generously share tips, then you can certainly still travel to Japan on the cheap.
I got this very helpful Japan travel tip from Paula Peralejo! This is for those who want to save on transportation from Narita Airport to Tokyo (and vice versa).
A little backgrounder first. While Narita Airport isn't the only airport near Tokyo (there's also Haneda Airport), it's usually where most international flights are serviced. Narita is about an hour away from Tokyo proper so unless you want to stay near the airport for some reason, DO NOT book hotels near Narita. I just had to say that since I've noticed that the hotels near Narita Airport offer cheaper rates.
ANYWAY – I can't recommend the Access Narita / Be Transse bus service from Narita Airport to Tokyo enough! My brothers and I really liked their service and I think budget conscious visitors to Japan should avail of their cheap bus transfer from Narita Airport to Tokyo.
Compared to paying 3,000 yen for a ride aboard the Narita Express or about 2,500 yen for the Keisei Skyliner train, an Access Narita bus ride only costs 1,000 yen! (Php 390.00).
Good savings right there 🙂 Our bus ride just took a few minutes less than an hour. The ride was smooth and convenient.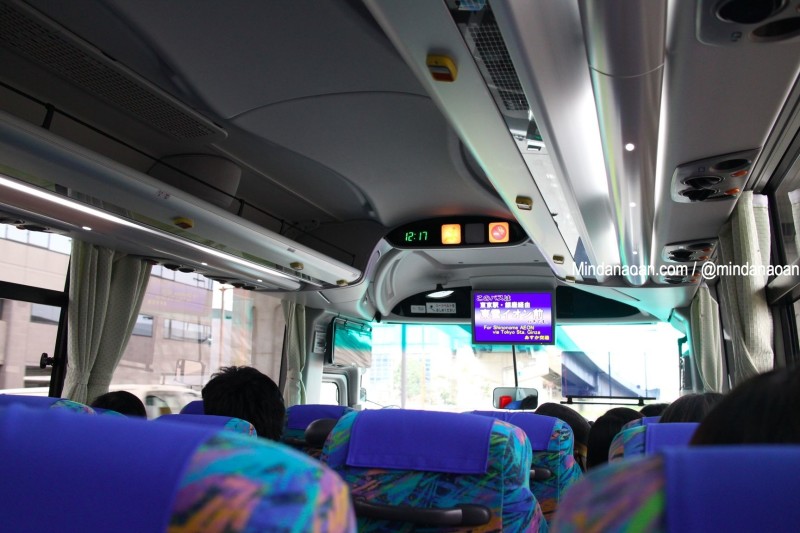 The bus has two stops: Narita Airport to Tokyo Station or Narita Airport to Ginza Station.
Stop at Tokyo Station for easy transfer to a JR Line. Stop at Ginza Station if you need to transfer to a local metro subway train.
This was where our bus stopped upon arrival in Tokyo. Just a few meters away from Tokyo Station.
At the end of our Japan trip, we also took the same bus service back to the airport. This time, however, we took the bus from Ginza Station.
From Ginza Station to Narita Airport: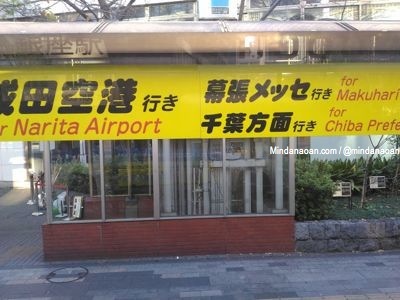 From our second hotel in Tokyo, where the nearest subway station was along the Hibiya Line, we just rode the local train towards Ginza Station. Then we looked for the elevator between the C5 and C7 exits. The bus stop is just right across the elevator.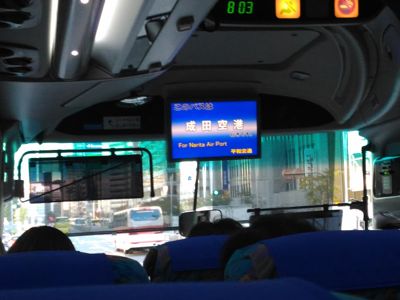 By the way, I just love how disciplined the Japanese are. I took this photo when our bus stopped at a traffic light near the Tokyo Station. If you may notice, there are hardly any vehicles but since the traffic light didn't indicate green, everybody waited.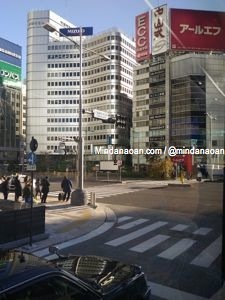 Everything you need to know about the Access Narita / Be Transse bus can be found HERE. No advance reservations required. You can just pay in cash when you board the bus.
Enjoy your trip and do let me know how it went 🙂 Thanks again to Paula for the tip! 🙂
If you're interested to follow my Mindanaoan In Japan travel series, please feel free to SUBSCRIBE (please click!). All updates will be sent to you via email. This is free 🙂 Just please check your email and confirm your subscription.
You can also click this to see all my Japan-related posts –> Mindanaoan In Japan
I posted some photos over at Instagram. Take a look and perhaps you may be inspired –> #MindanaoanInJapan
Have questions? Follow Mindanaoan on Facebook, Twitter, Instagram and Google Plus or leave comments below. I'll be happy to help!
I also have Snapchat. My username there is mindanaoan 🙂
Arigatou Gozaimasu!
How to apply for Japan visa (guide for Filipinos)