I first wrote about H&M (Hennes & Mauritz, Inc.) CDO and about what it will be like to be a part of their team months ago. Now, H&M CDO is finally opening! The Cagayan de Oro H&M store is part of their continuous expansion in the southern part of Philippine shores and will serve as its 18th store in the country. Are you excited yet? Because you bet I am!
The over 1,500 square meter, 2-story store will welcome shoppers on October 27, 2016, 11 AM at Centrio Mall at CM Recto Avenue corner Corrales Avenue, Cagayan de Oro.
Follow my Facebook page and Instagram for behind-the-scenes updates!
"The response from our Mindanao customers, after we opened our 1 st store in Davao just last month, has been incredible! We look forward to catering to even more of the same vibrant shoppers in Cagayan de Oro, as we open in Centrio Mall. We hope to be the city's destination for fashion and quality at the best price, in a sustainable way," says Fredrik Famm, Country Manager for South East Asia.

"We have also selected a great group of H&M team members to give you the best shopping experience in this store, and we hope you will welcome and embrace them as your own!" he adds.
CDO's first H&M store will carry the full assortment of H&M including ladies, men's, kids, shoes, accessories and lingerie. It will also feature a full sports, denim and underwear department for both men and ladies.
Within all of these the mindful shopper will find an array of conscious and sustainably-produced products, and offer the option to donate used clothes and get a discount voucher to use for their next purchase under H&M's Garment Collecting program.
Those shopping on opening day can also expect great offers! Gift cards of varying amounts from P300-P2,000 will be handed out to the first 300 in line, with a special prize of P5,000 for the first. The next 300 will walk away with special H&M umbrellas and tote bags. A special treat also awaits stylish shoppers – 3 of the most fashionable people spotted in the queue before opening will be chosen and given P2,000 Gift Cards each.
For everyone else shopping until the weekend, great fashion finds for as low as P300 await.
The store will open on October 27, from 11am-9pm, and regular operating hours from 10am-9pm will resume thereafter.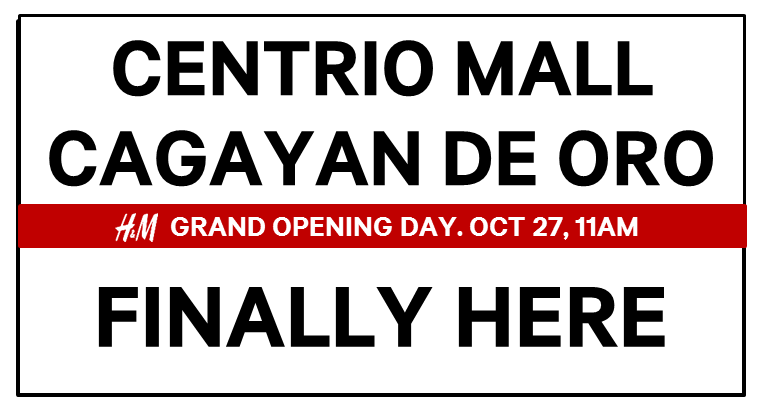 You read it first here on Mindanaoan.com! Follow my Facebook page for exclusive news!