I'm pretty sure you've heard all the horror stories. Despite bringing land titles, "show money," proof of vehicle ownership, credit cards, bank statements, letters of financial support from relatives overseas and even wearing tons of jewelry, numerous U.S. visa applicants still got denied. Even well-traveled folks still didn't get that seemingly elusive U.S. visa. You may have even read or heard testimonies that some American consuls are too strict, don't listen to your explanations or don't even bother to check your other credentials and proofs that you can sustain your trip to the USA.
I'm sure that those horror stories are the very reasons why you're either scared or hesitant to apply for a B1/B2 tourist visa. Okay, let me tell you from the get-go: the entire process is VERY SIMPLE, you only need FOUR items and there aren't any other secrets.
Just like what the U.S. Embassy Manila said in its official video: WALANG SIKRETO.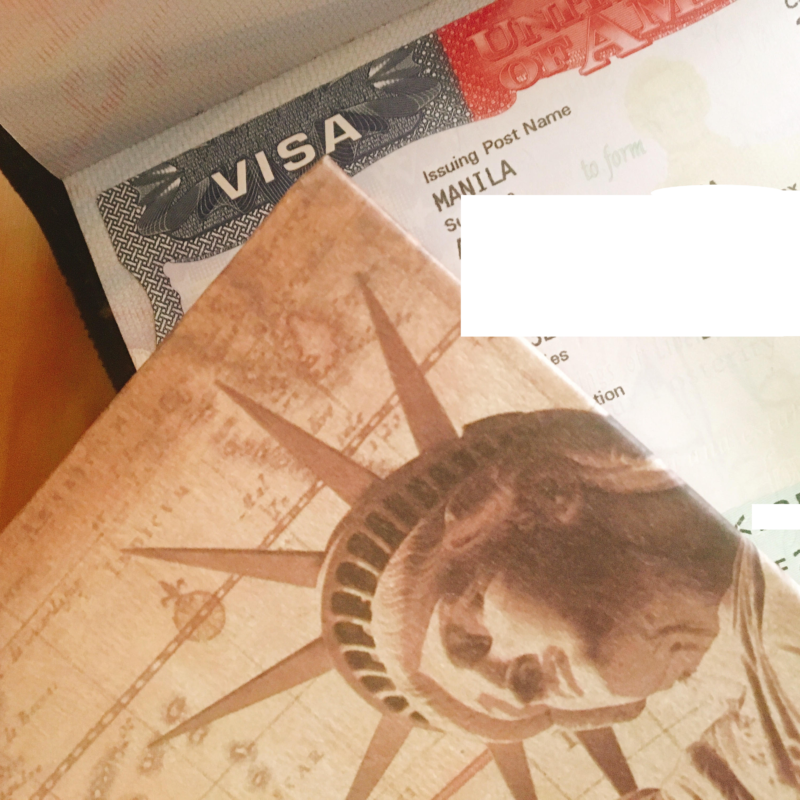 In this blog post, I will share my US Embassy tourist visa interview experience and some bits and pieces about the application process. Hopefully, this can help ease your doubts and worries and that this can also help you get a U.S. B1/B2 tourist visa.
Before anything else, let me point you to the official page where you can find the complete, step-by-step procedure on how to apply for your U.S. visa in the Philippines – http://www.ustraveldocs.com/ph/ This is the ONLY website that I used. Forget agencies that offer "visa assistance." Don't waste your money! You can most likely accomplish the tourist visa application steps on your own and in just a matter of hours. (our PWD and senior citizen friends may still need assistance, though).
Also, I would like to point out that the U.S. government granted me a J1 visa before for my 2012 International Visitor Leadership Program (IVLP). I also had to undergo an interview at the time but it was more like a formality. Plus that visa already expired; hence, my need to apply for a new visa. This time, since my trip will for leisure purposes, I needed to apply for a US tourist visa specifically the B1/B2 visa.
B1 is for business while B2 is for pleasure/leisure, medical treatment or visiting relatives and friends. Usually, B1 and B2 are combined and issued as one.
The IVLP is the U.S. Department of State's premiere exchange program for global leaders. You can read more about my llife-changing experience here.
So, okay, like I said, just follow that page for the application procedure. A few reminders, by the way:
1. Check the validity of your passport
2. Keep your valid passport nearby as you accomplish your DS-160 form
3. Best to have your photo professionally taken. When I applied for that J1 visa, I only took a "selfie." Lucky for me, my brother is a professional photographer so I just requested him to edit the photo according to the Embassy's requirements. This time around, though, what I did was go to a photo studio inside a mall. They actually had a "US Visa photo package" already. Since you have to upload the digital version of the photo when you accomplish your DS-160, I just paid a little extra for the studio folks to save the digital version in my USB
I went to a Bank of the Philippine Islands (BPI) branch to pay for my US visa fee (US $160 = Php 8,160 that time). Please note that the peso equivalent of the visa fee will depend on the current exchange rate.
Then, I went to this website to set my interview appointment. If you're a first time user of the website, you need to create an account. The website is very comprehensive, don't worry. Just key in the required details (e.g. your full name, passport number, bank receipt number etc) and you will be able to set your interview appointment. The website gives you the earliest available date. When I logged in at the time, however, I didn't like the available date so I decided to wait it out.
The next day, I checked the website again and saw that there were available slots on my preferred date (YAY!). I immediately confirmed my interview date and printed my appointment confirmation. By the way, when you click on the available date (found on the left side of the website), you will be taken to another page where you can find all the other available dates, available time slots and the number of slots per day.
So going back to what I said at the start of this blog entry, you only need 4 items:
1. valid passport (previous and currently issued ones)
2. DS-160 confirmation form
3. appointment confirmation
4. payment confirmation (receipt from the bank)
Note: You might still want to bring supporting documents. There's no stopping you 🙂 However, I can tell you that I didn't need them at all.
UPDATE: Please bring extra copies of the photo you used for your DS-160
DAY OF THE INTERVIEW
My interview was set at 11 AM. There was an earlier slot available but I wanted to take my time. When I applied for my J1 visa, my interview was set at early morning (I think it was 8 AM, if I'm not mistaken) and I remember barely getting any sleep the night before.
Anyway, US visa applicants are only required to be at the Embassy 15 minutes before the interview. There is NO need for you to be super early!
Because I wasn't too sure about Manila traffic anymore (Roxas Boulevard can be a nightmare!), I consulted my Manila-based friends and cousin. They all told me that it may take me a good 2 hours to reach US Embassy Manila from Makati so I left the place I stayed in at around 8:30 AM. Lo and behold, I arrived at 9:10 AM (LOL). So I decided to kill time at a coffee shop roughly 3 blocks away (unfortunately I didn't know there was one right across the Embassy).
At around 10:10 AM, I decided to leave the coffee shop and just go to the Embassy and wait for the 10:45 AM call time. Under the searing heat of the sun, I walked towards the Embassy. Good thing I wore comfortable clothes and sandals! That's another tip, by the way. Wear comfortable, decent clothes.
Several minutes later, I arrived at the Embassy. I saw a sign that said that the Embassy was now processing appointments for 11 AM! It was barely 10:20 AM. Hmm. So I went to the tent that served as the "entrance" and the lady told me to go to the next tent and proceed to Line 1. I went to Line 1. Save for a lady who served as a companion for a minor, there wasn't anyone else in line. The Embassy staff asked for my passport and then she pasted a barcoded sticker on the back of it. I was then told to proceed to the doors.
As soon as you enter the doors, your bags will be checked. A few reminders:
1. You may bring a bag of any size. HOWEVER, you are NOT allowed to bring any kind of electronic and battery-operated devices (mobile phone, digital camera, laptop, music player, portable game consoles such as PSP, thumb drive, mobile tablet, e-readers, CDs and the like). You also cannot bring lighters and any flame-generating device, sharp objects including army-style multi-tool accessories, crayons and markers and any device with an on/off switch. PLEASE take note of this and PLEASE follow the rules. I spotted so many people who got disappointed when the guards asked them to dispose of their USBs, CDs etc.
UPDATE: There are many enterprising Pinoys who offer their "leave your stuff with me" services outside the embassy. So just in case you either mistakenly brought along your phone or any other prohibited items OR you want to still insist to bring prohibited items because you're stubborn (tsk tsk…), then you might want to avail of the services of those enterprising Pinoys. I DO NOT RECOMMEND THAT, THOUGH. The last time I checked, you can leave your phone with them for Php 200.00!
2. You aren't allowed to bring food and drinks inside including chewing gums. If you do get hungry or thirsty, there are some stalls in the waiting area.
3. No weapons allowed. Of course.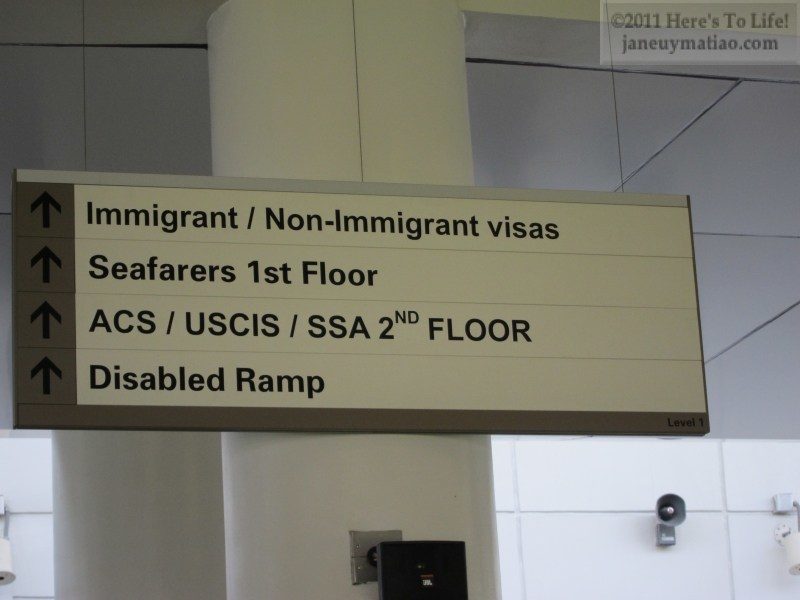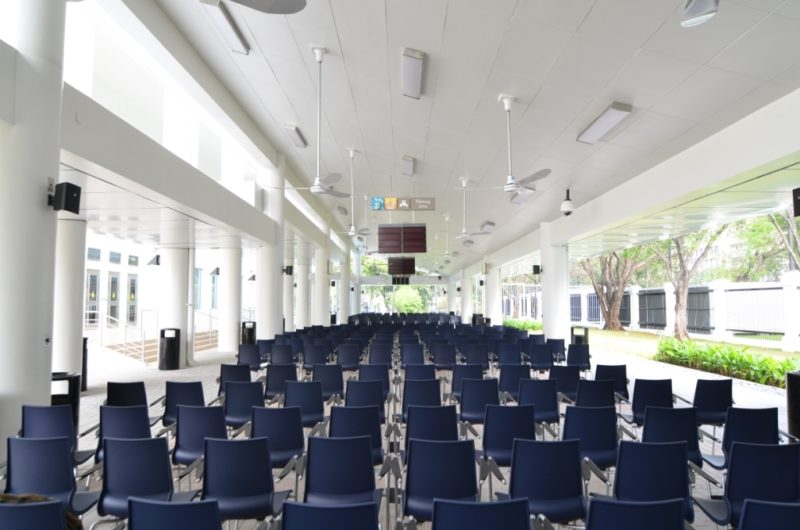 * The signs and the first waiting area. First photo by my friend Jane, used with permission. Second photo from the US Embassy blog
IMPORTANT: Applicants who bring such devices will be denied entry and your receipt will be locked, preventing rebooking, for 30 days. So don't take any chances.
Once you're in the clear, you will be allowed to proceed to the main building.
Now this is where things got interesting for me. The waiting area was EMPTY so the security guard there told me to go straight to the main building. There was another scanner. I again noticed that the seats were EMPTY so the male usher told me to go to Step 1.
* This is how the waiting area at the main building looks like. This one was taken by my friend Jane at the second floor but the first floor looks like this. See the booths? That's where the consular officers are. Photo used with permission.
Step 1 is the Pre-Screening Area. A Filipina Embassy staff member manned the booth and asked for my passport. Then I was asked when my birth date was. A few seconds later, she told me to go to the next step (which was like 5 steps away hehe)
Step 2 is the Finger Scanning Area. I was asked to put my left 4 fingers first and then the right 4 fingers. Finally, the 2 thumbs. The Embassy staff member looked at the screen and then told me to proceed to the next step.
NOTE that I was virtually alone at both areas (LOL – I guess the 11 AM appointment time isn't a favorite of many applicants). I saw some Consuls conducting interviews so I figured I could sit down for a second and catch my breath (remember, I basically went straight from the coffee shop to Step 2 LOL). Unfortunately, the male usher saw me and said that I could proceed to Window 28.
OMG.
At that point, all I could think of was, "WAIT LANG. CAN'T I LOOK AT A MIRROR FIRST?"
But it was now or never. Window 28 was less than 10 steps away.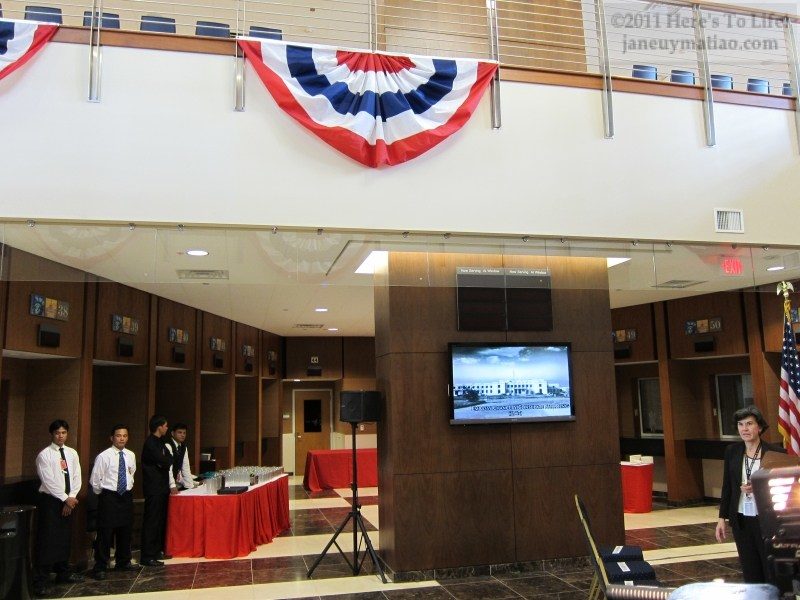 * Where interviews are conducted. Notice the electronic billboard on the wall? That's where you're supposed to monitor your number. Photo used with permission
A friendly looking male Consul sat behind the glass window. I gave him my passport.
AND THEN HORROR OF ALL HORRORS.
"I'm sorry. It's so hot outside, hardly anyone in line and I just went straight here," I said.
I know. I'm sure you've read other blogs where they said that you should just answer when asked and answer as briefly as possible. It was crazy. I honestly don't know why I said that. I guess I just wanted to break the ice?
Fortunately, the Consul smiled and agreed. "Yeah, not a lot of people today."
He took my passport. He didn't check it yet.
"So, what do you plan to do in the U.S.?," he asked, while looking at his computer screen.
I told him that I wanted to spend my birthday in New York City and explore the city more. I then told him that I was able to visit in 2012 but only stayed for a few days.
"Why were you there?," he asked.
I told him that I was sent to the US for the IVLP.
"Ah, IVLP. You liked your visit? Where did you go?," he asked. He was typing something. Note that he still didn't bother to check my passport. I was beginning to feel a lump in my throat.
"Yes, of course!," I answered. I mentioned the states that I visited and told him that my last stop was New York.
"I haven't been to New York. What's a good tip you can give me?"
I excitedly told him about taking a free ferry ride from Manhattan to Staten Island so you can see the Statue of Liberty. He was nodding his head and smiling.
"I see that you have a blog," he said. Then he FINALLY picked my passport up and flipped its pages.
"Yes. Mindanaoan.com," I said. Then he continued to type.
At that point, I saw him putting my passport inside a small plastic sleeve tucked on the booth divider.
"You'll receive your visa in a few days," he said with a smile.
"Wow, thank you very much! I truly appreciate that. Have an awesome day!" I said.
"You're welcome. Have a great day, too. Don't get arrested, okay?"
"Yikes, no! The Ambassador will get mad," I joked.
And, just like that, I was granted a visa.
The interview lasted less than 2 minutes and, if you include all the walking, I'd say the entire process only lasted for 5 minutes! I was really pretty lucky that day.
Like anybody who was granted a US visa, I felt like I was floating.
As I walked away from the booth, the male usher saw me and said in jest, "Ma'am, kilala mo ba yung Consul?" I laughed and said no. I guess he heard how my interview went.
By the way, you can actually listen to the other interviews in neighboring booths. On my left was a couple and their small toddler. I heard the Consul deny the toddler's visa. On my right, I heard the Consul ask, "How did you meet?" The applicant answered, "Through the Internet." My guess was that it was a K1 (fiance) visa interview.
Anyway, as I headed towards the exit, a lady walked past me and opened the exit door. As she held the door, she looked at me and asked if I passed. When I said yes, she flashed me a look of sadness. "Ako, hindi eh. Pangalawa na 'to." (I didn't pass. This is my second attempt.)
I felt bad for her but then again, there's always a next time.
My first instinct was to call my family but since I didn't have a mobile phone with me, I had to wait until I arrived at my Makati abode. Which reminds me – to not have a phone feels really weird but a little liberating. It's nice to be "disconnected" from the world even for a while.
Anyway, here are a few notes.
You only need to be at the Embassy 15 minutes before your appointment. Strict enforcement of this rule allows applicants to avoid waiting and lining up unnecessarily outside the Embassy for long periods of time. There is no advantage given to an applicant who arrives hours before the interview appointment.
At Step 1, just in case you'll be told that your photo doesn't meet their requirements, you can proceed to a photo booth at the first waiting area. There are also stalls here that sell snacks and drinks. You can't bring food inside the main building.
At Step 2, just in case the scanner can't seem to read your fingerprints/biometrics right, you can apply hand sanitizer. There's a big bottle near the glass window.
Here are my tips on how to pass your US visa interview:
1. Do your research and, even with assistance from family or friends, you should try to accomplish everything yourself. This is especially true when you fill in the DS-160 form. There will be important questions there that you should know your answers by heart.
2. Be confident. Remember, you're a tourist and America, like any other country in the world, will be happy to welcome tourists. Have this kind of mindset: "I am a tourist and I intend to go back to my country within the allowed period of stay." If you know that you have no intention of doing illegal things in the USA, there's nothing to worry about.
3. Review your travel history. Although the Embassy doesn't explicitly say that your travel history plays a factor on your application, I think that helps. If you've been to other countries and you haven't violated laws or overstayed, then it proves that you are indeed a tourist and are capable of coming back.
4. Answer honestly. Consuls are professionally trained to detect if you're hiding something so don't risk it! Remember – what you need to do is CONVINCE the consular officer that you will only be in the USA as a non-immigrant.
5. If you think you're not comfortable speaking in English, you can request for a Consul who can converse in your preferred dialect. There are American Consuls who can speak perfect Filipino.
6. Dress decently. Wear appropriate clothes and comfortable footwear.
7. Prior to coming to the embassy for your interview, you should check the U.S. Embassy website https://ph.usembassy.gov/visas/nonimmigrant-visas/ to ensure that is the visa section is open, particularly in times of inclement weather or heavy traffic conditions in Metro Manila.
WHAT TO DO NEXT WHEN YOU ARE GRANTED A VISA
In my case, a text message was sent to my phone informing me of the status of the delivery of my passport with US visa. It only took 3 days! Yup, it was that fast. On the day of the supposed delivery, a text message was again sent to me. Since I wasn't home, my brother received it on my behalf. My passport with U.S. tourist visa was delivered by 2Go courier service. Do note that you should not pay any additional fees as the delivery fee was included in the fee you paid at the bank.
Now, if you haven't been granted a visa, PLEASE don't despair. According to the US Embassy website, you will be given instructions on what to do next and you can also reapply at any time. Kindly read the letter that was given at the end of your interview.
Anyway, I received my passport with a 10-year multiple entry visa in it 🙂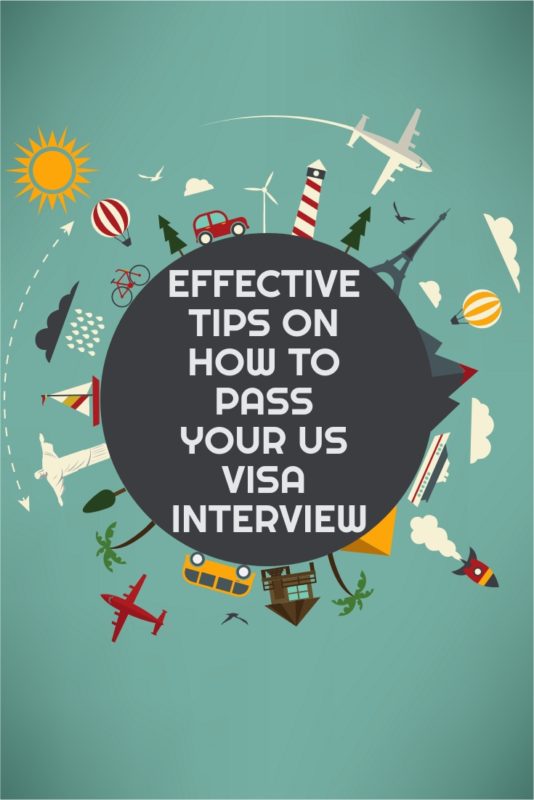 Thank you for reading this. Please feel free to share this post with someone who might find this useful. If you have a US visa, please do share your experience in the comments section below. I'd be most happy to hear from you.
By the way, if this blog post helped you out, may I ask for a favor? I would love to have more subscribers for my YouTube channel. I am slowly starting a vlog and I would love to interact with you there, too!