One of the popular New York tourist spots (and one of my favorite places in NYC to visit, take photos and people watch) is the Grand Central Station. Going to this station is definitely included in the "must-do while in New York City" lists. Grand Central Station is beautiful, has tons of history, majestic and, with over 21 million people visiting it every year, it is one of the largest, busiest train stations in the world.
Several years ago, a friend and I took the train here to head to Pittsburgh. A few weeks ago, my aunt and I took the train from Grand Central Station to go apple picking at Dutchess County. And just last week, I accompanied a friend who took pre-nuptial photos of a couple at the Grand Central Terminal.
This is where you go when you need to travel on the Metro North Railroad towards Putnam, Westchester and Dutchess County as well as to Fairfield and New Haven in Connecticut. It's really a popular place and even if you don't need to take a train from here, there are still a lot of other things you can do – shop, dine, take photos, people watch etc.
Where is Grand Central Station?
Grand Central Station is located at 42nd Street and Park Avenue. You can take the 4, 5, 6, and 7 trains here. You can also catch the S train (shuttle train) here if you want to go directly to Times Square – 42nd Street.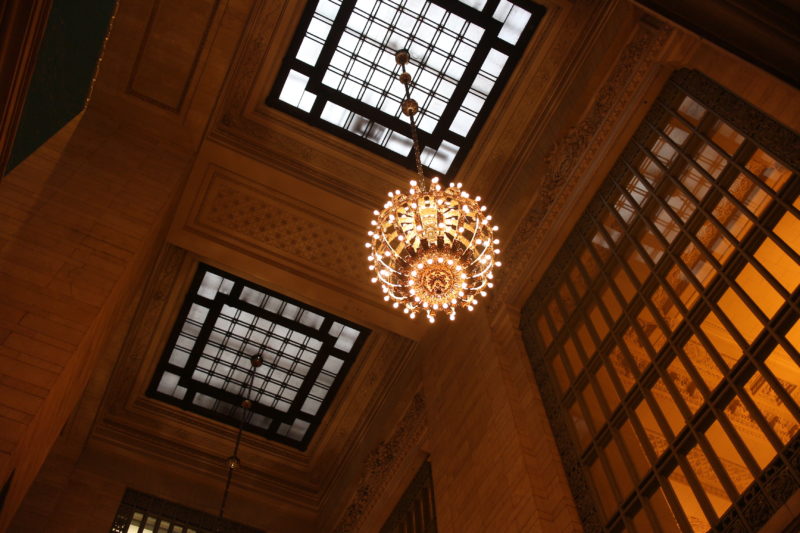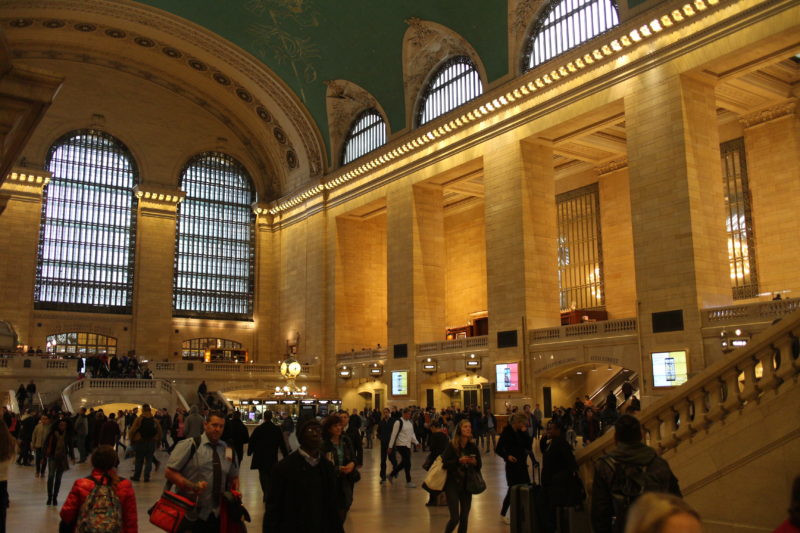 It's very accessible and near other New York tourist spots. So it's easy to plan your itinerary and include a quick visit to this terminal.
The Grand Central Terminal NYC is near Bryant Park and the New York Public Library (the park is just behind the library!). It's also just moments away from the Empire State Building (you can step out of the terminal at night and take a photo of the building if you like – I often do this 🙂 ), Times Square, Rockefeller Center and St. Patrick's Cathedral.
RELATED: Save a lot during your New York trip! Buy a City Pass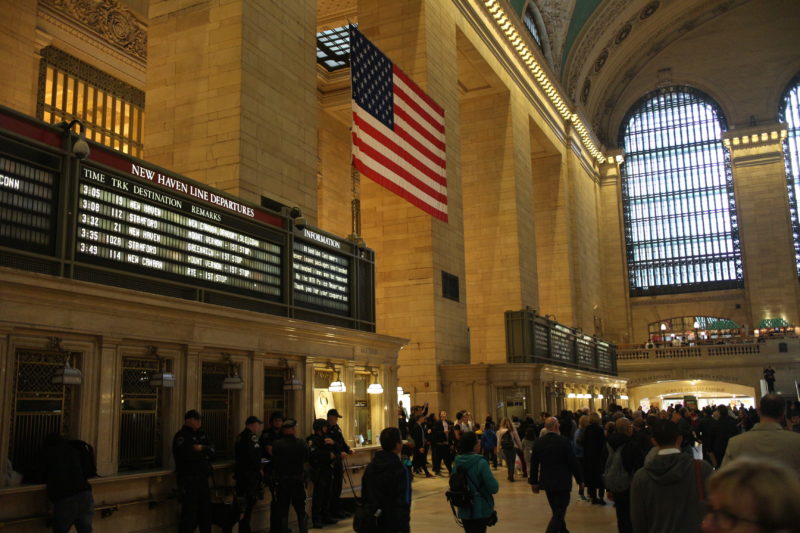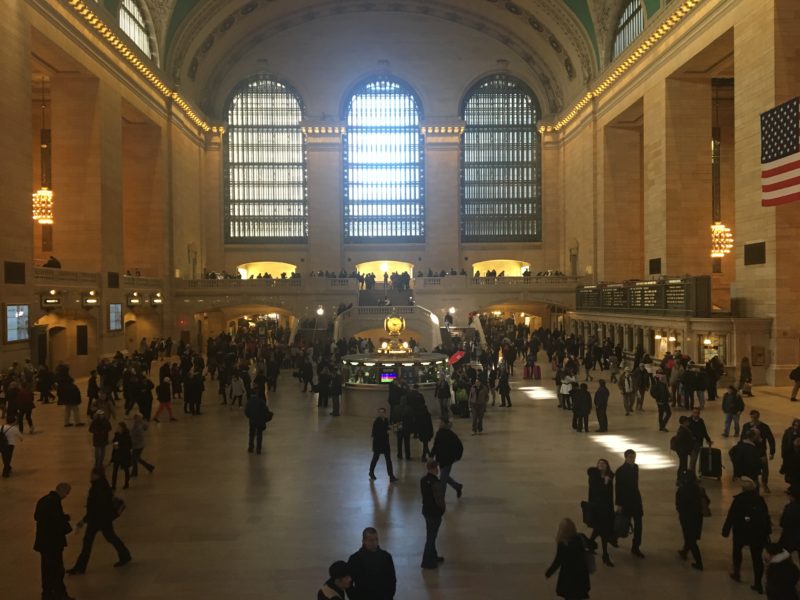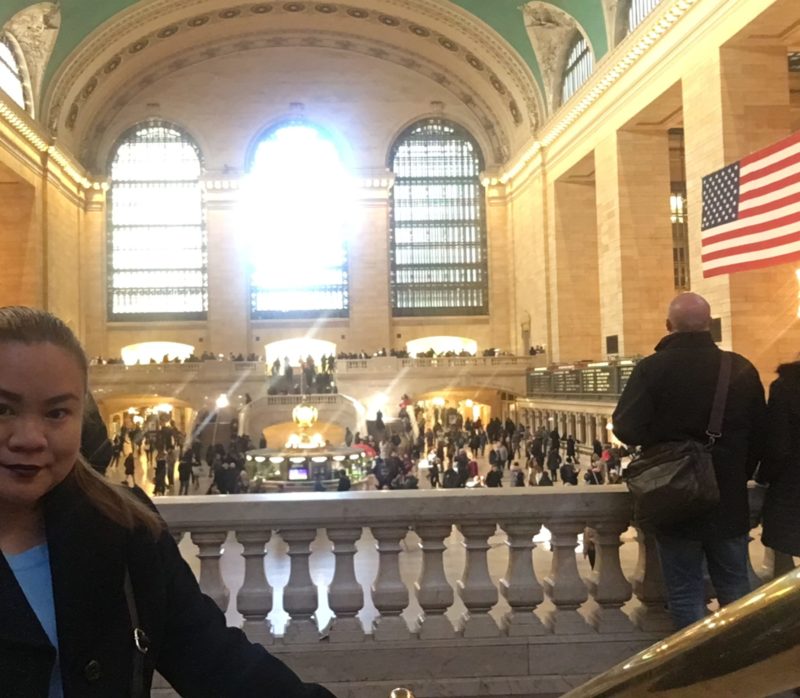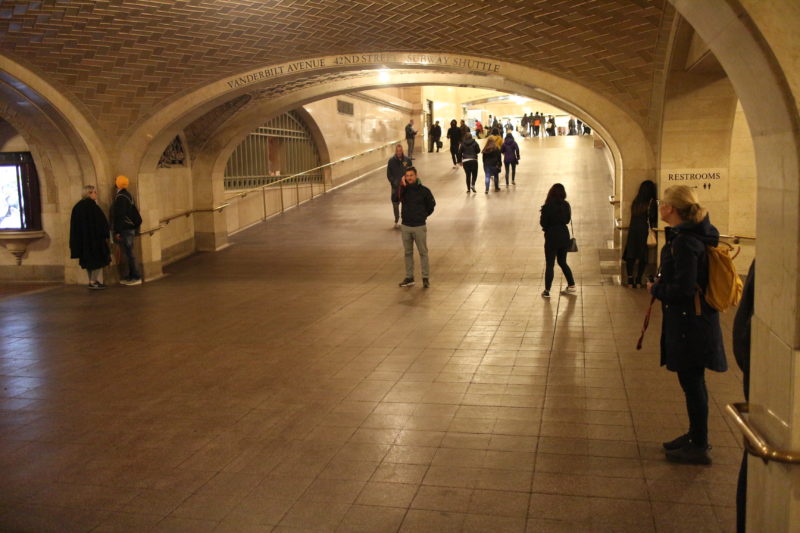 See the photo above? I took that at what they call "The Whispering Gallery." Located right outside the Oyster Bar (at the Dining Concourse area), this fascinating spot allows you to actually transmit sound from one corner to another. See those folks facing the corners? One person can say something under his breath and the other person on the other side can hear it. Pretty fun! I tried it and even if I only whispered, the person on other side heard it.
There's a perfectly good explanation for this, don't worry. Accordingly, this is because of the precise arch of the ceiling and the tiled surface. Cool! 🙂
There are a lot of other things to see at the Grand Central Station NYC. Look for the Biltmore Room, Ceiling Smudge, the clock and the awesome ceiling at the main concourse.
Now if you get hungry, you can go to the Dining Concourse at the basement. There are lots of options there. My go-to places are Shake Shack (but of course!), Magnolia Bakery and the coffee shop at the East area.
There are also lots of shops around the terminal as well as ATM machines. Perfect for last minute shopping before you hop on that train! 🙂
So the next time you find yourself in New York, make sure to always include the Grand Central Station in your itinerary.
To save big on your New York trip, I highly recommend that you purchase a City Pass