I think it was just a matter of time. After all, it sits on a verdant plateau between mountain ranges (so you know fo' sho' you see amazing views everywhere!), the weather is nice, life is chill and the people are cool and friendly.
I'm talking about Lantapan, Bukidnon, situated between the Kitanglad and Kalatungan mountain ranges, having its first crowd-drawing cafe, Cafe Sa Bukid. This 2-storey hut largely made out of bamboo has become quite a sensation – attracting not only local customers but visitors from just about everywhere.
I went home to the Philippines a few weeks ago and Cafe Sa Bukid was one of the places my relatives and I visited. It's located in Kibangay, Lantapan, about 45 minutes away from the Barangay Aglayan, Malaybalay City junction. You won't miss it – it's along the highway and across a high school. Plus I have an anecdote about how the Cafe Sa Bukid has made an impact on the local business atmosphere as well. I'll share that in the latter part of this article.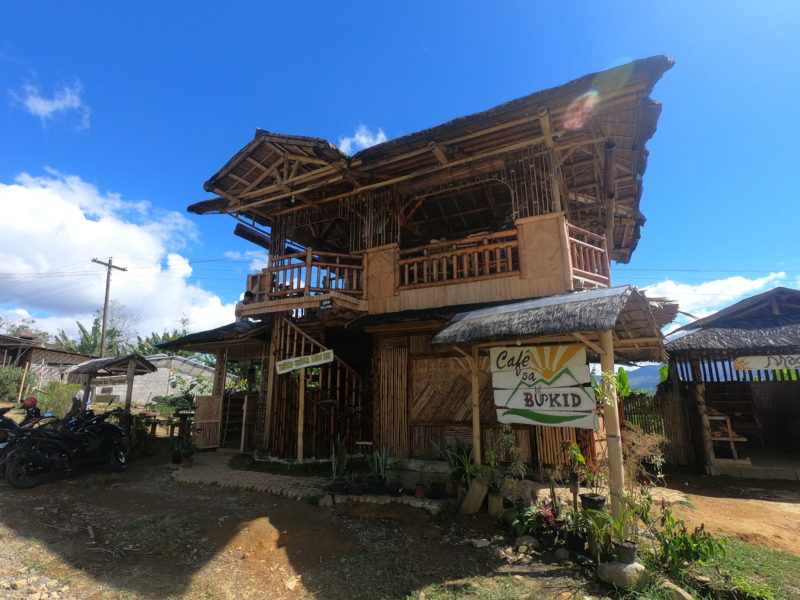 So because Cafe Sa Bukid management is trying to champion eco-friendliness and simple Pinoy living, no shoes are permitted inside the hut and smoking is not permitted. Also, they don't offer WiFi (GASP!), which would probably bother a lot of people especially those who can't live without updating their social media accounts, but then again that's why you're at a cafe in the boondocks, right? It's the perfect time to unplug, commune with nature, get lost in your thoughts and spend quality time with family and friends. Trust me, life without the Internet sometimes can be good for you.
Food and beverages at this Bukidnon cafe are priced fairly. Hot coffee starts at Php 20 (US $0.40) while prices for cold coffee start at Php 40 and frappes at Php 65. They also serve sandwiches (jam sandwich is Php 20, tuna sandwich is Php 95), salads, toasts (french toast is Php 70) and pies. I wanted to try as many as possible but the choices that day were very sparse plus there was a power blackout so they didn't have cold drinks available. I ended up just having coffee caramel and jam sandwich supreme.
Cafe Sa Bukid also sells local products such as jams, coffee, tablea, peanuts, pili nuts, honey, hot sauce and, oh look, uyap! Unfortunately, there were no bamboo straws for sale during my visit. Students of a nearby high school made them and sold them with the cafe's help. They're sold under the brand "KibaBamboo," a portmanteau of Kibangay and bamboo. Maybe next time I'll get lucky.
This Bukidnon cafe also offers strawberry picking opportunities. Right beside the bamboo hut is where you can pick strawberries. It was off-season when we visited, though. There was a mini fruit and vegetable stall as well so do avail of the chance to purchase fresh produce.
Most of the tables and chairs are located at the second floor. For those still blessed with flexible knees, there are pillows, floor mats, and low tables. There are many "Instagrammable" nooks around the cafe so take photos to your heart's content. There's also a spot where you can take photos with the mountains and verdant landscape as backdrop.
Truth be told, there's nothing too special or fancy about Cafe Sa Bukid but then again my relatives and I weren't there for the food or the beverages. For me, you go to a cafe in the bukid because of the experience, the ambience and the awe. The awe that, despite being in the middle of virtually nowhere, a little Bukidnon cafe is thriving and championing the fact that the entrepreneurial spirit is well and alive in Lantapan.
The cafe is open from 7AM to 7PM. WATCH below to see what happened during our visit:
Note: So here's my little anecdote. On our way to Cafe Sa Bukid, my relatives and I noticed there were other Lantapan entrepreneurs who took advantage of the cafe's brand recall. We spotted a business called "Bugas Sa Bukid" and our favorite – "Ete Sa Bukid."