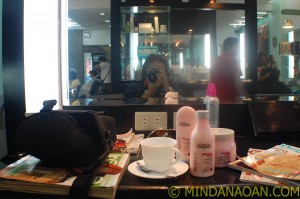 Ever since my House of Representatives days, I've always wanted to visit a Jesi Mendez Salon branch and see what the fuss was all about. You see, a lot of my Manila-based friends rave about how they like the salon, the hairdressers and the services. Many wives of congressmen-friends also visit the salon for their regular hair treatments. However, being the "kuripot" (cheapskate) Mindanaoan that I am, my plan just remained a plan for years until finally, I had the chance (and the money!) to go last weekend.
I was in Cagayan de Oro City and I found out that there was a Jesi Mendez Salon in the area. So I went. The Jesi Mendez Salon branch there, which opened early this year (with GMA 7 actor Dingdong Dantes as guest celebrity), is located at the famed Lim Ket Kai Mall along Lapasan Highway. Interestingly, the salon wasn't along the "main" concourse strips of the said mall. In fact, it was located in the "inner" area of the mall. Still, based on the business card that I got from the receptionist, they use "First Level West Concourse" as its address.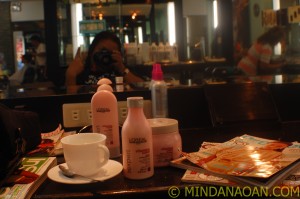 The Jesi Mendez Cagayan de Oro receiving area was small but of use. I think I found just three stools and a couch. My guess is that they kept it that way so that the customers can immediately be escorted to a "station" (in this case, a fast turnover of clients) while waiting husbands can just roam around the mall for a bit or sit on the couch at least a few minutes before the wives wrap up their primping sessions. I actually found two men sitting on the couch when I arrived. They both had looks of amusement and confusion as they pored over fashion and women's magazines.
I was referred to Senior Hairstylist Ramon dela Cruz, who I later found out to be one of my mom's favorite hairstylists. Ramon used to work in Nova Rosa, a salon nestled in Divisoria, Cagayan de Oro City. When my mom tried their services out the first time, she fell in love with the place and made it a point to have Ramon cut her hair whenever she's in town. So when I told her that Ramon was now connected with Jesi Mendez Salon Cagayan de Oro, you could just imagine how eager she was to visit him there.
So anyways I was escorted to the make-up station near the washing area. It was a brightly lit area and I liked the fact that there was considerable space between my chair to the one beside mine and for the hairdressers to move around behind me (don't you just hate it when the salon feels too cramped and you don't feel comfortable at all?)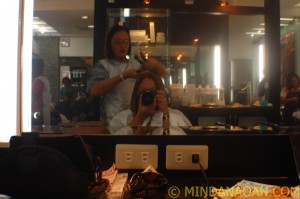 A few initial observations about the Jesi Mendez Cagayan de Oro branch: there were several thick magazines for one to read (although some were already outdated), the floor was kept clean, the salon chairs didn't have good foot rests (although I was offered a cushiony stool for me to put my feet on…that felt weird) and the materials and products were of high quality (they used a good ceramic iron for my hair; they also promote L'Oreal products although they do have other lines like Wella). They also had a chemical mixing station in the middle of the salon which I thought was smart since the customer can immediately see if they indeed used the correct product and if they used the right amount (you hear of these urban stories wherein salon people would mix their "own" products and just place them in opaque jars so there's really no way of telling whether or not those mixtures are safe or some would just use half a tube of a coloring solution when technically you paid for the entire tube!) I also like the fact that the receptionists had clean cut uniforms on and the fact that they multi-tasked (one of them mixed the solution for my hair under the supervision of Romana Lamberte, the Junior Hairstylist who washed and dyed my hair). The hairdressers themselves didn't have uniforms on, though, which I didn't mind, because really, it's the skill that counts, yes? I'm not sure if that will sit well with the rich ladies who usually spend a lot of moolah in beauty shops, though.
I availed of the hair dye service (I opted for the L'Oreal copper blonde color), haircut and a complete set of the L'Oreal color treatment line. Ramon gave me a nice new haircut while Romana blow dried and ironed my hair very well. I liked the fact that both of them really allotted time on working on my hair and didn't rush things, you know what I mean? Romana really took the time out to section my hair and iron each and every section. That alone was already worth the money.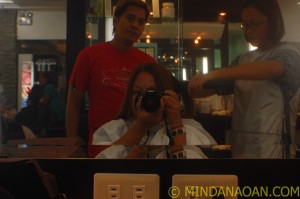 I was also served coffee (it was from a 3-in-1 pack, though, which was a bit disappointing but at least it was free) and the other hairstylists were amiable. I found out that they underwent a month-long intensive training in Manila and that Jesi Mendez himself came for the blessing and inauguration of the Cagayan de Oro franchised branch.
My Jesi Mendez Salon Cagayan de Oro branch experience lasted for about 4 hours and it was worth the time, effort and money. I paid nearly P10,000 for the treatment and products (my most expensive salon visit so far) but I can say that I can highly recommend the place and won't hesitate to go back (paging Jesi Mendez Salon Cagayan de Oro owners…I won't say no to gift certificates! 😉 )
If you want to set an appointment with Ramon, feel free to leave a comment here or contact me through this form. I'd be glad to give you his number. Don't forget to tell him I referred you, though, and that you read all about him through Mindanaoan.