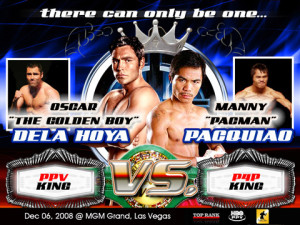 Who's looking forward to the upcoming Manny "Pacman" Pacquiao – Oscar "The Golden Boy" De La Hoya bout as much as my family and I am? Can't wait to watch the exchange of jabs, hooks and upper cuts on December 6, 2008. The event, which will be held at the MGM Grand in Las Vegas, is dubbed the boxing match of the year! Do you think Oscar will win or will the Kibawe, Bukidnon-born Pacman deliver a knockout?
Anyways, as we all know, HBO Pay Per View (PPV) will carry the bout on December 6, 2008. So now I'm a bit confused as to whether or not I should avail of the PPV. The local cable company here in my area is offering its subscribers the PPV service for P700.00 (roughly US$15.50) If I pay on or before November 30, 2008, I only need to shell out P600.00 (roughly US$13.33)
Now the big question is — should I avail of the PPV service or not?
My brother says there's no need for me to shell out money because there's always the Internet. We can just check the updates online. However, my mom says we should still avail of the service because there's nothing like watching the event live. She has a point, too. Still, I'm a bit hesitant because I availed of the Beijing Olympics weeklong live coverage and that wasn't worth the money at all! Hmm…anyways I still have a few days to ponder on this.
What about you – are you going to watch the Pacquiao – Dela Hoya fight? Who's your bet?