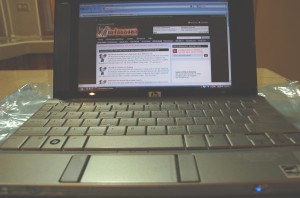 Ever since my Acer Travelmate laptop started acting out a few weeks ago (which was understandable since that baby has served me so well for more than a year), I knew I had to buy a new notebook.
This time, however, my "back up" toy should be small enough to bring along during my frequent trips but durable and sleek enough that I can use it during power meetings with clients or if I need to beat a deadline right smack in the Senate session hall or at the gallery section in Congress.
So meet Mindanaoan's new toy — my new Hewlett Packard Mini Note 2133 laptop. I got this baby during my most recent trip to Manila. And for a very good price, too! I got a whopping P4,000.00 discount! (I'm not kidding! And yes, this one's a brand new unit and has a yearlong warranty, just in case you're curious 😉 ) My HP Mini Note 2133 comes preloaded with Microsoft Vista Home Basic.
This unit has an 8.9 inch screen and runs on 1.2 GHz processor. It has 2GB RAM (thank goodness!) and 120 GB hard disk space. Not bad, eh? This sleek looking baby also has a webcam and is WiFi ready.
I already took my new HP Mini Note 2133 laptop for a testdrive of sorts last weekend during my trip back to my hometown, Davao City. So far, so good!
What about you? What can you share about the laptop or desktop that you're using? Do share 🙂