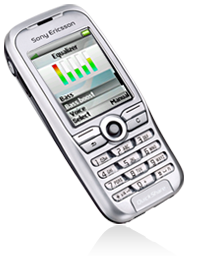 While I consider my father's Sony all-transistor radio my first Sony "encounter," (it was one of his most treasured possessions and when he installed pipe-in sound systems in Jesuit-owned buildings, he'd bring me and his precious all transistor radio along – my role was to belt out songs and he'd test the wirings and quality of sound) I consider my Sony Ericsson k500i mobile phone as my very first Sony experience. In fact, truth be told, my Sony Ericsson k500i cellular phone has been with me through so many "firsts" in my life that it has just been (and still is!) one crazy, amazing, memorable ride. This phone has also played a great part in my quest to find my niche – my very own place under the sun.
I bought this Sony product at a time when I felt I badly wanted – nay, needed – a change. Back then, people
were just too fussy with cellular phones that I just needed something durable, something I was so sure would last for a very long time and something that could basically "withstand" that crazy mobile phone fad phase. When I saw the Sony Ericsson k500i, I knew I found a winner. I just loved how it looked, how it felt in the palm of my hands and I loved its features.
Before you think that THAT was the change I referred to, think again. I needed a change IN MY LIFE. In my career. Back then, I felt boxed in. I felt I wasn't maximizing whatever it was that I needed to maximize. I felt I wasn't being ME. I knew I needed to do something, I knew I needed to prove something not only to others but most importantly, to myself.
So, within a few weeks, I made radical changes. I quit my job, accepted an offer to do media work for congressmen and senators in Manila, brought a few clothes, my phone and my seemingly endless enthusiasm. That was the start of the many "firsts."
First "first" – My trusty Sony Ericsson k500i phone was my daily arsenal. For the first time in my life, I wasn't the one doing the interview. Instead, it was my task to pitch my congressmen and senator bosses to various media outlets using my phone. I sent text messages to reporters, editors, bloggers and everyone else who could help me spread the word. I used my phone to organize press conferences, fix impromptu media briefings and even to request a news team to "insert" one of my bosses in their stories. I fixed studio interviews, spoke to program producers and anchors. It was a daunting task at first – especially for someone who has been so used to laid-back provincial life. However, it was a challenge I knew I had to take.
Second "first" – It was my first time to enter Malacanang Palace and I was even able to take a photo of myself inside the hall using my k500i (even if we were warned not to! Oops =p)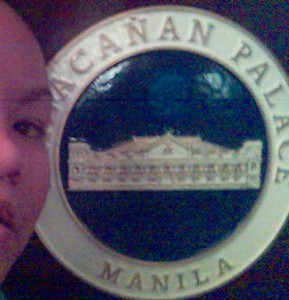 Third "first" – Armed with only my Sony k500i, I watched my crush, American Idol finalist Constantine Maroulis, strut his stuff during a show in Greenbelt. I took these photos and took videos as well. I'm too embarrassed to upload the videos, though, because you'd hear me screaming my brains off in the background LOL Actually, I had two reasons why I simply had to watch that show – apart from the fact that I'd be swooning over Constantine all night, my friend Jay Oliver Durias was the show's musical director and keyboardist. And yes, I'm a huge, huge, HUGE South Border fan!
Fourth "first" – I was sent to the beautiful island of Boracay to do PR and media work for a
congressman and assist a female senator. As it was my first time there, I took tons of photos using my ever reliable Sony Ericsson k500i. I also took a lot of videos during my 5-day stay. My Sony Ericsson k500i was my "battle tool" – I coordinated with the local media from Antique, Boracay, Panay and Iloilo using my phone. I regularly updated the congressman of the situation in the island using my phone. The female senator's staff members called me up on my phone for updates and situationers. It's really like saying I couldn't move an inch without my phone! I also met a lot of fabulous people in Boracay. From the people behind Shangri-La Boracay to the advocates of the Flying Foxes to the local media practitioners who really went out of their way to make me feel welcome.
Fifth "first" – The largest conference I had to do media work for! It was the second national conference related to the environment and human development and I was tasked to lead the media and PR stuff. You could just imagine how terrified I was – the conference was going to be held in Cebu City (where I didn't know a single media practitioner then), we had more delegates than expected (including a lot of foreign participants), there were press conferences and media briefings to be held as regularly as possible and I also had to attend to the senators, congressmen and representatives of international groups such as the United Nations! And can you guess what my biggest and most important gadget was? Why, my Sony Ericsson k500i, of course! I think my phone was so "bugbog" that time with texts, calls and what-have-yous that if only it could speak, it would tell me to get lost LOL Eventually, everything went smoothly – all press conferences were very well attended, the event was well covered by the local, regional and even national media and the bosses were all glad. In hindsight, I reckon I could have never done what I was able to do if not for my phone. It's like a lifeline, seriously! (By the way, I met another idol of mine during the conference – journalist Howie Severino – and yes, we have a photo together taken by my trust k500i)
Sixth "first" – Now this is one interesting 'first" occasion. I was in Bukidnon to help out in the Regional Encampment when was also requested to facilitate a phone patch. You see, the congressman-son of a Bukidnon town mayor was out of the country and he was supposed to deliver the keynote speech. He still insisted on giving the speech — OVER THE PHONE. So when the day of the encampment opening came, people were a bit worried when the congressman's call couldn't go through. Apparently, the cellular phone that they used couldn't accommodate such a setup (phone patch stuff). As the ever helpful as I am (ahem, ahem) I suggested something – that they tell the congressman to call my number instead (since the congressman knew me anyway). The call went through and he was able to address the crowd full of Girl Scouts, adult "titas," parents, constituents and local politicians — and yes, the phone I used was my beloved Sony Ericsson k500i
Now, after more than a year working there, I felt that I still had to do something. I felt that there was still something bigger, better for me out there. While it's true that I get to hobnob with the famous, it just didn't cut it for me.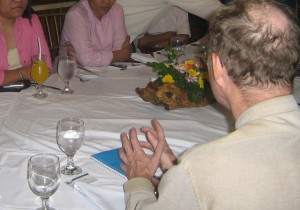 And so I finally decided that I needed to concentrate on a business. Something I knew I could be good at. I asked permission from the bosses if I could leave, start a new business but at the same time still look for opportunities that could allow me to still work with them.
I decided to start a public relations, events, advertising and outsourcing business. Which was "swak na swak," really! I could still work with the senators and congressmen because well, they needed publicity and advertising.
Plus I've dabbled with events management before…why not go full blast, right? As for outsourcing – that came about a bit later but admittedly, it's the department that's bringing in the moolah.
Which brings me to my seventh "first" – I successfully organized a debate between two opposing congressmen. Then Congressman (now Senator) Juan Miguel Zubiri and Congressman Nereus "Neric" Acosta. That event has gone down in Bukidnon's history as the only debate wherein BOTH of them actually showed up! (I would like to think that they really trusted me that much for them to take the time out and grant my request) People of Bukidnon talked about that debate for months! That was really amazing and I owe tons to both Neric and Migs. And yes, my Sony phone played a huge role. After all, it was what I used to contact both of them, the media and basically everyone I knew who would be interested to watch the two opposing gentlemen battle it out.
There are actually a lot of "firsts" that involve my precious Sony Ericsson k500i phone. Like my very first trip to Hongkong, Macau and Shenzhen just May of this year. Of course, I brought my phone along to keep myself connected with friends, family and clients.
Plus the "first" time I got to interview Bamboo (and get front row tickets for free!), organize concerts topbilled by Hale and PBB Alumnae Budoy and his band Junior Kilat, sing with another favorite band, K24/7, fix a radio tour for True Faith in behalf of San Miguel Beer and meet the members of Team Unity.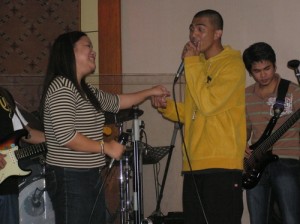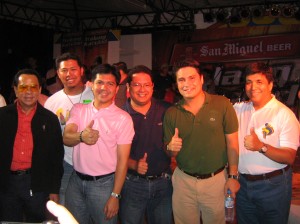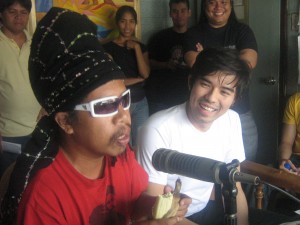 Ah yes, didn't I tell you it's been one crazy, FUN ride ever since I got my Sony?
However, let me just cite one important "first" as finale to this entry.
Eighth "first" – No longer just my "work tool," my Sony phone is now my indispensable partner in business. I now use it to pay most of my homebased workers and I still use it to check my emails (the Internet Services option is still working fine, thank you very much) especially when I'm on the road and I find it impractical to turn my laptop on.
Indeed, my Sony Ericsson k500i phone has been with me through a lot of firsts and stages in my life. It has helped me gain new friends, prove to my bosses that I'm a results-oriented person, prove to people that I know how to use my resources for the better and prove to my family that even though I went through that phase wherein I may have appeared "lost" and "confused," those days are gone now. I now know what I want and I now know how to get it. As long as I have the right "tools," I reckon I'm well on my way =)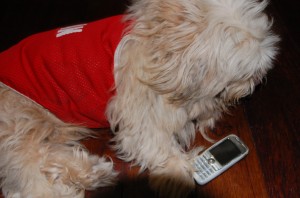 My Sony Ericsson K500i mobile phone definitely gave (and still gives!) significance in my life just like Sony's TG1 Handycam, the World's First Smallest, Lightest and Slimmest Full HD Camcorder. Just about the size of a wallet, Sony's breakthrough TG1 Handycam can capture all those exciting memories, all those memorable "firsts" – in high definition!
Now that's what I call breakthrough quality at its best.