Here's another Mindanao Hotels review. Goodnews Traveller's Inn is located along Capt. Vicente Roa Street, Cagayan de Oro City, Northern Mindanao, Philippines. It's near the busy Cogon Market and is accessible by public utility vehicles (taxi, jeepney, trisikad and motorela) This lodging house in Cagayan de Oro City is also just a few steps away from the Cagayan de Oro City fire station.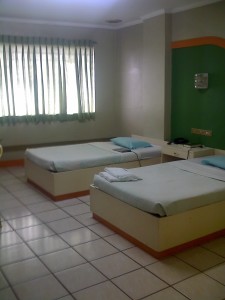 Truth be told, Goodnews Travellers Inn was my last…okay, ONLY choice at the time I was in CDO because all of the other hotels in Cagayan de Oro were fully booked. So with my hopes up, I checked in and got a double room. I paid P950.00 for the double airconditioned room.
My room was at the third floor, which was a major bummer. Apart from the fact that I'm not a fan of using the stairs (Goodnews Travelers Inn does not have an elevator), I also learned that the inn's wireless fidelity (Wi-Fi) facility no longer extends up to the third floor. Wi-Fi internet is NOT FREE at this budget hotel in CDO, take note. You need to buy an internet access card (P100.00 for 3 hours, I think) before you can fully enjoy the Wi-Fi connection.
As you can see from the photos I took, the double room looks pretty decent. There's a telephone, the room is airconditioned, there's a TV set (there's cable connection, by the way) and a small table with two chairs. There's also a big cabinet by the bed where you can find a few hangers.
Now…the comfort room. Well, as you can see, it has seen better days (just check out the broken mirror by the sink) but at least it's clean. There's hot and cold shower and the towels are okay. I highly suggest you bring your own toiletries, though.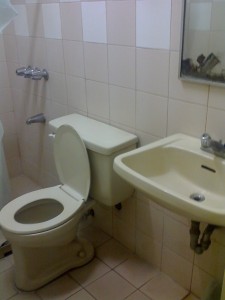 Since my room was by the busy street, it was pretty noisy especially during lunch time. In the evenings, empty taxis or motorelas are also difficult to come by so be prepared to walk towards the Cogon Market area and hail a cab from there.
My room didn't come with free breakfast but there's a Persimmon bakeshop-restaurant at the first floor so at least I was able to order coffee in the morning (you also have the option to order room service). Persimmon serves reasonably priced food. I suggest you order their pancit guisado or any of their viands.
My overnight stay at Goodnews Travellers' Inn Cagayan de Oro City was pretty much all right. No fuss, no hassles. Just basic and safe accommodation in the City of Golden Friendship.