MINDANAO – It's that time of the year once again! Kasalan sa Kagay-an 2009, the Cagayan de Oro City Mindanao leg of the Kasalang Filipino series, is now underway…and guess what? My brother, who's a professional wedding photographer (just like his ate! hehe :D), graphic artist and caricaturist, is one of those who have flyers, leaflets and business cards displayed at the said wedding fair. (please pass through the "main entrance" to the fair and behind it there are tables where you can find flyers of various Cagayan de Oro City wedding photographers…look for the framed picture which screams "fresh. fun. funky photography!" — that's my brother's area 😉 )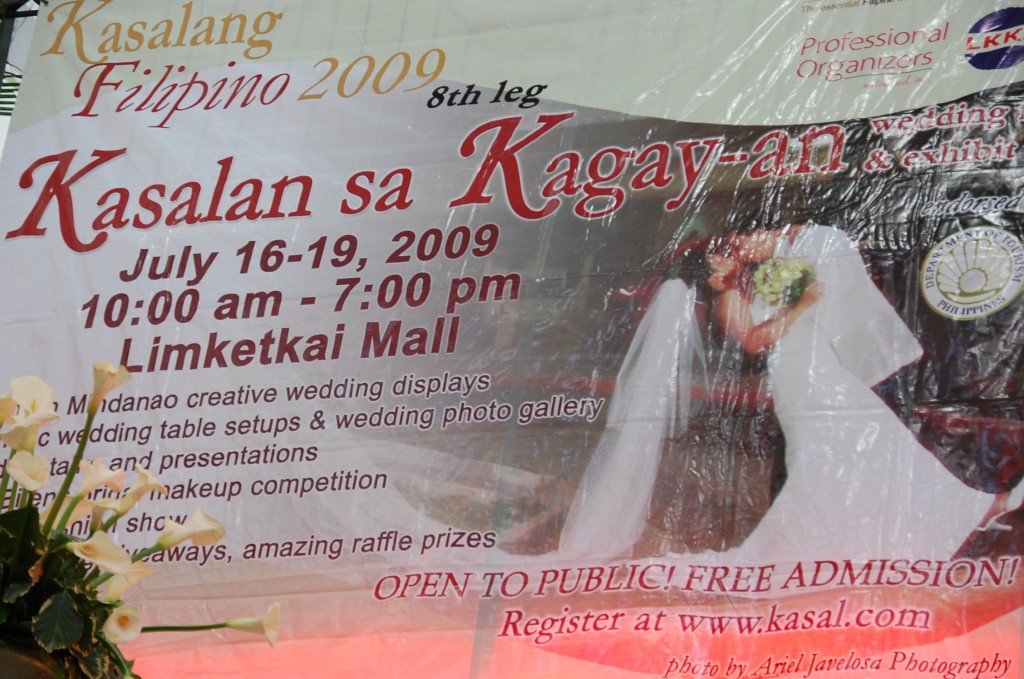 Kasalan sa Kagay-an is currently being held at the Rotunda area of Limketkai Mall, Cagayan de Oro City. The wedding suppliers exhibit runs from July 16-19, 2009 from 10am to 7pm.
I was at the Kasalan sa Kagay-an wedding fair yesterday and I chanced upon the brief talk on fashion and portrait photography by Dustein Sibug, a friend of mine and my brother's co-member in Team Oro. Team Oro is a CDO-based group composed of professional videographers and professional photographers. Dustein spoke about the importance of angles, composition of photos etc.
Anyways, if you're interested to meet Mindanao wedding photographers, Mindanao wedding suppliers, Mindanao wedding gown designers or probably join workshops or watch a make-up competition or fashion show, head on down to Lim Ket Kai mall rotunda area and visit the Kasalan sa Kagay-an 2009 event. Of course, don't forget to get copies of my brother's leaflets, flyers and business cards — he is one wedding photographer in Cagayan de Oro that you should definitely meet!
Or if you want a brother-sister tandem to cover your very special day, my brother and I can serve as your official wedding photographers. We travel anywhere around Mindanao, Visayas, Luzon and the rest of the world! 😀 Please feel free to CONTACT ME for very special rates on wedding photo coverage packages.
In the meantime, here are a few of my wedding photography shots.