My 3 younger brothers and I all loved to draw, paint and sketch. However, our father taught us how to further hone our skills. My father was a very talented illustrator. I used "was" because he died several years ago, back when I was still in college. He was an amazing artist – with just a charcoal pencil and a blank sheet of paper, he could whip up a very detail-oriented drawing of a hen taking care of its chicks in just a few minutes. He could sketch a portrait oh so effortlessly. He didn't like to trace and he seldom used an eraser.
He drew from the heart.
Fast forward many years – our youngest sibling Bon seems to be the only one who continues to dabble in the arts. My love for painting, drawing and sketching is still there — I'm just one of those who need a major bout of inspiration and a certain mood before I pick up my brush, though. I do apply that love for graphic design in other aspects of my job, though — in making posters for events I organize, in editing my photos and in creating various crafts.
Anyways – back to my brother Bon – apart from now being a professional photographer, he continues to do graphic design, caricatures and illustrations for various clients here and abroad. In fact, he used to be the regular cartoonist of the "Ming the Mini Bus" comic series. Those comic books were circulated all over Hongkong and the New Territories (I should know, I personally called up the client who hired my brother while I was in Hongkong last year – I'm THAT proud of an ate! 🙂 ). My brother also drew for the Xavier University Crusader School Publication's "Hohongihong" (the back part of the magazine which is full of cartoons).
These days, he has added another feather on his cap. Bon, along with three other artists, showcased their talents in doodling in a recent exhibition held at Spruce, Limketkai Mall, Cagayan de Oro City, Mindanao.
Spruce, by the way, is a boutique located at the second floor of the largest mall in Cagayan de Oro. It carries various brands such as Havaianas, Birkenstock, Charcoal and Aranaz.
A doodle, on the other hand, is a type of sketch, an unfocused drawing made while a person's attention is otherwise occupied.
Check out one of the two finished products (this one's currently on display at Spruce):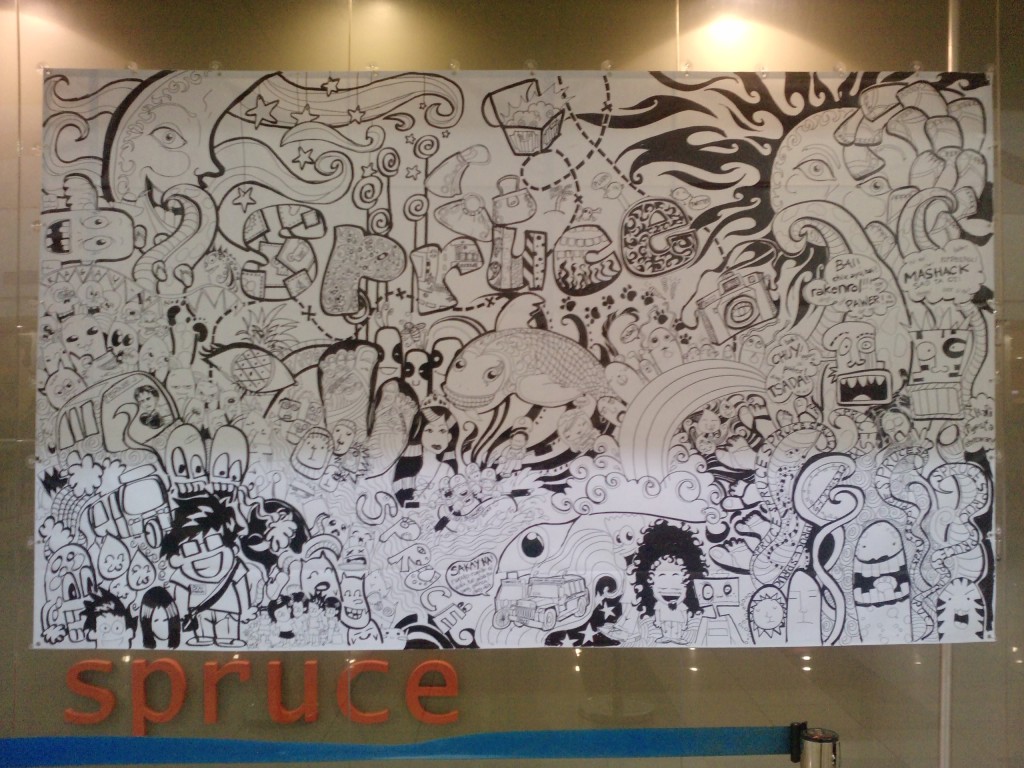 * photo by Mindanaoan.com – taken using an LG Arena *
And here's my brother Bon, hard at work: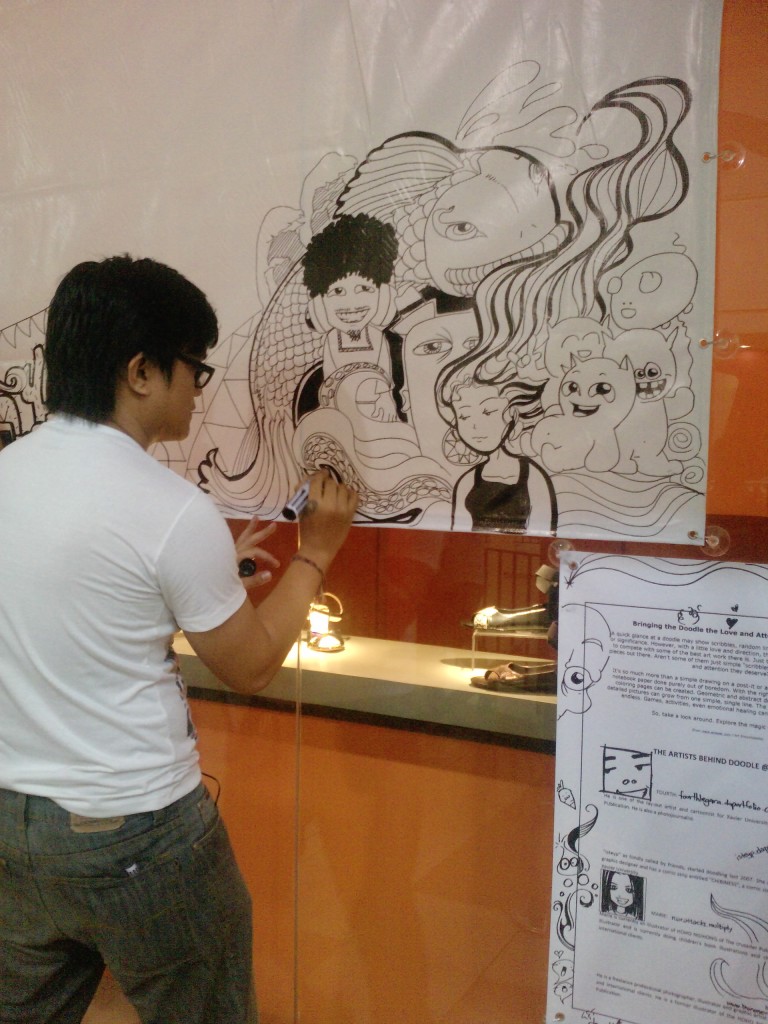 * photo by Mindanaoan.com – taken using an LG Arena KM900 *
Truth be told, he looks so much like our father from this angle 🙂
I'm happy that my father's legacy still lives on…through Bon 🙂 And I'm glad that local establishments such as Spruce continue to support Mindanaoan artists. To the Spruce management – may your tribe increase!
By the way, the works of Bon and a fellow professional photographer, Dustein, will be featured in a photo exhibit at Spruce this month of September. Watch out for that! Of course, Mindanaoan will also post updates.
Do drop by Spruce at the second floor of Lim Ket Kai Mall soon.
Also, if you're interested to hire my brother, please don't hesitate to CONTACT ME through this form or by calling (+63) 919 238 6575. He can accept commission work for doodles, caricatures, illustrations and graphic design. Of course, you can also hire him as wedding photographer (whenever he's the main photographer, he often gets me as back-up hehe 🙂 So it'd be cool if you hire a brother-sister tandem, yes? I'd love to meet you, too!)