The winners of the Nescafe 3in1 Soundskool 2009 Mindanao regional finals were declared last Saturday, October 3, 2009 via an afternoon-long musical event held at The Atrium of the Limketkai Mall in Cagayan de Oro City, Northern Mindanao.
Little School House of Xavier University, EEVEE of Philippine Women's College Davao City and Disco, Disco, Disco of St. Michael's College were declared the winners of the Mindanao eliminations. Each of the winning college bands received P25,000.00 and the chance to compete in the national finals to be held in Manila.
Prizes at stake at the national finals include P250,000.00 in cash, P100,000.00 worth of band equipment for the school the band represents and an exclusive record contract with Sony Philippines.
The Nescafe 3in1 Soundskool is an inter-collegiate competition open to young, unsigned bands in the Philippines. Nescafe 3in1 Soundskool, which has committed itself to discovering the best college bands and helping them become famous, has produced some of the country's hottest young bands including last year's winner Letter Day Story and Hilera. NESCAFÉ 3in1 Soundskool aims to support the artistic passions of young Pinoy musicians all over the country.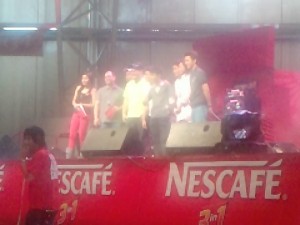 Popular Manila band 6Cyclemind (of "Walang Iwanan," "Sige," "Trip" and "Sandalan" fame) also performed during the event. Maxine and TJ, hosts of a local Sunday TV show, served as the hosts for the day.
The Nescafe 3in1 Soundskool 2009 Mindanao Regional Finals event was part of the nationwide tour to select the cream of the crop among the college bands that have sent in their entries up until early September this year. The three finalists from Mindanao will join 10 other bands from all over the Philippines in a special "mentorship program" wherein the band members will have the chance to listen to advice and insights of some of the local music industry's top artists and business executives about how to further improve songwriting skills, ability to connect with audience, among others. Last year's list of mentors included Callalily, Sandwich, Jr. Kilat, Urbandub, Pupil and Spongecola.
The 2009 Nescafe 3in1 Soundskool holds the theme "Huwag Na Magtago! Magparamdam Ka Na!" Supporters of this annual event include the Commission on Higher Education, Sony Music Entertainment Philippines, Paseo de Bahamas, Rudy Project, Boracay Scuba, Boracay Mandarin Island Hotel, Ix Chel, La Carmela de Boracay Resort Hotel and Parkmall Mandaue Cebu.
For more details, visit the official Soundskool website.
Check out this video Mindanaoan took during the Nescafe 3in1 Soundskool 2009 Mindanao finals competition:
THANK YOU VERY MUCH TO THE NESCAFE 3IN1 FAMILY FOR INVITING MINDANAOAN. I would also like to thank Kristine of Ogilvy PR Manila. Thank you very much!
SUBSCRIBE TO MINDANAOAN today and always be updated with events, gigs, contests and even job openings here in Mindanao!