First of all, we should not call it "Maguindanao Massacre" anymore. We should now call it "Ampatuan Massacre." Ampatuan is the specific place where the mass graves were found. Maguindanao is the province here in Mindanao.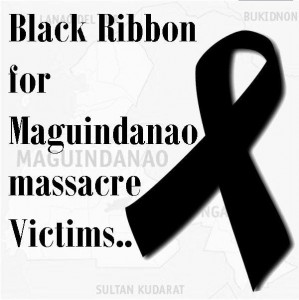 Secondly, to fellow journalists out there (especially those from Luzon) who make the constant mistake of treating Mindanao as one "lawless island," (come on, you know who you are!) please…please be extra careful.
Maguindanao IS NOT Mindanao.
Mindanaoans like myself have been doing our best to help keep our place peaceful and safe. Unfortunately, like any other area, there are people who refuse to obey the law and think that they are above it. These people do not represent the entire island of Mindanao.
One tiny yet misleading description of our island can result in so many negative effects. So please…if you can…don't look at Mindanao as if it's the most dangerous place in the world.
Thirdly, I would like to encourage all of you to please say a prayer for all of my fellow media practitioners who have become victims of such heinous crimes.
They went because they believed in peace. They went because they believed in freedom. They went because they believed in fair play and honesty. Sadly, even with those beliefs, they still suffered such gruesome deaths.
Please pray for these media men killed in the Ampatuan massacre. Thanks to CenterLaw, I got this list of the names of journalists killed in the brutal Ampatuan massacre last November 23, 2009. So far, the list consists of a total of twenty seven (27) media practitioners who were killed at that massacre including vernacular weekly Periodico Ini's entire staff pool. Reports say that there may be more than 35 media men.
May God bless their souls and may God's healing hands touch their bereaved loved ones.
1. Ian Subang, Socsargen Today, General Santos City
2. Lea Dalmacio, Socsargen News, General Santos City
3. Gina De la Cruz, Saksi News, General Santos City
4. Maritess Cablitas, News Focus, General Santos City
5. Rosell Morales, News Focus, General Santos City
6. Henry Araneta, Radio DZRH, General Santos City
7. Neneng Montaño, Saksi News, General Santos City
8. Alejandro "Bong" Reblando, Manila Bulletin, General Santos City
9. Victor Nuñez, UNTV, General Santos City
10. Mark Gilbert "Mac-Mac" Arriola, General Santos City
11. Bal Cachuela, Punto News, Koronadal City
12. Ernesto "Bart" Maravilla, Bombo Radyo, Koronadal City
13. Ronie Perante, Gold Star Daily correspondent, Koronadal City
14. Joel Parcon, Prontiera News, Koronadal City
15. Jun Legarte, Prontiera News, Koronadal City
16. Rey Merisco, Periodico Ini, Koronadal City
17. John Caniban, Periodico Ini, Koronadal City
18. Arturo Betia, Periodico Ini, Koronadal City
19. Noel Decena, Periodico Ini, Koronadal City
20. Rani Razon, Periodico Ini, Koronadal City
21. Jhoy Duhay, Gold Star Daily, Tacurong City
22. Andy Teodoro, Central Mindanao Inquirer, Tacurong City
23. Jimmy Cabilo, Midland Review, Tacurong City
24. Reynaldo "Bebot" Momay, Midland Review, Tacurong City
25. Napoleon Salaysay, Mindanao Gazette, Cotabato City
26. Jun Gatchalian, Davao City
27. Lindo Lupogan, Davao City