With all the hoopla over the upcoming May 2010 elections, Mindanaoan is sure that a lot of you out there are interested to know — exactly how much does a national candidate have to pay for radio and television airtime? Remember, if you're running a national campaign, you should also tap the regional and local radio and TV channels, right? So if you're paying P100,000 per 30 seconds for ONE time airing, exactly how much do you pay not only for regular airing via national TV but via regional and local radio outlets, too?
Mindanaoan got a hold of the latest rate cards (airtime prices) of GMA Channel 7, QTV Channel and Radio GMA (DZBB, DWLS, DZBB Super Radyo).
The rate cards below even specify how much it would cost if you place your ad by program. For instance, it costs P475,200.00 for you to place a 30-second ad during 24 Oras (weekday primetime evening newscast).
Do the math 🙂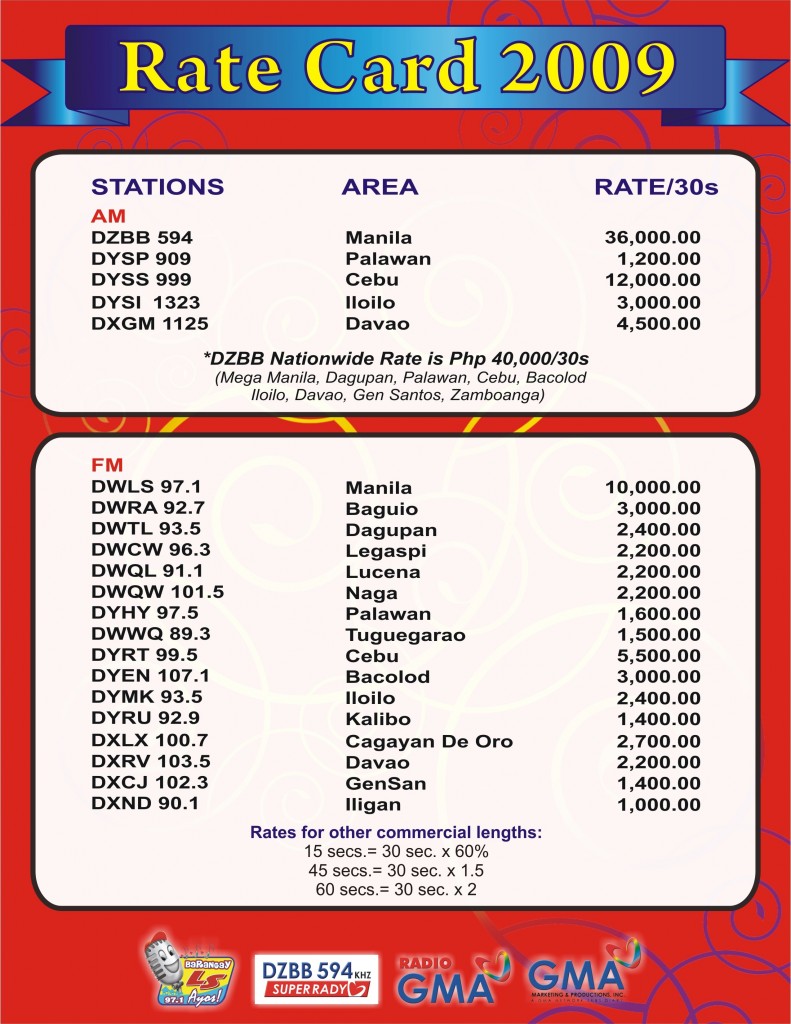 PROGRAMS
Rate/30s
Rate/30s
Weekday Morning
2008
2009
Unang Hirit
96,000
105,600
Doraemon
81,300
89,430
Class of Titans
81,300
89,430
Slamdunk
81,300
89,430
Bleach
81,300
89,430
Sis
113,000
124,300
Rosalinda/

LALOLA (ORIGINAL)

124,700
137,170
Weekday Afternoon
Daisy Siete
124,700
137,170
Una Kang Naging Akin

/PAANO BA ANG MANGARAP

124,700
137,170
Saan Darating ang Umaga

/DAPAT KA BANG MAHALIN

124,700
137,170
Be Strong Geum Soon
119,600
131,560
Sakurano

/LOVE AT THE CORNER

119,600
131,560
Family Feud
249,500
274,450
Weekend Morning
Transformers Beast Machines
81,000
89,100
Dessert Punk
81,000
89,100
King of Warriors
81,000
89,100
Bakugan
81,000
89,100
Ultraman Nexus
81,000
89,100
Rockman Stream
81,000
89,100
Art Angel
193,200
212,520
Lovely Day
193,200
212,520
Ka-Blog
193,200
212,520
Kay Susan Tayo
193,200
212,520
Takeshi's Castle
124,700
137,170
Weekend Afternoon
SOP/Kapuso Sine Special
249,500
274,450
Dear Friend
218,500
240,350
Showbiz Central
249,500
274,450
Startalk
249,500
274,450
Wish Ko Lang
249,500
274,450

Weekday Primetime
24 Oras
432,000
475,200
Bilib Ka Ba Nights (Ripley's/Full Force Nature/Masquerade)
432,000
475,200
Obra
432,000
475,200
Bubble Gang
432,000
475,200
Weekend Primetime
Celebrity Duets

/KAKASA KA BA SA GRADE 5?

432,000
475,200
Pinoy Records
432,000
475,200
Bitoy's Funniest Videos
432,000
475,200
Imbestigador
432,000
475,200
Nuts Entertainment
432,000
475,200
Mel & Joey
432,000
475,200
Celebrity Family Feud

/MY DAD IS BETTER THAN YOUR DAD

432,000
475,200
Kapuso Mo Jessica Soho
432,000
475,200
All Star K!
432,000
475,200
Sunday Night Box Office
432,000
475,200
Primetime Special
Zaido/Asero

/LUNA MYSTIKA

432,000
475,200
Dyesebel/

GAGAMBINO/TOTOY BATO

432,000
475,200
Lalola/

ANG BABAENG HINUGOT SA AKING TADYANG

432,000
475,200
My Husband's Woman/

MONEY WAR

432,000
475,200
Weekday/Weekend Latenight
Saksi: Liga ng Katotohanan
276,000
303,600
I-Witness
147,200
161,920
Reporter's Notebook
147,200
161,920
Born to be Wild
147,200
161,920
100% Pinoy
147,200
161,920
Emergency
147,200
161,920
GMA Flash Report Special
147,200
161,920
Master Showman
163,300
179,630
QTV CHANNEL
Rate Card
(effective April 2009)
PROGRAM
DAY
TIME

2008 Rate Card

2009 Rate Card

I. Primetime A
Chef to Go
Sunday
6:45-7:45 PM

132,250.00

145,475.00
Hired
Sunday
7:45-8:30 PM

132,250.00

145,475.00
Rated: Chick Flicks
Sunday
9:00-11:00 PM

132,250.00

145,475.00
House Life
Mondays
7:25-8:25 PM

132,250.00

145,475.00
Clean House
Mondays
8:35-9:30 PM

132,250.00

145,475.00
Fit & Fab / Just for Laughs Gags
Tuesdays
7:25-8:25 PM

132,250.00

145,475.00
The Ricky Lo Exclusives / My Celebrity Home
Tuesdays
8:35-9:30 PM

132,250.00

145,475.00
American Idol (Live Telecast)
Wed / Thu
6:00-7:35 PM

132,250.00

145,475.00
American Idol (Primetime Telecast)
Wed / Thu
7:55-9:30 PM

132,250.00

145,475.00
Guess Who's Coming to Decorate
Fridays
7:25-8:25 PM

132,250.00

145,475.00
101 Series
Fridays
8:35-9:30 PM

132,250.00

145,475.00
Planet's Funniest Animals
Saturdays
7:00-7:30 PM

132,250.00

145,475.00
Daily 10 Weekend
Saturdays
7:30-8:00 PM

132,250.00

145,475.00
Day Off
Saturdays
8:00-8:45 PM

132,250.00

145,475.00
Mysteries & Scandals
Saturdays
8:55-9:25 PM

132,250.00

145,475.00
Sabado Showdown
Saturdays
9:25-11:25 PM

132,250.00

145,475.00
II. Primetime B
The Daily 10 Weekend (Replay)
Sundays
5:00-5:30 PM

82,656.25

90,921.88
Modern Girl's Guide to Life
Sundays
5:30-6:00 PM

82,656.25

90,921.88
Ang Pinaka
Sundays
6:00-6:45 PM

82,656.25

90,921.88
The Sweet Life
Mon-Fri
5:00-6:00 PM

82,656.25

90,921.88
101 Series
Mon-Fri
6:00-7:00 PM

82,656.25

90,921.88
The Beat
Mondays
10:00-10:45 PM

82,656.25

90,921.88
Reunions
Tuesdays
10:00-10:45 PM

82,656.25

90,921.88
One Proud Mama / Fit & Fab
Wednesdays
10:00-10:45 PM

82,656.25

90,921.88
Draw The Line
Thursdays
10:00-10:45 PM

82,656.25

90,921.88
Balikbayan
Fridays
10:00-10:45 PM

82,656.25

90,921.88
American Idol (Weekend Replay)
Sat / Sun
4:00-6:00 PM

82,656.25

90,921.88
Modern Girl's Guide to Life (Replay)
Saturdays
6:00-6:30 PM

82,656.25

90,921.88
True Confections
Saturdays
6:30-7:30 PM

82,656.25

90,921.88
III. Prime Fringe
Jumong
Sundays
11:00-11:30 AM

59,512.50

65,463.75
Love in Heaven
Sundays
12:00-1:00 PM

59,512.50

65,463.75
Homes With Style
Sun – Sat
3:00-3:30 PM

59,512.50

65,463.75
Fashion Police
Sun – Sat
3:30-4:00 PM

59,512.50

65,463.75
Foxy Lady
Mon-Fri
10:40-11:45 AM

59,512.50

65,463.75
Balitanghali
Mon-Fri
12:00-1:00 PM

59,512.50

65,463.75
Balitanghali (Saturdays)
Saturdays
12:00-12:45 PM

59,512.50

65,463.75
Chinese Chef
Mon-Fri
4:00-4:30 PM

59,512.50

65,463.75
Marina
Mon-Fri
4:30-5:00 PM

59,512.50

65,463.75
Kids on Q
Saturdays
10:00-10:45 PM

59,512.50

65,463.75
Ka-Toque / Daddylicious
Saturdays
10:45-11:45 PM

59,512.50

65,463.75
Just Joking
Sat & Sun
12:45-1:45 PM

59,512.50

65,463.75
World's Funniest Videos
Saturdays
4:30-5:00 PM

59,512.50

65,463.75
IV. Non-Prime
Balitanghali (Replay)
Sun & Sat
7:00-8:00 AM

33,062.50

36,368.75
Go Negosyo Bigtime
Sun & Sat
8:00-8:30 AM

33,062.50

36,368.75
Blinky Bill
Sun-Sat
9:00-9:30 AM

33,062.50

36,368.75
Daily 10 Weekend (Replay)
Sundays
2:00-2:30 PM

33,062.50

36,368.75
Modern Girls Guide to Life (Replay)
Sundays
2:30-3:00 PM

33,062.50

36,368.75
Life's Funniest Moments
Sundays
11:00-11:30 PM

33,062.50

36,368.75
Mysteries & Scandals (Replay)
Sundays
11:30-12:00 MN

33,062.50

36,368.75
News on Q (Replay)
Mon-Fri
7:00-7:30 AM

33,062.50

36,368.75
Care Bears
Mon-Fri
7:30-8:00 AM

33,062.50

36,368.75
Bannertail
Mon-Fri
8:00-8:30 AM

33,062.50

36,368.75
Ultimate Book of Spells
Mon-Sat
8:30-9:00 AM

33,062.50

36,368.75
Galaxy Adventures of Oz
Mon-Sat
9:30-10:00 AM

33,062.50

36,368.75
The Snow Queen
Mon-Fri
10:05-10:30 AM

33,062.50

36,368.75
Just Joking
Mon-Fri
1:00-2:00 PM

33,062.50

36,368.75
My Melody
Mon-Sat
2:05-2:30 PM

33,062.50

36,368.75
Rockman Axxess
Mon-Sat
2:30-3:00 PM

33,062.50

36,368.75
Daily 10 Weekend (Replay)
Saturdays
11:30-12:00 MN

33,062.50

36,368.75