Many say that one will either extremely love or extremely hate this new biography about my fellow Mindanaoan, Manny Pacquiao. For fellow fans of the world's best pound for pound boxer and now Sarangani Mindanao congressman who haven't had the chance to read this new PacMan: Behind The Scenes With Manny Pacquiao book, I'm hoping that I will at least like it and not curse the book's author, Gary Andrew Poole.
Because you see, while most of the "expert reviewers" say that this is a good read, many also say that it's poorly edited, contains unverified and even stupid material and reveals things about Pacquiao and the rest of Team Pacquiao that can, accordingly, "stain his good name."
Before we talk about the nega stuff, though, let's consider some of the "good reviews."
Scoop Malinowski of BoxingInsider.com has this to say: "Manny Pacquiao's rise to superstardom is one of the world's most unlikely stories…Poole takes you on a journey to Planet Pacquiao and it couldn't have been a better read. I loved the book from beginning to end, it's a fantastic, entertaining and informative read.…You will simply be awed by insider perspectives on Pacquiao's generosity, modesty, kindness, inspirational powers and just how much he is loved by Filippinos all over the world…"PacMan" is a must-read for all sports fanatics."
Daily Telegraph (UK) says it's "a fine biography" while SportsIllustrated.com says it's "[An] excellent biography…Absolutely worth the read."
Pretty good reviews, yes? Alas…what are these?
Gary Andrew Poole's "PacMan: Behind The Scenes With Manny Pacquiao" supposedly spelled "Cory" as in Cory Aquino as "Corey" and "Visyan" instead of "Visayan." So it's true. Poorly edited. Apparently the proofreader (if ever there was one) didn't do a good job.
Next – the book allegedly took notice of the Filipino boxing champ's large entourage, his alleged penchant for having someone always by his side when he sleeps (because accordingly, when he was 15 years old, a roommate of his died in his sleep) and — gasp — Pacquiao's alleged attention deficit disorder (ADD). "Everyone has cheap cellphones, and they're checking text messages…" and "Despite his current fame and fortune, Pacquiao continues to have people sleep on the floor next to him. So when American television host Jimmy Kimmel would ask him, years later about his entourage and wonder why they slept around his bed, Pacquiao looked desperately confused. He was unable to really explain it." AND "It is thought that Pacquiao probably suffers from attention deficit disorder (ADD) because he repeatedly shows intensity for a few minutes—the length of one round—and then he is on to something else."
My first reaction when I first heard these: "Who is this Gary Andrew Poole and should I believe what he writes about our beloved Filipino boxing champ?"

But ah…I got my answer in a matter of minutes.
Apparently, this Pacquiao biography "writer" wrote something absolutely ridiculous on page 224, paragraph 2 of this PacMan – Behind The Scenes With Manny Pacquiao book:
"In the course of Manny Pacquiao's rise, he became something even bigger than a sports page myth: The hero worship he received in his homeland has actually been compared to the disenfranchised's love for Nelson Mandela. His image is on Philippine currency…"
Did Gary Andrew Poole mean THIS Philippine currency???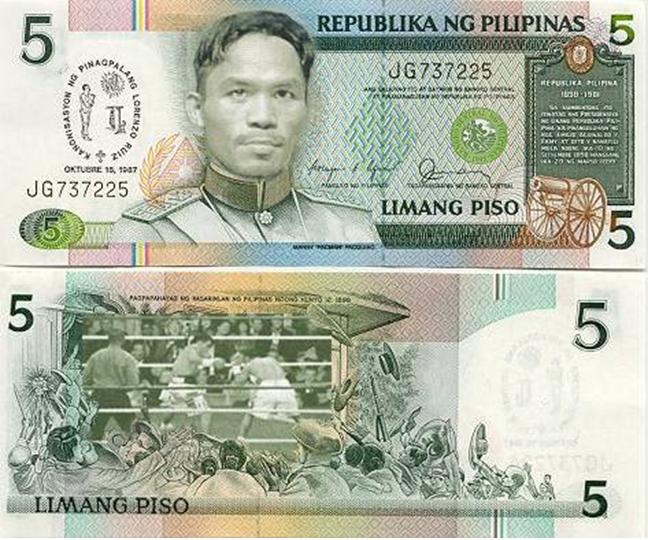 Now THAT's hilarious!!! I hope the author wrote that in the proper context or else…
Either way, despite these, I'm still planning to read this Manny Pacquiao biography real soon. Should there be an angel out there who wants to buy a copy for me, I'd be absolutely grateful! Please CONTACT ME 🙂 If you want to grab a copy as well, you can order below:
SO WHAT DO YOU THINK OF ALL THESE? WILL YOU STILL READ THIS BOOK?