Pillows & Toast Singapore is the best hostel in Singapore! It's a relatively new, clean, budget Singapore hostel that my mom and I liked. You see, Pillows And Toast was our home in Singapore back in February when we had our first ever mother-daughter trip overseas to Singapore and Kuala Lumpur, Malaysia.
You might want to read these blog posts to learn more about our Singapore – Malaysia trip:
How to prepare a do-it-yourself Singapore and Malaysia trip
Singapore Chronicles: Day 1 Cebu to Singapore
List of all Singapore hostels
Pillows And Toast Singapore Reservation / Booking
Although it wasn't our first time to travel abroad, it was our first time to visit Malaysia and Singapore. It was also our first time to follow a DIY (do it yourself) trip! Like I mentioned in this post, we opted not to avail of the services of a travel agency because we didn't want to be led to tourist traps again (ugh…waste of time and money, I tell you! Stress alert!) plus I wanted to take on the challenge of preparing a Singapore-Malaysia itinerary from scratch and down to the minutest of details. Yep, I'm kindda OC like that.
I came across Pillows & Toast Singapore in one of my web surfing sessions. I found out that it opened just last November 2010 and that it is located along Mosque Street right in the heart of Chinatown, Singapore.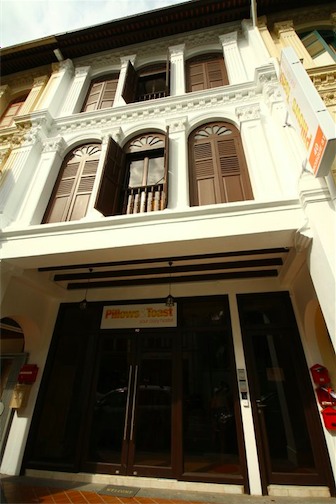 Tamang-tama, I thought, because our trip fell on Chinese New Year and for sure there were lots of happenings in Chinatown (I was right, by the way! Chinatown was in a super festive mood by the time we arrived) Plus Chinatown is a great location for Singapore newbies (Singbies!), photography buffs (lots of temples around the area) and for people who like to hunt for cheap stuff! (my mom and I were obviously all of those, obviously)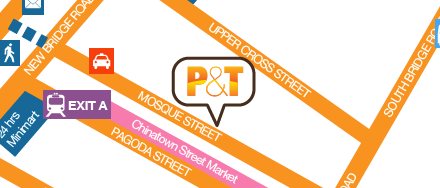 Based on the map above, you may also notice that this budget Singapore inn is just a block away from the famed Chinatown Street Market, a block away from Pagoda Street (lots of traders here) and a few minutes away from the Chinatown MRT (train). Just how near is this budget hostel Singapore to the nearest train station, you ask?
Below is a photo I took on our first day in Singapore. This is Mosque Street, Chinatown! Took this just outside Pillows And Toast. See the very last car parked on the left side of the street? You just turn left from there and the Chinatown MRT station is just a block away. So as you can see, this Singapore hostel is just a hop and skip away from the nearest train station.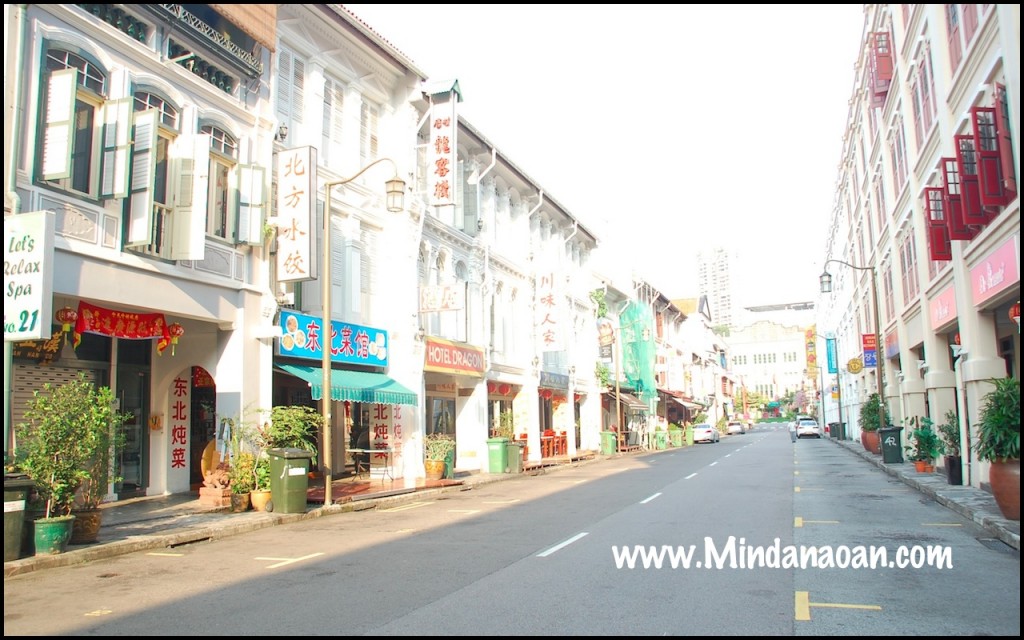 Pillows N Toast has 10-bed, 8-bed, 4-bed mixed dorms and 4-bed private rooms. Rates start at SGD 26.00 per bed per night. Note that the rates may change so CHECK PILLOWS AND TOAST regularly for price updates. Rate includes FREE breakfast – your choice of toast, kaya (yum!), peanut butter, various jams and coffee.
As expected (like any other Singapore hostel), the rooms were small. However, the rooms were clean and had all the amenities needed for us to have a good night's sleep. Beds were comfortable, pillows were soft, linens and mattress were clean. Each bed had two personal electrical sockets and a reading lamp. Don't forget to bring a travel adapter! Just in case you forgot to bring one, you can rent from the hostel for SGD 1. There were also personal lockers. Guests are urged to bring their own padlocks, though (at least 5 mm shackle). If you like, you can rent one for SGD 1. My mom and I used the lockers but didn't bother to use a padlock anymore since we didn't leave anything expensive.
By the way, our room was airconditioned but the hostel had this policy whereby the aircon can only be set at 24 celsius. For cool temperature freaks like me, you might feel a little bit queasy. I wish the management would at least allow the guests to change the temperature to 20 celsius.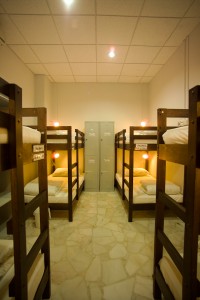 There's also FAST and FREE wireless Internet, by the way. If you didn't bring a laptop, you can use the hostel's netbooks for free. And yes, each guest will be issued a special key card to gain access to the main door and to the assigned dorm. There's a refundable charge of SGD 15.00 per key card.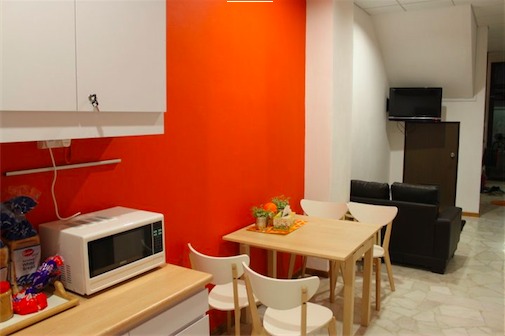 The kitchen, which the guests have access to including plates, utensils and kitchen appliances, is small as well. As you can see from the photo above, the dining table can only accommodate 4 persons. Whenever my mom and I would eat breakfast, though, everyone else seemed sound asleep and we usually ended up having the kitchen, sofa, TV and even the shower stalls to ourselves 😀
That brown door below the TV leads to their luggage storage room, by the way (just in case you already checked out but your flight is still at a later time, you can leave your luggage for free). The hostel staff will help you.
You can also buy softdrinks, snacks, chocolates and mineral water from the hostel. During our stay, we bought mineral water for only SGD 70 cents. In other areas, prices start at SGD 1.00
Meanwhile, here's a peek at the shower stalls, bathroom and laundromat area. This area is just behind the kitchen found on the first floor of Pillows And Toast. Each shower stall has FREE shower gel and hot/cold shower. There's also a hair dryer that one can use for free. Just in case you forgot to bring a towel, you can also rent one for SGD 1.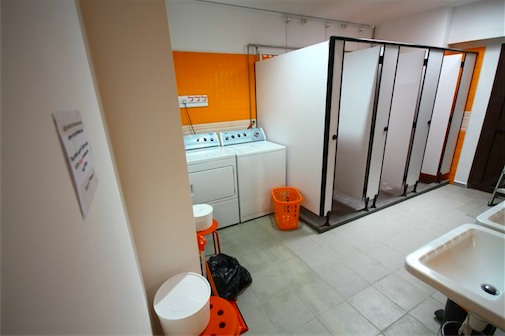 The most favorite area within Pillows And Toast Singapore, however, is the attic lounge. It has a huge television set right smack in the middle of the room. You can also find bean bags, several netbooks which you can use for FREE, several desks, a comfortable sofa, Wii console and games plus foot massage equipment.
Another thing that I liked over at Pillows and Toast — their friendly and helpful staff.
So there you go. Our first ever experience staying at a Singapore hostel. Not a bad experience at all. Pillows and Toast Singapore is truly the best clean, cheap hostel Singapore! I highly recommend staying there 🙂
Inquire or book a bed at Pillows And Toast Singapore HERE
Here's how you can reach Pillows And Toast:
From Changi International Airport – you can take the airport shuttle. Inform the Ground Transport Desk at Changi Airport that you would like to be dropped off at 40 Mosque Street, along New Bridge Road. Alternatively, you can ride the MRT to Tanah Merah Station (EW4). Change to the train at Platform B (Line 2) to Outram Park Station (EW16). Take the North-East Line to Chinatown Station (NE4). From Chinatown station, take Exit A and walk to Number 40 Mosque Street. If you're taking the taxi, just give this address to the driver – 40 Mosque Street.
BOOK A BED AT PILLOWS AND TOAST SINGAPORE NOW
* un-watermarked photos from Pillows And Toast