Hi everyone! This Mindanao blogger is back from a weeklong trip to Singapore and Malaysia. Yes, this is my second time in both countries…having been there last February 2011 with my mom. Needless to say, I have fallen in love with these two Asian countries! This time around, I traveled with my brother, a female friend and two female cousins. Since I was the "returnee" in the group, I was also the self-appointed tour guide.
Our trip went really well (I'll make kuwento!) except that I had terrible flu the night before our flight. On the day of our departure for the Philippines, I still had fever. I was so scared I couldn't go through immigration since they might check my body temperature and all. I took some medicines and thankfully, my temperature decreased. I was able to pass through Singapore immigration without any glitches. Yay!
Anyways, since I'm now back and ready to rumble…errr, blog some more…I thought of giveaways contests promos! So now I'm holding a small housewarming online contest 🙂 This will just be a small blog giveaway for now but believe me when I say that this will just be the start of many raffles and blog contests here on Mindanaoan.com! If you notice, Mindanaoan.com now has a spanking brand new WordPress theme (blog makeover!) so I thought of holding this small blog makeover giveaway a.k.a. online raffle. Housewarming raffle kumbaga!
This is a really simple blog contest and we hope that you can all participate. Please let others know about this mini online contest as well! We would really appreciate that 🙂 Just share this post to your friends via Facebook, Twitter, Plurk or even through email!
For this mini Mindanaoan.com blog contest, I'm giving away two (2) pairs of Starbucks beverage coupons! This means there will be two (2) winners of two (2) Starbucks* beverage coupons 🙂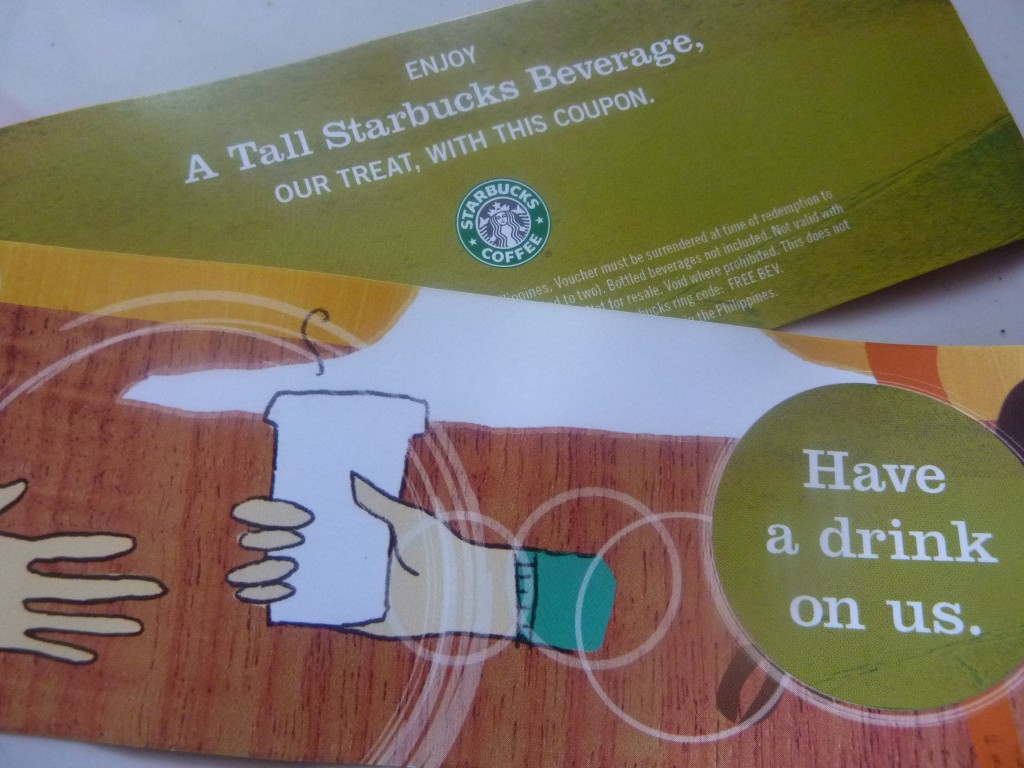 Starbucks has over 150 stores all over the Philippines. In Mindanao, Starbucks has two outlets so far — Starbucks Limketkai Mall Cagayan de Oro and Starbucks Abreeza Mall Davao.
Before we share with you the mechanics of this contest, we strongly encourage you to:
– Follow the Official Mindanaoan.com Facebook Page 🙂
Contest mechanics:
– You must be a subscriber of Mindanaoan.com CLICK HERE to subscribe (don't forget to verify your email address, okay? 🙂 )
– Tell me what you want to read more of here on Mindanaoan.com. Your comment can be long or short provided that it must at least be one (1) complete sentence AND that you must mention "travel blog" OR "lifestyle blog" somewhere in your comment 😉
– Tell me what you like about Starbucks — your comment can either be about your favorite Starbucks drink or your favorite Starbucks outlet anywhere in the Philippines. This should be at least one complete sentence 😉
– Post your answer as a comment below
THAT'S IT! 🙂
– Please include your name, location (MUST NOT be your full address, just your town, city or municipality will do!) and email when posting your entries on the comments section below so we can contact you if you win. You also have the option to just leave your first name or a pseudonym but you must leave a valid email address since I will contact you should you win!
– All valid entries will be raffled off via Random (dot) org
– Deadline of sending in your comments/entries to this mini online contest is on July 10, 2011
– We will announce the winner of this blog giveaway here on this site on July 12, 2011
Terms and conditions:
– Contest is open to everyone no matter where you are in the world (I would love to receive comments from all of my readers!) — HOWEVER — we will only ship the items to a Philippine address. This means that if you're in New York and you have a relative in the Philippines, then we can ship the items to your relative's Philippine address ONLY. I wanted to do this because I'm aware that I have a lot of readers outside the Philippines (thank you!) 🙂
– The winner must give his/her full name, complete valid Philippine address and contact number for shipping purposes
– Use of profanities / slurs / sexual insinuation etc will automatically disqualify the entry
– Decision of Mindanaoan.com will be FINAL and no correspondence will be entertained
SO ARE YOU READY? APIL NA! 🙂 ALSO, PLEASE SHARE THIS POST WITH YOUR FRIENDS AND LET THEM JOIN AS WELL 🙂
Daghang salamat!
* Each Starbucks beverage coupon entitles the holder to a tall drink. Redeemable at ANY Starbucks coffee store in the Philippines. Each coupon will also entitle the holder to two add-ons. Bottled beverages not included. Each coupon is valid until December 31, 2013
* Thank you so much to Starbucks Philippines!