One of the things that I absolutely MUST do whenever I travel domestic or abroad is try the local cuisine. By local cuisine I mean street food, food sold in hawker centers or food courts or food that look "unique" — basically food usually eaten by locals during regular days. As much as possible, this Mindanao blogger doesn't eat at fastfood chains. I do this because it makes me appreciate that country's culture, people, tradition and food better. Besides, hawker centers in Singapore are still the undisputed sources of delicious authentic Singapore food!
Before I proceed with this post about the Singapore hawker center my mom and I went to during our February 2011 mother-daughter Valentine's Day trip abroad, you might want to read these blog posts to learn more about our Singapore – Malaysia trip:
How to prepare a do-it-yourself Singapore and Malaysia trip
Singapore Chronicles: Day 1 Cebu to Singapore
List of all Singapore hostels
Pillows And Toast Singapore Reservation / Booking
So anyways my mom and I went to Singapore and I told her that we should never leave the Lion City without trying white hainanese chicken. Hainanese chicken rice or white chicken rice is definitely must-try Singapore food. While it's true that there are now restaurants that serve hainanese white chicken rice in the Philippines, nothing beats eating it right in Singapore, yes? 🙂
PLUS, being the big Anthony Bourdain fan that I am, I simply had to try Tian Tian Hainanese Chicken Rice. Anthony lauded it as the best there is!
We were in luck, actually. Since we stayed at Pillows and Toast Singapore, located right in the heart of Chinatown, we only had to walk a few blocks to reach Maxwell Food Centre.
Maxwell Food Center Singapore is where you can find a lot of food stalls. If you look at my photos below, you can see that Maxwell is an open air complex. I'm not sure how many food stalls are inside Maxwell Center Singapore but there sure are a lot! And yes, Maxwell is the original home of Tian Tian Hainanese Chicken Rice. As soon as we reached Maxwell, we immediately looked for Stall Number 10. There was already a small queue of hungry customers at the Tian Tian stall!
Our order of white chicken rice only cost about SGD 2.50. The meal already included soup, a few slices of cucumber, chili and ginger sauce and of course, bite-sized steamed white chicken and fragrant rice. The chicken was tender and very tasty while the rice was really flavorful. I learned that the rice is usually pre-fried in chicken fat and then cooked in chicken broth hence the strong, delicious flavor. YUM!
By the way, there are specific stalls that only sell drinks. We found a stall that sold drinks right across Tian Tian Maxwell (see photos below). Other Singapore food you can find at Maxwell include the Zhen Zhen Porridge and char kway teow from Marina South Delicious Food.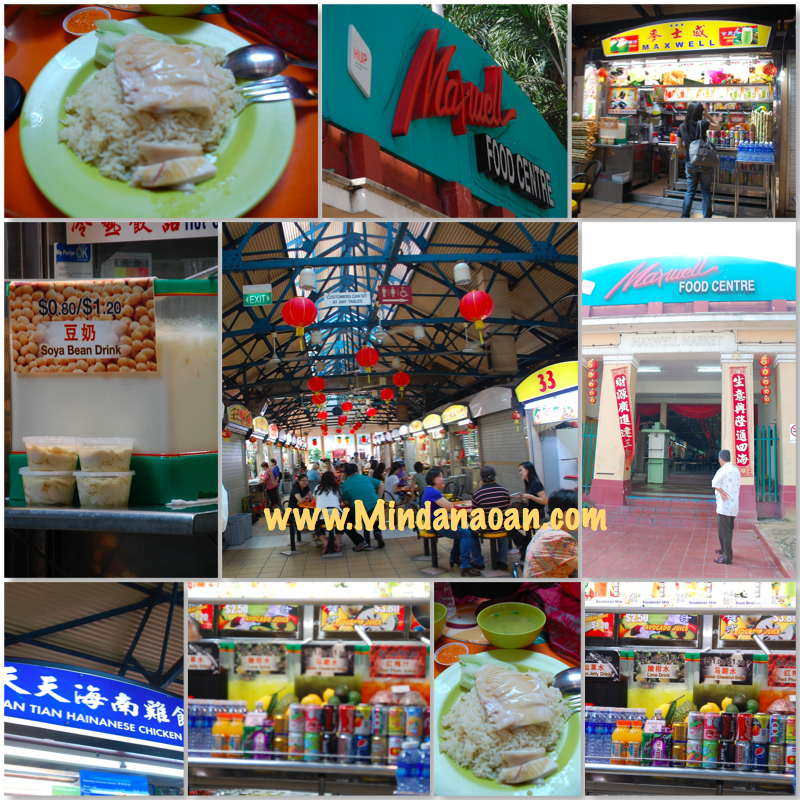 Getting to Maxwell Road Food Centre (corner of Maxwell Road and South Bridge Road)
Nearest MRT: Tanjong Pagar (Take Exit G to Maxwell Road)
Or if you're staying at Pillows And Toast Hostel, you can just walk along Mosque Street, go down to South Bridge road (landmark is Jamae Mosque), walk right towards Maxwell Road (landmarks include Sri Mariamman Temple, Buddha Tooth Relic Temple then Spring Street) 🙂