If there are two things that I absolutely like, these are Mexican and Italian food. I'm a huge sucker for fajitas, quesadillas, tacos…and oh yes, yes, yes nachos! Yum! I am absolutely convinced that I can survive on nachos alone 😀 I love nachos so much that I made a special trip to a specific restaurant just to order nachos de salsa. I also love nachos with oozing melted cheese! Yeah, that's how crazeballs I can get when it comes to nachos 😛 I like pasta, too. There are days when I just crave for spaghetti, penne al arrabiatta, fettuccini with red sauce, basil and mushrooms and carbonara complete with bacon and mushrooms. Yum! So, yes, anytime I have my share of Mexican and Italian food, I know for sure it's gonna be a great day.
So you could just imagine how excited I was when I heard all about Mexitalian Cuisine, a Cagayan de Oro restaurant that specialized in — what else — Mexican and Italian fare. I also later found out that a fellow blogger was related to the owners of the said restaurant so I figured — all the more reason to visit!
Actually, some of my CDO blogger friends already tried Mexitalian Cuisine when it was still located along Masterson Avenue. A few months ago, Mexitalian Cuisine CDO transferred to a better location — it's now along Velez Street and right within city proper. For Kagay-anons, they'd probably remember the previous location of Inilog, that's where Mexitalian Cuisine now is. It's also right across Brewberry Cafe, one of the favorite hang-outs of fellow Mindanaoan photographers.
I went to Mexitalian Cuisine on a Sunday. I was to meet my dear friend Edu and we were about to catch the 3PM showing of the last installment of Harry Potter and the Deathly Hallows. There were tables and chairs outside but since it was a painfully hot Sunday, I opted to dine inside the airconditioned area.
I have to say – the interiors were nothing to write home about. There also weren't indications that they served Mexican or Italian food. No Mexican or Italian-inspired furnishings or decors. The tables and chairs had more like the "diner-feel" – basic, high back style couches and simple tables. In fact, you wouldn't really know for sure that they served Mexican or Italian fare unless you ask for the menu. I guess the owners just wanted the restaurant to have a "laid back" feel and that they wanted to just focus on the quality of the food. Which I think is better. Personally, while it is important somehow to have a nice ambiance, I'd prefer, more than anything, that the food and service do not disappoint.
I was the only diner then. I do remember there was a boy who was busy playing with his laptop at a corner. I asked the attendant what their pasta bestseller was. She suggested the Penne Boscaiola (Php 140.00). So I ordered that plus of course the nachos.
Here's Mexitalian Cuisine's Penne Boscaiola. It was good!
I have a thing for creamy, cheesy pasta and thankfully, the Penne Boscaiola delivered. Al dente penne pasta and it also came with toasted French bread. The Penne Boscaiola had bacon, mushroom, Parmesan cheese and onions.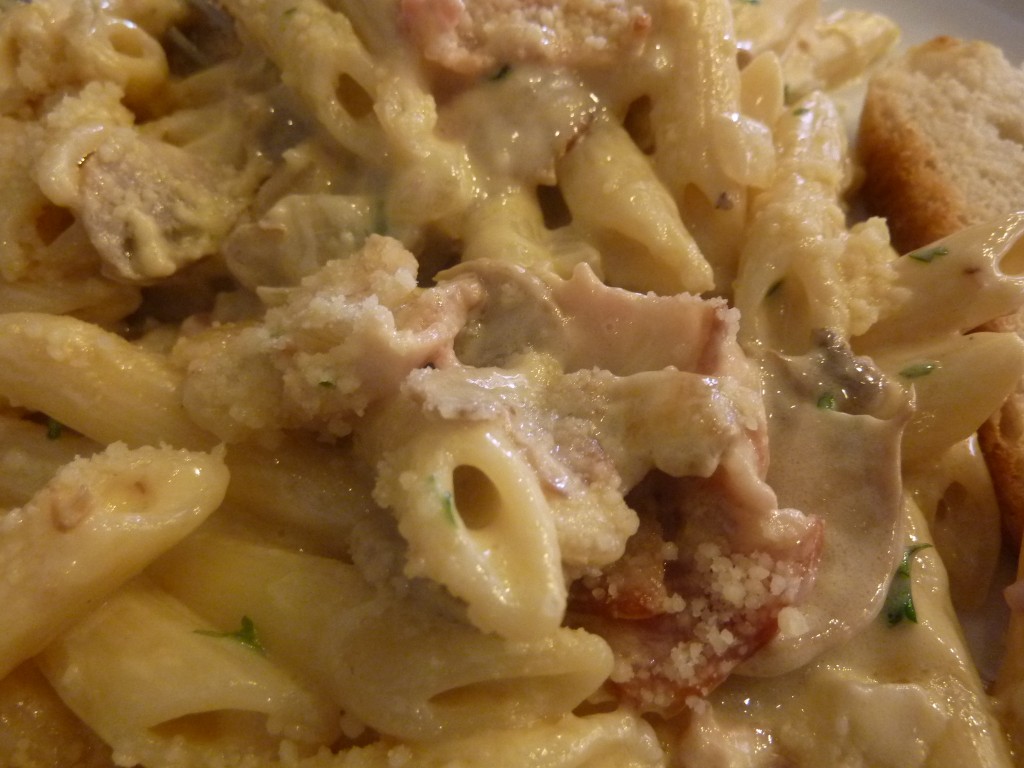 Next up — the nachos!
As you can see, what makes the Mexitalian Cuisine nachos "different" from many commercial nachos are the olives. Apart from that, they placed the usual ingredients – beef, tomatoes, sauce. It was okay. Unfortunately, the dish was cold. I really, really would have wanted that either the toppings or the nachos were warm. I would have preferred that the sauce, beef or the nachos were warm. I know nachos can also be served cold so I guess you have to tell the attendant whether you want the toppings to be warm or not. Nonetheless, the nachos were okay.
I wasn't able to try their pizzas but I heard Mexitalian Cuisine serves tasty pizza. Reportedly, they're the only restaurant in that city that offers wood fired brick oven pizza. Among their bestsellers are the Cappriciosa, vegetarian, Quattro Classico (salami, mushrooms, olives, ham and mozzarella cheese) and their interesting Chicago-style deep dish pizza a.k.a. stuffed pizza or double crust pizza. I will, however, make sure to try the Mexitalian Special (Italian sausage, ham, salami, Hungarian sausage, olives, mushrooms, onions, bell pepper and mozzarella!) the next I'm in town. The list of ingredients alone can already make one so hungry!
This CDO restaurant also serves margaritas. I'll try one of their margaritas next time.
By the way, Mexitalian Cuisine offers free Wi-Fi Internet. Also, I'm not sure if it was because I was the only diner that time or if they really don't have pipe-in music but it was pretty darn quiet when I ate there. No music was played so I could hear the tsismis between the food attendants and the cashier. I hope the management would do something about that soon because I certainly don't want to listen to gossip while dining.
Anyways, all in all, my first visit to Mexitalian Cuisine was pretty good. I'd come back soon and perhaps even bring family and friends with me.
For no-frills, reasonably priced Mexican and Italian fare, head on down to Mexitalian Cuisine. Visit them along Velez Street, Cagayan de Oro. Don't forget to say that you read all about them right here on Mindanaoan.com!