So I told you guys earlier that I was going to meet John Lloyd Cruz. Like I previously mentioned, it was not my first time to meet John Lloyd Cruz – the man once called by a magazine as The Most Beautiful Man In The Philippines – but it was the very first time that I had a truly unexpected, scary, exciting, scream-inducing, kilig-to-the-bones experience with John Lloyd Cruz. BUT I'm getting ahead of myself! Let's back track a bit.
John Lloyd Cruz was in Cagayan de Oro City, Mindanao last December 3, 2011 for his Grand Fans Day cum 5th Anniversary as endorser of Biogesic. John Lloyd Cruz (or as fans fondly call him, JLC) has been a Biogesic endorser for 5 "Ingat" years and to mark the occasion, they have conducted a nationwide tour, held in cooperation with ABS CBN Mag TV. John Lloyd Cruz and Biogesic have previously visited the cities of Davao and Cebu, among others.
So anyway, I was among those who got invited to attend the press conference last December 3, 2011. It was held in one of the function rooms of a hotel that was located at the outskirts of the city. Thankfully, the traditional media practitioners as well as the bloggers were all chauffeured to and fro the location.
After a quick lunch, mingling time with friends in the media and meeting the nice ladies from Biogesic, it was time for John Lloyd Cruz to join us.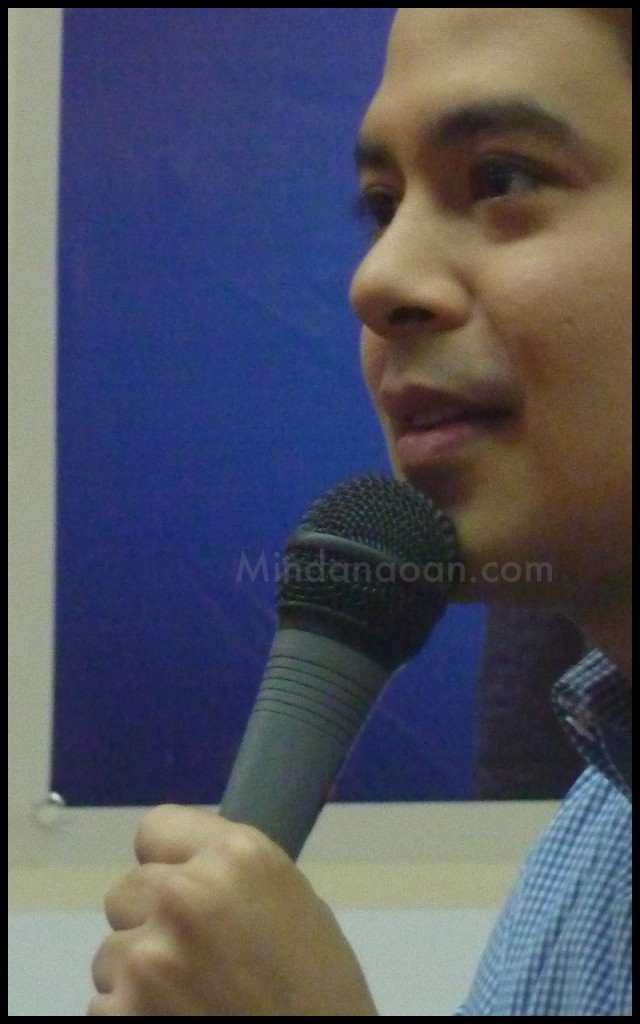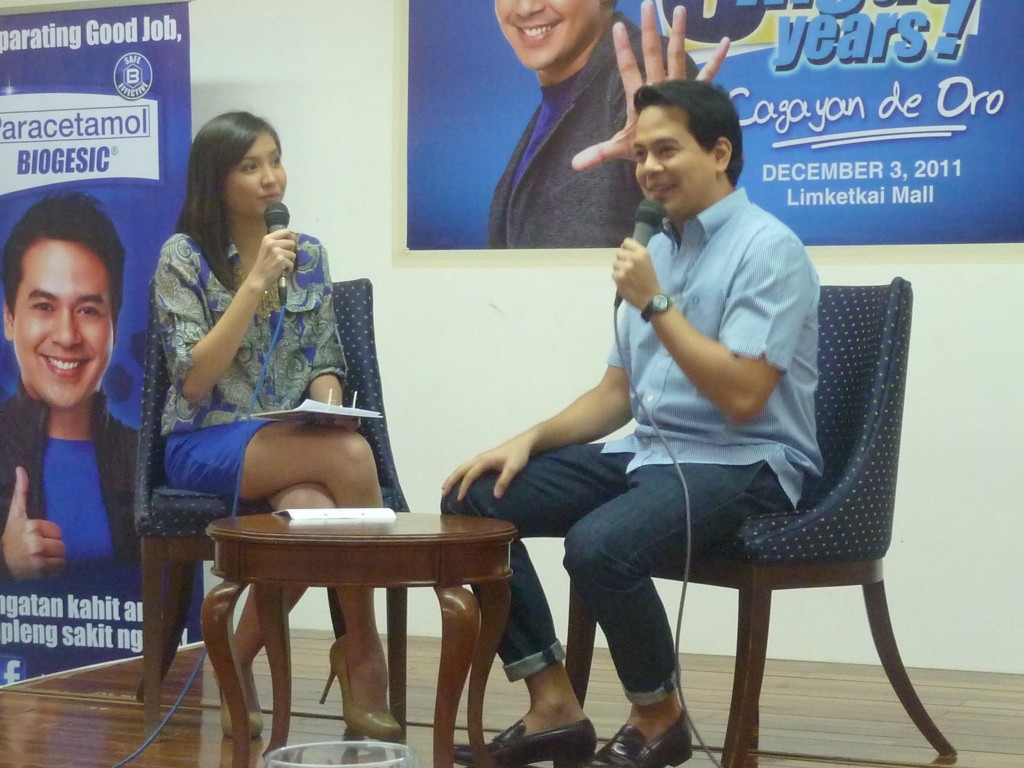 The pretty host who joined JLC onstage, by the way, is a friend – Maxine Monasterio.
Needless to say, John Lloyd Cruz was in his element that day. He was cheerful and he answered the questions well. He also had a ready smile on his face and you could say that he answered some of the questions straight from the heart. In other words — he successfully charmed his way through all the people there in the room! Which, of course, was no longer a surprise. He's John Lloyd Cruz, after all!
He also shared that he's currently shooting a movie with Angel Locsin (target release date is January 2012 and get this – the theme of the movie is casual s-e-x), that he may have another project with Bea Alonzo, that he will do another teleserye soon and that he hopes to continue to be a part of the Biogesic family.
John Lloyd Cruz said that long before Biogesic got him as endorser, he said that he was already a consumer. He said that since Biogesic is safe and effective, he even takes two tablets even on an empty stomach.
This prompted me to ask him two questions: first, when was the last time that he took Biogesic and what was the reason and second, if he was given the chance by Biogesic to think of another catchphrase aside from "Ingat" what will it be (or if John Lloyd Cruz can't think of one, can he just do "Ingat" for me since a friend of mine, who sat beside me, was taking a video and I wanted to share the video with all of my readers).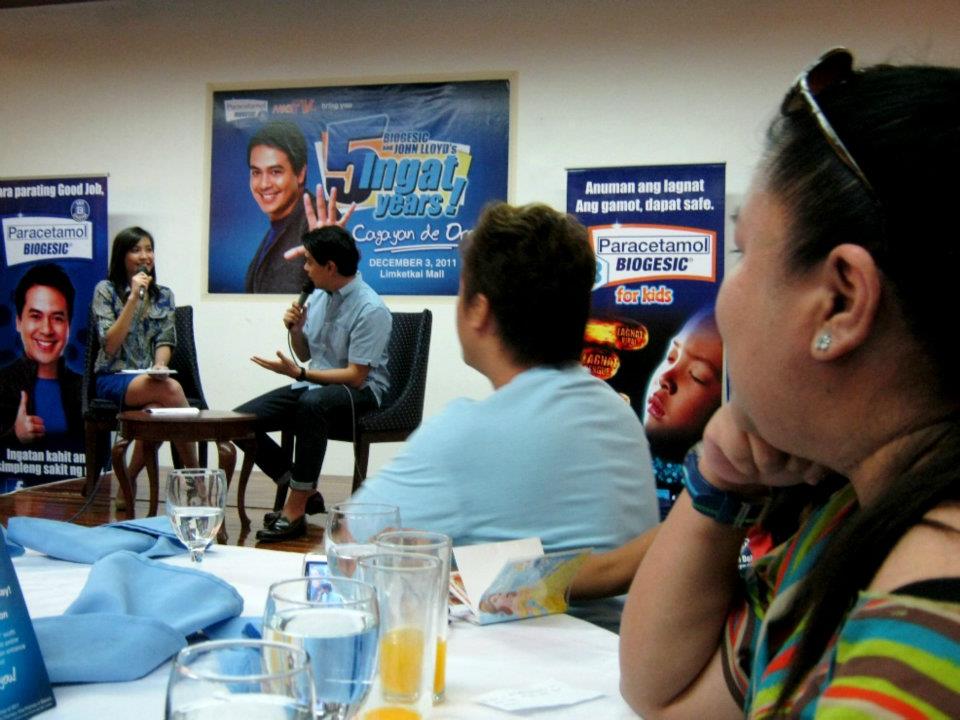 John Lloyd answered that the last time he took Biogesic was a couple of days ago. He was at a print shoot for one of his many endorsements and he found it difficult to eat. So for about 5 hours, he didn't have anything to eat and as a result, he had to endure a headache. He said that he took two Biogesic tablets and he felt all right in no time.
Now with regard to the second question — I really have to say this first, okay? I honestly just wanted to ask a "unique" question. Something that hasn't been asked of him before. Apparently, my plan worked. John Lloyd said that he couldn't think of any other tagline that could rival "Ingat" considering it already has established quite an impact but he sounded pretty amused with my question because he himself said that he would keep my question in mind the next time they do a commercial. Brownie points for me!
Unfortunately, what happened next was so unexpected it literally took me days to digest everything haha! I will share what happened in my next blog post. For now, let's just concentrate on how effective Biogesic is (because, seriously, I had to take one later that day and it really worked wonders!)
Here's what John Lloyd Cruz is looking forward to next year, by the way:
After the press conference, we all then went to the Atrium of Limketkai Center for the John Lloyd Cruz and Biogesic 5 Ingat Years Grand Fans Day.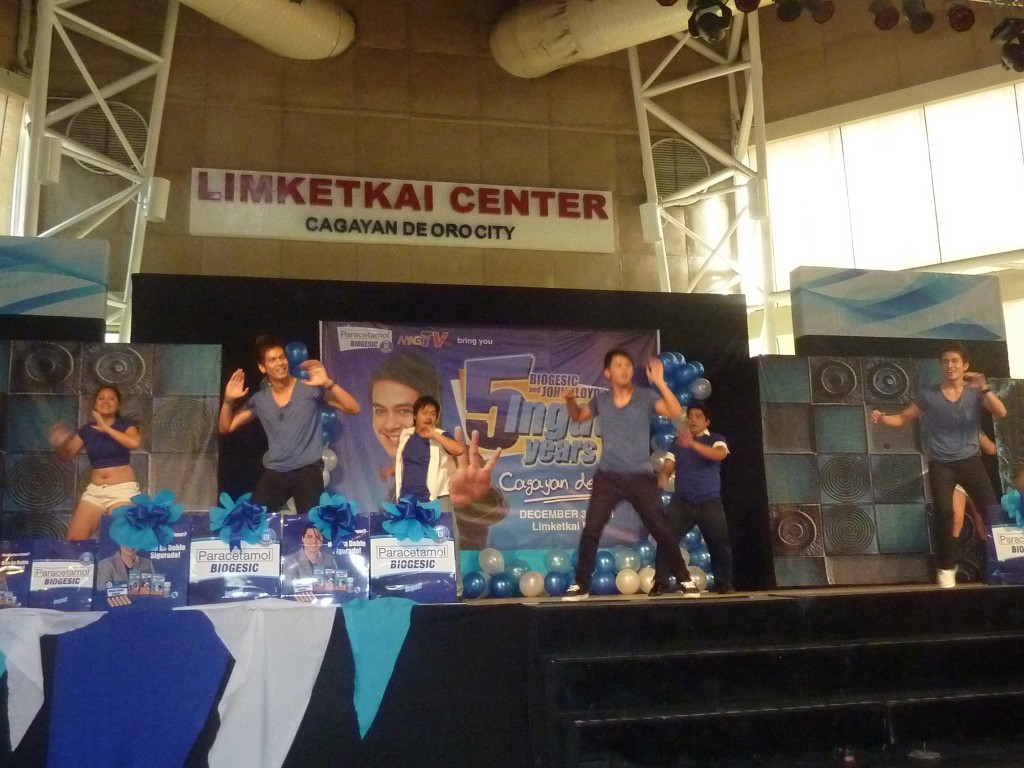 So many fans came to see their idol! Can't blame them – especially if you adore someone as good looking as this:
Thanks Biogesic, ABS CBN's Donna Ocampo and John Lloyd Cruz!
* All photos are owned by Mindanaoan.com except the last one, which is courtesy of ABS CBN CDO
To be updated with more great features, articles and even special contests, PLEASE SUBSCRIBE TO MINDANAOAN (click, click!). Don't forget to verify your email address by checking your email and clicking on the link that will be sent to you. Thank you!