Here's a quick update to my previous post about the 10th anniversary celebration of Citihardware CDO.
I was tapped as the event manager for Citi Hardware Cagayan de Oro 10th Anniversary celebration. That was my second project for Citihardware CDO. The first one was during the opening of its Citihardware Bulua branch.
The Citihardware CDO 10th anniversary event was held at its newest and by far the second largest Citihardware outlet in the entire country – Citihardware Tablon (the largest one remains to be its Davao head office). Hundreds of people attended the event including suppliers, partners, local barangay officials and tanods and yep, members of the CDO Bloggers! (Yay, thanks guys for the unwavering support!)
The professional lights and sounds system that I commissioned (my regular suppliers!), the professional photographers and the band that I hired plus the pretty host that I also got for the event all did very well. I was really happy 🙂 Thanks guys for helping make my event management chores that night pretty easy 😉
Here's a photo taken outside of Citihardware Tablon that evening: (thank you InCDO!)
Happy 10th Anniversary to Citihardware Cagayan de Oro!
Citihardware is a depot-type of retail outlet and it carries everything that you need for the home. With over 35 stores all across the Philippines, the nearest Citihardware branch isn't difficult to find. And with those many stores across the Philippines, it sure is the fastest growing hardware chain in the country.
In Cagayan de Oro City, Mindanao, alone Citihardware now has 3 branches – Bulua, Gusa and the newest one – Tablon.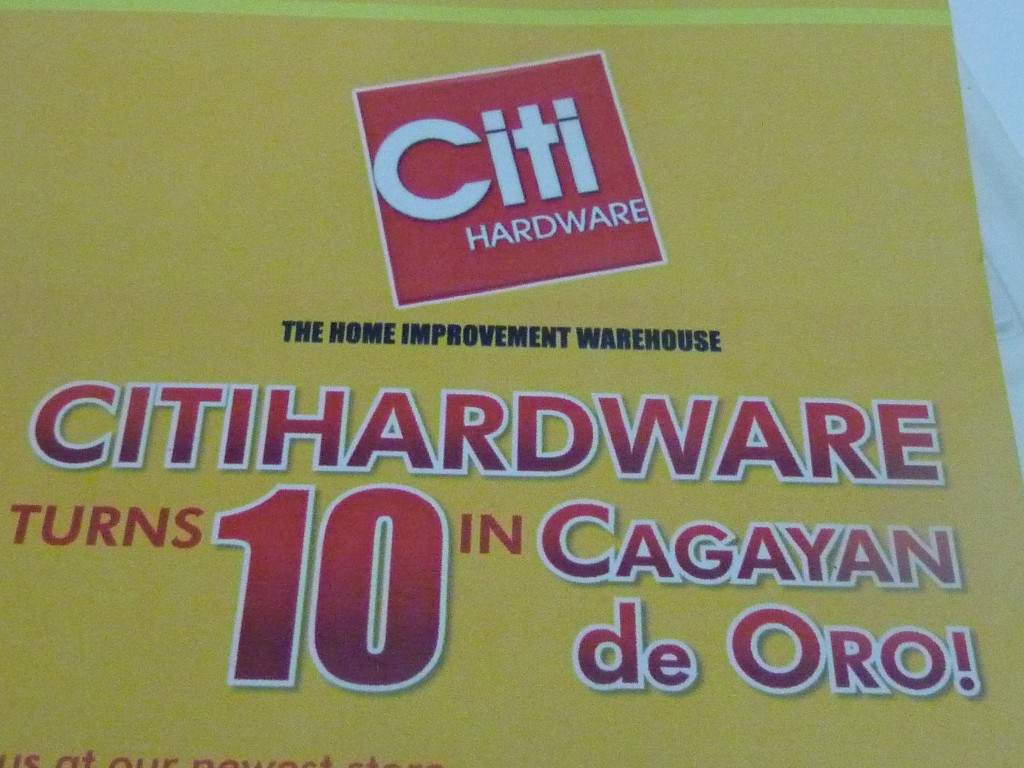 Plugging time! 😉 — if you need an event organizer, a publicist, a social media strategist, a photographer, a videographer, a professional blogger anywhere in the Philippines and around Asia, please don't hesitate to CONTACT ME.
You can leave a message in this contact form Apart from social media strategies, publicity consultancy and professional blogging services, I can also provide video coverage and photo coverage services (weddings, events, debuts, portraits, baptismals, fashion etc), professional lights and sounds system, bands / artists / performers (local and even national celebrities) and media / advertising related services.